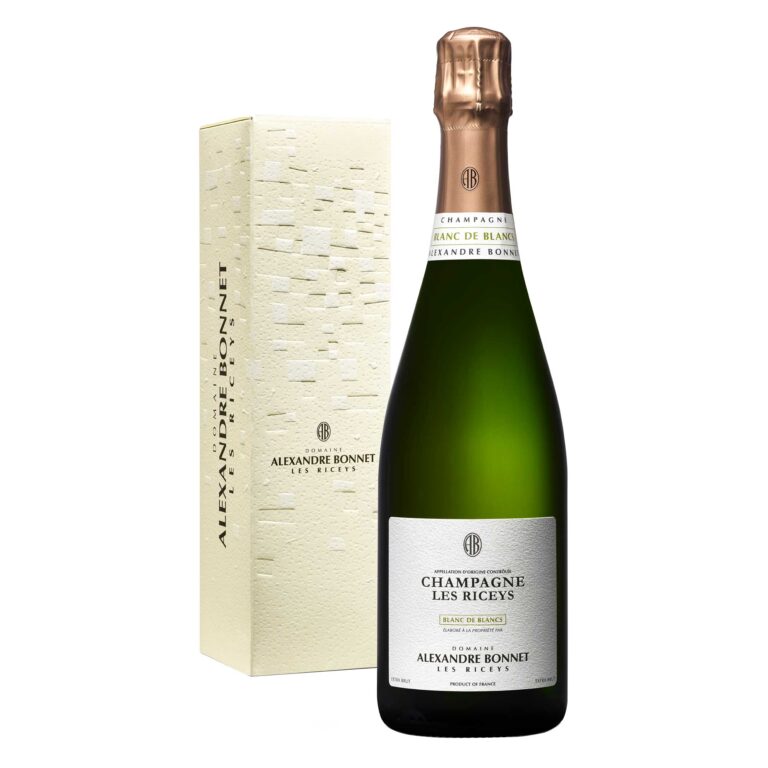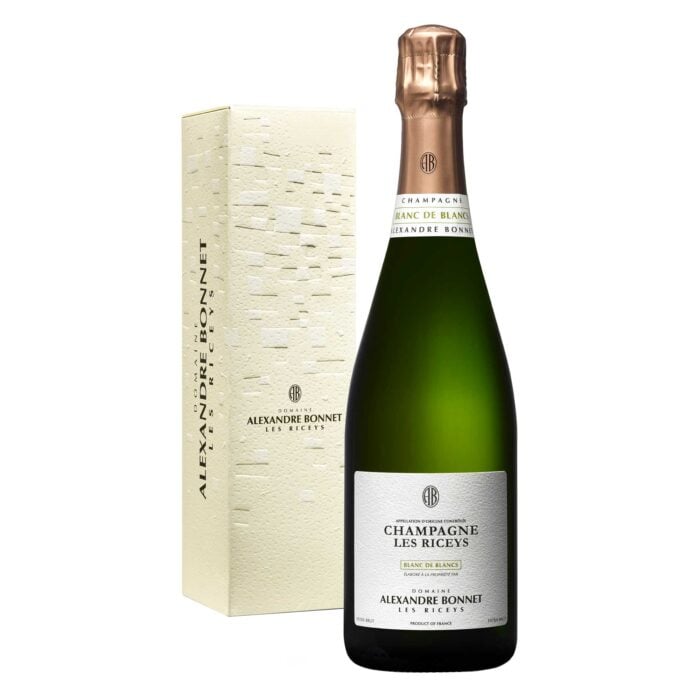 Champagne ALEXANDRE BONNET

Blanc de Blancs

Bottle (0.75L) | Gift box
Alexandre Bonnet Blanc de Blancs Bottle Gift Box champagne brings Pinot Blanc back to life. Blended with Chardonnay, it develops a complex perfume carried by a long and saline finish.
En stock.

From 5 to 10 days
Conservation optimale : hygrométrie contrôlée 24/24h
Emballage anti-casse soigné
Option message cadeau personnalisé
For which moment ?
As a gift, For a dinner, For an aperitif or a party, To pair with fish/seafood dinner
Blanc de Blancs
Presented in its case, Alexandre Bonnet Blanc de Blancs champagne is ideal for your tasting moments, pairing with an aperitif or a meal, and for all your gift occasions.
Tasting Notes
A clear, golden yellow colour with green highlights.
A fine and complex nose, with an exotic touch: mango, mirabelle plum, lime blossom, honeysuckle, citrus fruits, fresh almond, sweet spices.

An unctuous mouth, supported by noble bitters and tended by a long and saline finish.
Food pairings
The Alexandre Bonnet Les Riceys Blanc de Blancs is ideal with oysters, scallop carpaccio, ceviche, quail with grapes and lobster.
Ideal serving temperature : Serve between 8 and 10 °C and let the champagne open in the glass for 5 minutes.
Technical sheet
Blend : Blanc Vrai (Pinot Blanc) blended for half with Chardonnay.
Vinification : Harvesting: Exclusively manual and progressive depending on the maturity of the grapes. Sorting in the vineyard. The grapes are brought to the winery immediately, in perforated boxes.
Grape varieties: Blanc Vrai (Pinot Blanc) short prunings in cordon de Royat blended for half with Chardonnay prunings in Chablis, yield 20% lower than the Champagne average.
Vinification: Slow pneumatic pressing, elimination of pruning, static settling, light sulphiting, addition of basic yeast, natural malolactic fermentation, light filtration after cold stabilisation.
Ageing: 36 months minimum on lees, disgorgement with low dosage of 5 g/L to preserve the purity of the wine.
Ageing potential : Pour this wine within 3 years to enjoy its youthful qualities or wait up to 10 years for a more complex experience.
Dosage : Extra-Brut 5 g/litre
Characteristics : Terroir : Various limestones and marls from the Kimmeridgian Jurassic, cool and sunny semi-continental climate of the South of Champagne, average altitude 250 m.
Cultivation: Precision viticulture with HVE label since 2015, organic practices: broad-spectrum protection, no weedkillers, soil tilling using horses, partial grassing, organic composts, reduced treatment frequency, no insecticides.
Environment : Development of biodiversity by planting orchards, truffle oaks, melliferous fallows, late mowing of grassy areas (pollination), restoration of local heritage structures (cadoles).
CharacteristicsNon Vintage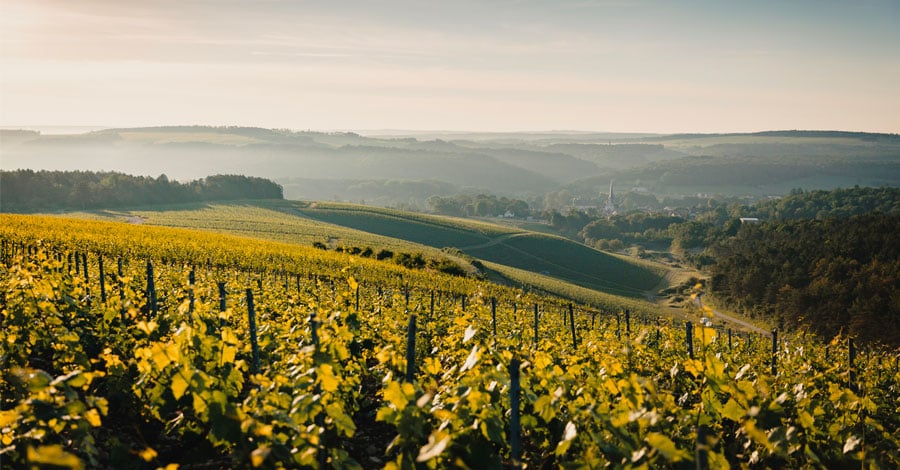 ALEXANDRE BONNET
A GREAT ESTATE FROM LES RICEYS
With 47 ha of vineyards on the estate certified HVE3 since 2015, Alexandre Bonnet champagnes embody a strong identity, symbol and emblem of this unique terroir, for wine lovers. The Brut was named best Blanc de Noirs in the world by the CSWWC 2020.
Voir tous les produits Champagne ALEXANDRE BONNET