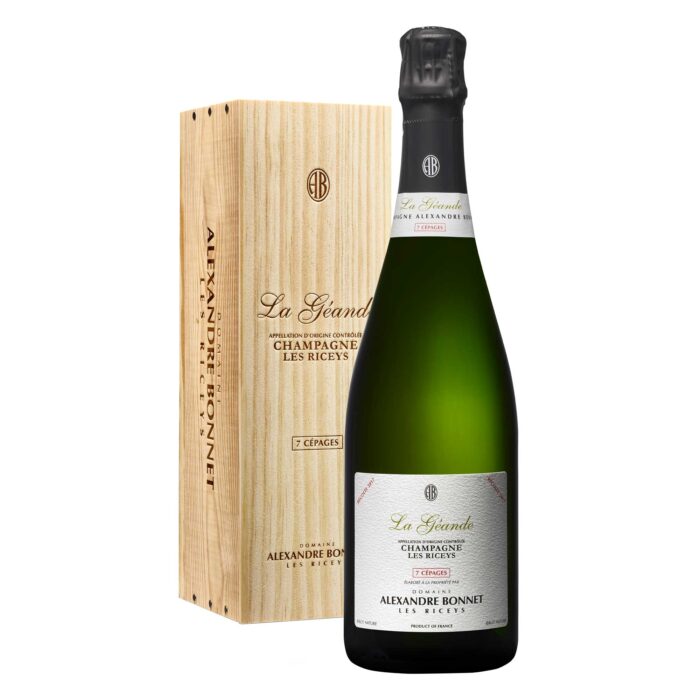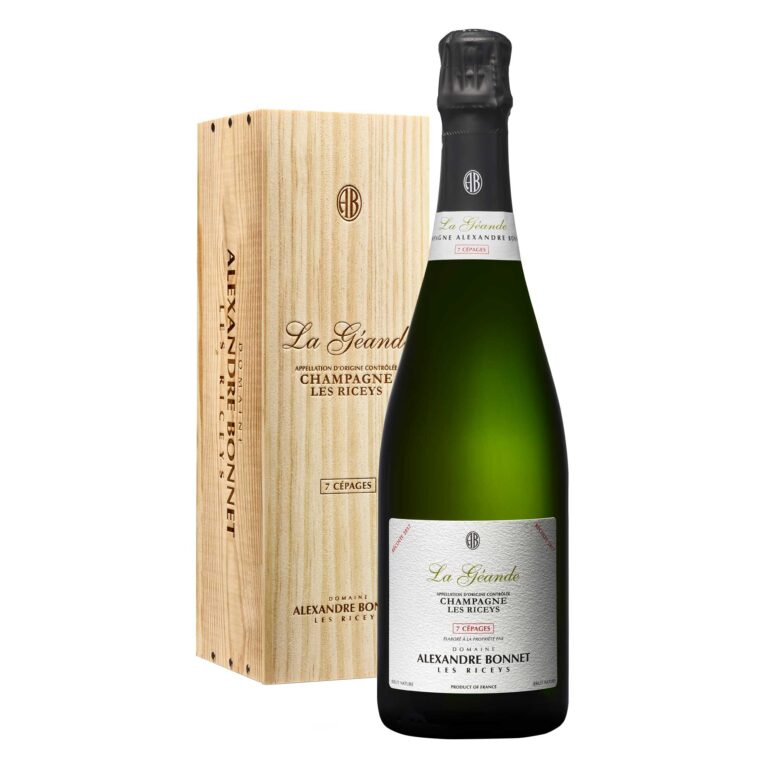 Alexandre Bonnet

La Géande 7 grape varieties

Bottle (0.75L) | Wooden Case
Alexandre Bonnet La Géande 7 grape varieties Bottle Wooden Case is a unique cuvée of the seven historic grape varieties of Champagne grown in the same region. Alexandre Bonnet La Géande is a kaleidoscope of textures and flavours. From the 2007 harvest.
Voir tous les produits Champagne Alexandre Bonnet
En stock.

5 to 10 days delivery
Frais de livraison offerts dès 500€ d'achat
Emballage anti-casse soigné
Confiez-nous votre message personnalisé lors de la confirmation de commande
For which moment ?
As a gift, For a dinner
La Géande 7 grape varieties
Presented in its wooden case, Alexandre Bonnet La Géande champagne is ideal for your tasting moments, pairing with an aperitif or a meal, and all your gift occasions.
Tasting Notes
Clear and pale with gold and green glints.
A fascinating nose of peach, pear, fresh quince, fig, apricot, plum, tangerine, floral complexity (acacia, honeysuckle), fresh almond, sweet spices.
A rich, powerful, salivating mouth, with a great mineral straightness (chalk, granite).
Food pairings
The Alexandre Bonnet La Géande vintage goes perfectly with tuna tataki, sea bass in a salt crust and guinea fowl ballotine.
Ideal serving temperature : Serve between 8 and 10 °C and let the champagne open in the glass for 5 minutes, or decant it.
Technical sheet
Blend : Pinot Noir, Chardonnay, Meunier, Blanc Vrai (Pinot Blanc), Buret (Pinot Gris), Arbane et Petit Meslier.
Vinification : Harvesting: Exclusively manual and progressive depending on the maturity of the grapes. Sorting in the vineyard. The grapes are brought
to the winery immediately, in perforated boxes.
Grape varieties: Pinot Noir from a massal selection Domaine planted in 1974, Chardonnay, Meunier, Blanc Vrai (Pinot Blanc), Buret (Pinot Gris), Arbane and Petit Meslier planted on the same plot, various prunings in Chablis, cordon de Royat and Guyot simple.
Vinification: Slow pneumatic pressing, elimination of pruning, separate vinification of the grape varieties, static settling, simple yeasting, natural malolactic, slight sulphiting, light filtration after
cold stabilisation.
Ageing: 36 months on lees, disgorgement without dosage to preserve the purity of the wine.
Vintage 2017: 4449 bottles and 50 magnums produced.
Ageing potential : The Alexandre Bonnet La Géande is a great wine that shines from its youth and that champagne lovers will be able to let evolve for about twenty years.
Characteristics : Terroir : Various limestones and marls from the Kimmeridgian Jurassic, cool and sunny semi-continental climate of the South of Champagne, average altitude 250 m.
Cultivation: Precision viticulture with HVE label since 2015, organic practices: broad-spectrum protection, no weedkillers, soil tilling using horses, partial grassing, organic composts, reduced treatment frequency, no insecticides.
Environment : Development of biodiversity by planting orchards, truffle oaks, melliferous fallows, late mowing of grassy areas (pollination), restoration of local heritage structures (cadoles).
Characteristics : Non Vintage