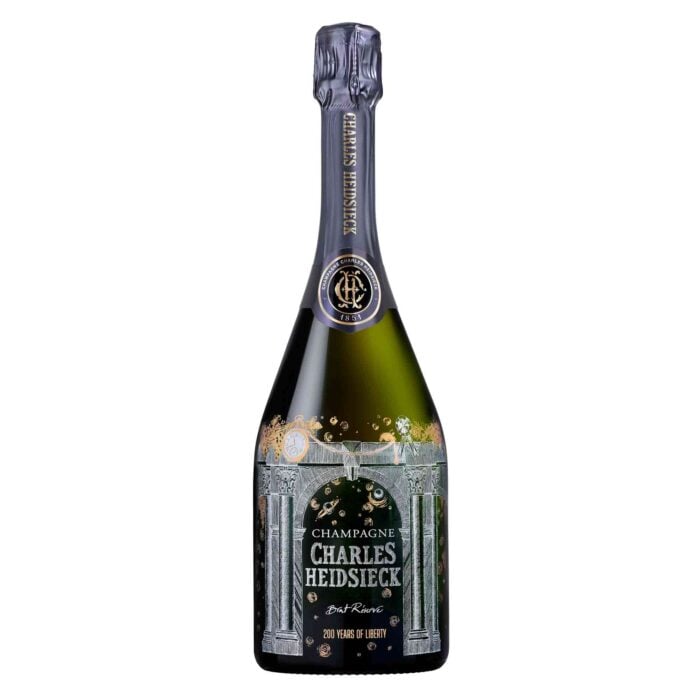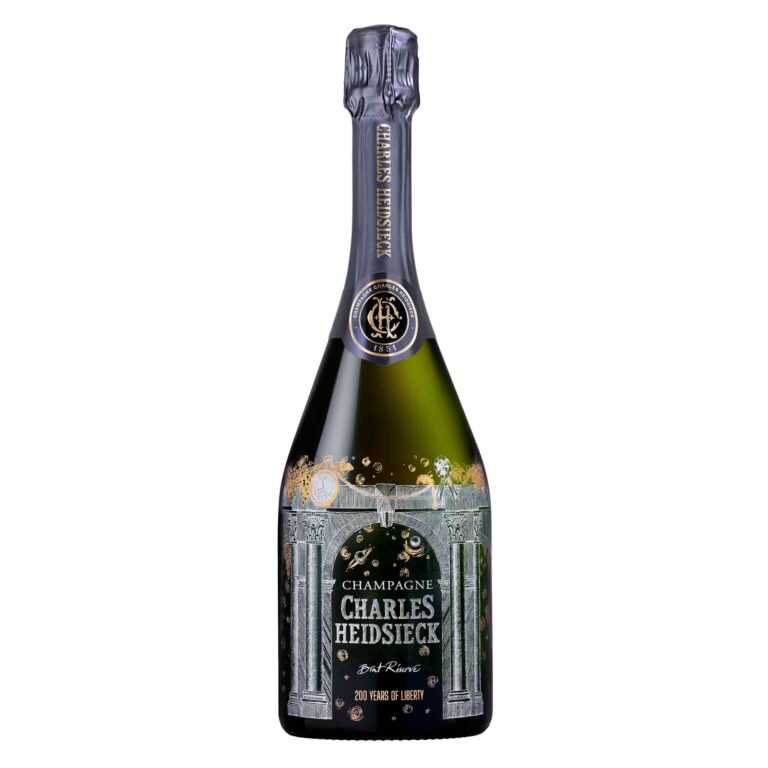 Charles Heidsieck

Brut Réserve Collector's Edition

Bottle (0.75L) | Naked Bottle
An exceptional bottle, Charles Heidsieck Brut Réserve Collector's Edition celebrates the 200th anniversary of the birth of its founder, Charles-Camille Heidsieck. A gentleman-entrepreneur, elegant, daring and visionary, he did not hesitate, as early as 1851, to go to the United States to develop his champagne, which was soon affectionately nicknamed "Champagne Charlie".
See all Champagne products from Charles Heidsieck
In stock.

24/48 hours delivery
Free delivery from 500€ purchase
Neat, break-proof packaging
Give us your personal message when you confirm your order
For which moment ?
As a gift, For a dinner, For a special occasion or an event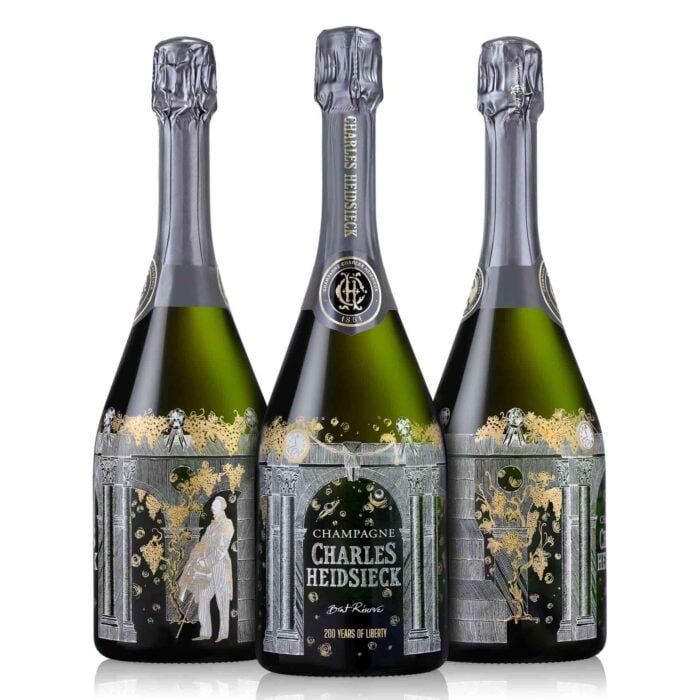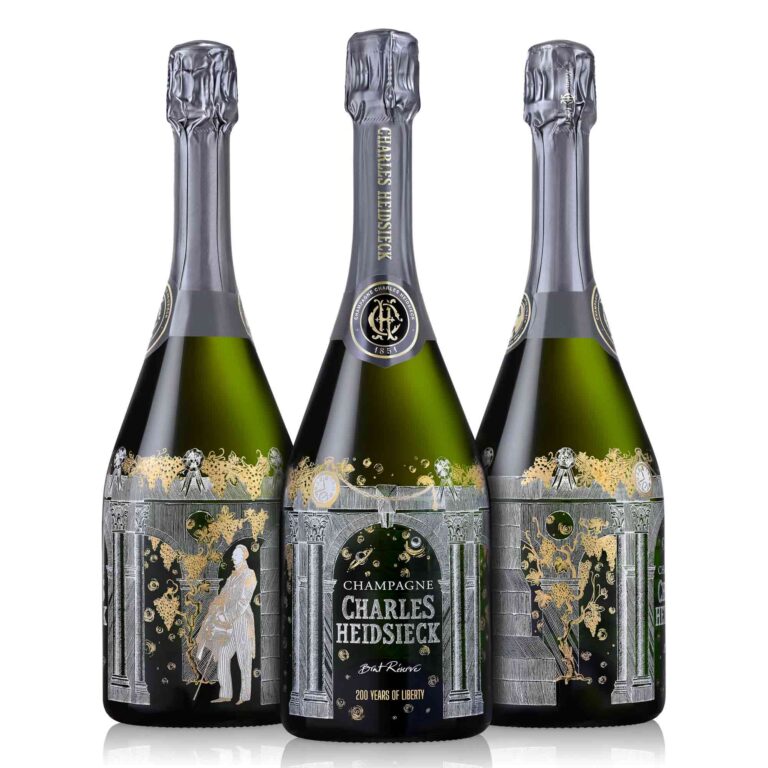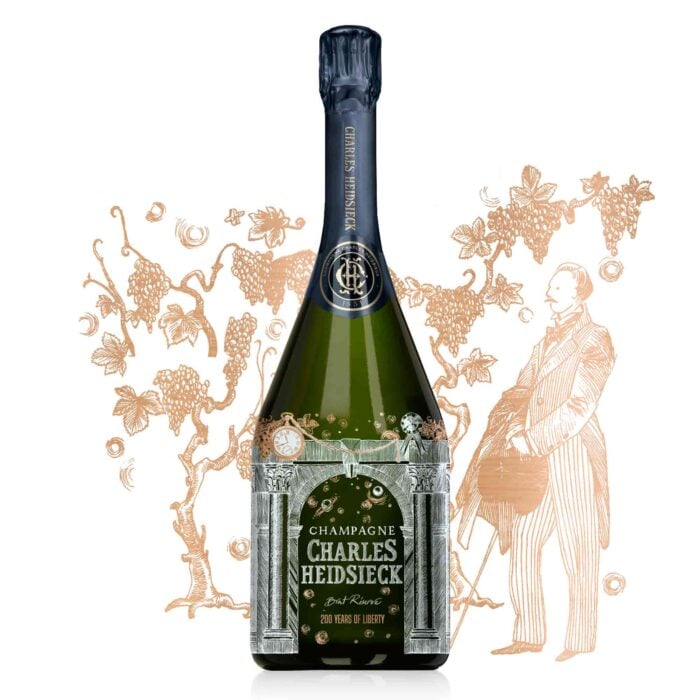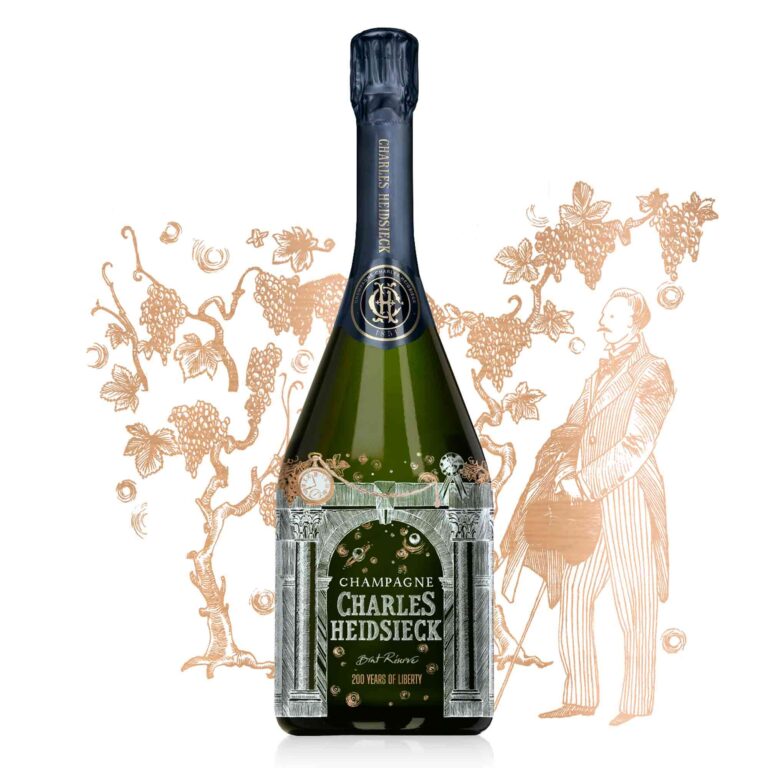 Brut Réserve Collector's Edition
This Collector's bottle contains the Brut Réserve, the quintessential Charles Heidsieck style. Generosity, precision and depth are the hallmarks of this particularly recognisable wine, combining richness and freshness.
The Russian artist Catherine Gran was chosen to create the design for the Charles Heidsieck Brut Réserve Collector's Edition:
"What impressed me when the House of Charles Heidsieck entrusted me with the responsibility of decorating this bottle was the elegance of the character. I am Russian by origin, and this gentleman represented France in my eyes, in all its most seductive aspects: panache, audacity, but also a feeling for time, an embodiment of the land, the nobility of the terroir, a love of wine, of beautiful stones, of work well done, of fine craftsmanship," says the artist.
"It is a pleasure for an artist to dive back into the decorative finesse of this period. For me, Charles' world is that of the poetic engineers of the arts and crafts, the aesthetic builders like Eiffel, the inspired dandies like Balzac. With the addition of the vine, of course… My drawing is an ode to its building and rooted character, which goes all the way to the stars of fame and raises a kind of temple" relates the artist.
This exceptional champagne, decorated by the Russian artist Catherine Gran, is ideal for all your special occasions and gifts.
Tasting Notes
The Brut Réserve has a deep golden colour. A fine, elegant and persistent effervescence, thanks to a slow and long maturation in the chalky cellars.
The 50% reserve wines give a complex, elegant and greedy nose: freshly baked brioche, roasted notes and ripe, sun-drenched fruits - mango, apricot, mirabelle plum - as well as dried fruits, pistachio and almond.
The texture evokes the crunch of a thin layer of nougatine on a melting cream, with fleshy fruits, plums and cherries. The smoothness is provided by the selection of reserve wines. The finish reveals amber and vanilla notes as well as a touch of praline.
Food pairings
Charles Heidsieck Brut Réserve is ideally paired with flavours from the land: San Daniele ham, lamb fillet in a sweet spice crust. From the sea: Tartar of smoked salmon, Monkfish in a meunière spirit, ceps and chanterelles. Cheese: Brie de Meaux / Chaource, Mozzarella Di Bufala. Or sweet notes like a Mirabelle Muffin.
Technical sheet
Blend : Blend of about 60 crus (less than 20% of the villages in Champagne). The blend can exceed 50% reserve wines, which are sometimes over 20 years old. The remaining proportion is made up of wines from the 2017 harvest. The Brut Réserve is made from 40% Pinot Noir, 40% Chardonnay and 20% Meunier. First press only. The vinification is done in stainless steel tanks + 5 to 10% of undergrowth wines.
Vinification : An exceptional maturation of more than 4 years in chalk cellars.
Ageing potential : To be enjoyed from now until 10 years.
Dosage : 8 g/litre
Characteristics : Awards and medals: - Bettane & Desseauve 2020: 17/20 - La Revue du Vin de France 2021: 91/100 - International Wine Challenge: Gold 95/100 - Decanter World Wine Award: 92/100 - Australian Wine Challenge: 97/100 - Wine Spectator: 92/100 - Mundus Vini: Gold - Jancis Robinson 2021: 18+.
Characteristics : Non Vintage