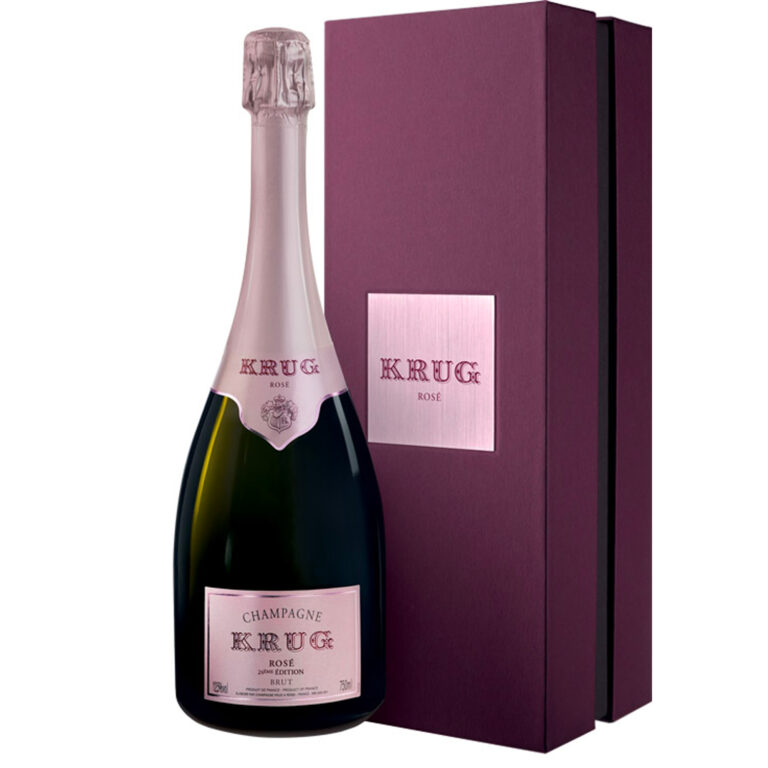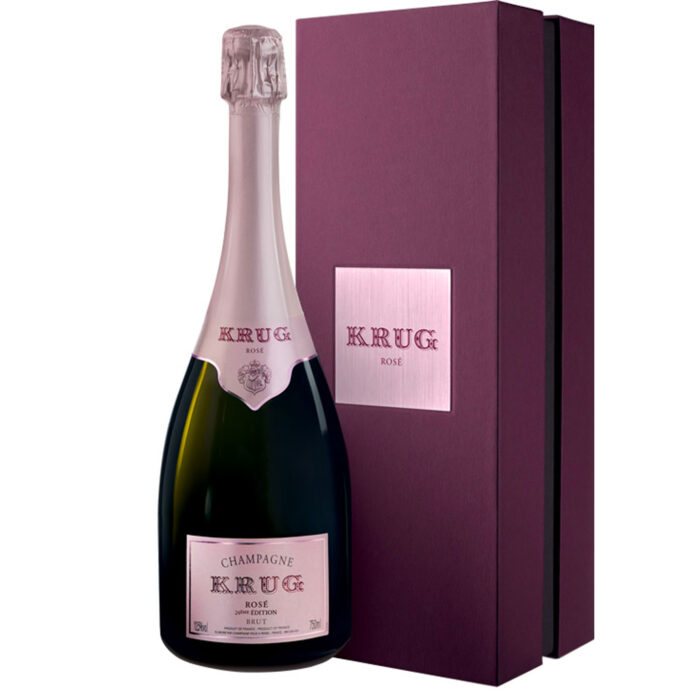 Champagne KRUG

Krug Rosé 24th Edition

Bottle (0.75L) | Box
Krug Rosé was born from the dream of the fifth generation of the Krug family to create a unique rosé champagne that could be recreated every year. Each Krug Rosé Edition continues this tradition. Produced in strictly limited quantities, Krug Rosé 24th Edition is not a classic rosé: it is original, voluptuous, mysterious.
Out of stock
I would like to be notified when the product becomes available again.
Conservation optimale : hygrométrie contrôlée 24/24h
Emballage anti-casse soigné
Option message cadeau personnalisé
For which moment ?
As a gift, For a special occasion or an event, To pair with sweet dishes (tea-time, desert)
Krug Rosé 24th Edition
Krug Rosé 24th Edition is a delicate blend of wines from the 2012 harvest, reserve wines from the House's extensive library of selected parcels, and traditionally macerated Pinot Noir, which adds spice and structure. Aging for about six years in the Krug cellars gives Krug Rosé its refined elegance.
Krug Rosé, the most unconventional of Krug Champagnes, is the ideal companion for daring gastronomic adventures: combining grace, depth and generosity, it can easily play the role of a good red wine served at table.
Presented in its luxurious box, Krug Rosé 24th Edition is the ideal champagne for your special occasions and gifts.
Tasting Notes
Krug is much more than a tasting, it is an encounter, a unique experience, a journey to the heart of taste: intense, complex and memorable sensations. The Krug robe, always intense, with subtle reflections that bear the heritage of a slow maturation. The colour is a salmon gold with a surprising touch of coral, suggesting a subtle taste. Fine and floral aroma, complex and charming. One is seduced by notes of wild strawberries, raspberries, wild berries and a hint of spice. Krug Rosé is fruity and delicate, very raw and supple at the same time.
Uniquely complex, rich in multiple aromas muted and rounded by time, citrus peel, honeyed wax, evocation of undergrowth and barely buttered toast.
The Krug taste is characterised by the harmony between intensity and finesse. It is based on a unique method of vinification which gives it a uniquely fine texture, reminiscent of silk. The sensation is one of a long caress on the palate. The finish is light-hearted and refined, calling for the next sip. The power and freshness create a kind of energy on the palate that resonates with the taste buds, making the wine's liveliness and intensity, fruit and body respond. A discreet bubble in the glass, tiny and persistent in the mouth. Finally, the length. There is the longevity of these sensations and of all the complex flavours that are revealed in a Krug wine. Long afterwards, the palate remembers. The memory won't forget!
Food pairings
Krug Rosé is the perfect partner for all tasty dishes, playing the role of a great red wine on your table. This Champagne can be drunk with foie gras, lamb, game, white meat, venison and even spicy dishes.
Ideal serving temperature : Serve between 9 and 12°C.
Technical sheet
Blend : Krug Rosé is a blend of 3 grape varieties and 10 to 15 different wines. A rigorous selection is made when choosing the three grape varieties that will be used in the complex blends created by Krug: Pinot Noir, deep, intense and giving the wine exceptional longevity. The Meunier, with very fruity notes. Chardonnay, fine and elegant.
Vinification : The 24th Edition of Krug Rosé is structured around the 2012 harvest, a beautiful year with low yields, due to various climatic events. Frost, rain, storms and hail plagued the Champagne vineyards during the winter and spring, followed by an exceptionally dry ripening period (not seen since 1974), which resulted in a 20% drop in the harvest. Each year, in order to perpetuate the dream of the fifth generation of the Krug family to create a rosé Champagne that is at once unexpected, daring and elegant, the House begins by identifying the wines of the year and those of previous harvests, chosen for their great variety of fruity expression. The composition is then structured around a traditionally macerated Pinot Noir, for its spicy character, colour and structure. Reserve wines from Krug's extensive library make up 71% of the blend for this Krug Rosé Edition. Krug is the only major brand to ferment all of its champagnes in small oak barrels, a symbol of its unfailing commitment to tradition. It is from this delicate operation that its champagnes with intense aromas and rich, complex tastes are born. Thanks to this fermentation in wood, the unique style of Krug has been perpetuated intact for 6 generations. An exemplary practice in Champagne, Krug maintains an ageing stock of at least 6 to 8 years. The reward for this patience with slowly maturing champagnes is exceptional maturity and longevity. Patience and a love of perfection are the two essential components in the making of Krug cuvées. Krug Rosé benefits from a minimum of 5 to 6 years of maturation in the cellar.
Characteristics : Krug champagnes are unique. The wine making techniques of the highest quality, its 19-hectare vineyard, the strictness of its supplies from 56 hectares and its three million bottles that have been waiting for many years in its cellars make Krug the reference for Prestige Champagne.

CharacteristicsNon Vintage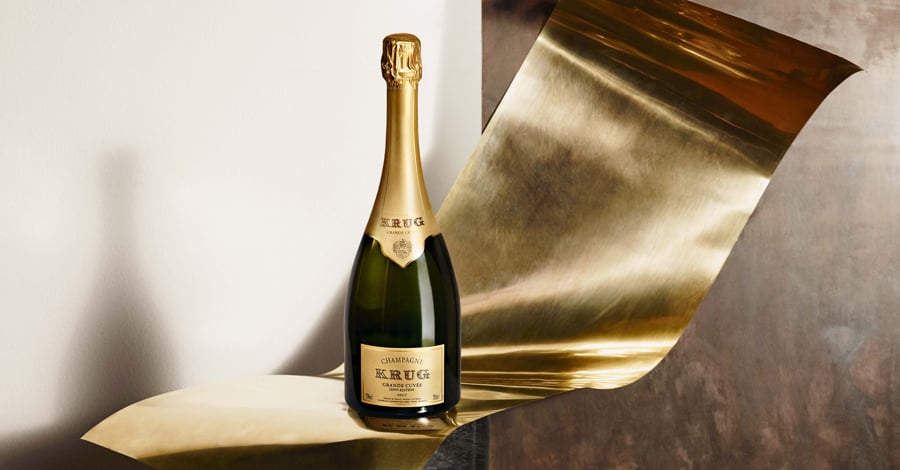 KRUG
A NON-CONFORMIST VISION
Krug has never failed to maintain its reputation as a great Champagne House, producing exclusively prestige cuvées! When the visionary Joseph Krug founded his House in 1843, he decided to go beyond the vintage and transcend the existing limits of blending to create an unexpected and contrasting Champagne of undisputed quality: Krug Grande Cuvée, the first prestige cuvée, recreated each year.
Voir tous les produits Champagne KRUG