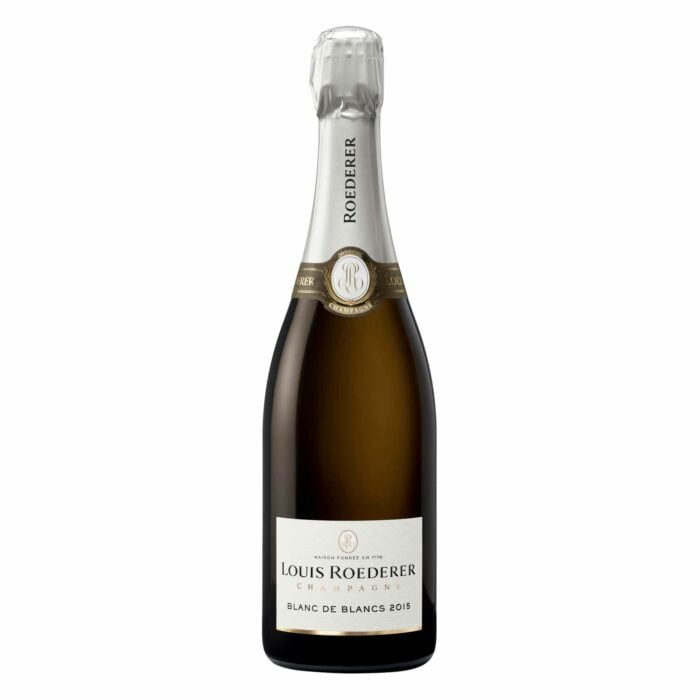 Louis Roederer

Blanc de Blancs 2015

Bottle (0.75L) | Naked Bottle
The 2015 Louis Roederer Blanc de Blancs Champagne is ripe, chiseled, pure and vertical: a concentrate of Auge chalk. The ambition of the 2015 vintage? Capture the concentrated signature of a spectacular vintage!
Voir tous les produits Champagne Louis Roederer
En stock.

In 24/48 hours
Frais de livraison offerts dès 500€ d'achat
Emballage anti-casse soigné
Confiez-nous votre message personnalisé lors de la confirmation de commande
For which moment ?
As a gift, For a dinner, For a special occasion or an event
Blanc de Blancs 2015
"Our Blanc de Blancs Vintage is a pure, tense, fine, brilliant wine. Its contrasting tones oscillate between a chiselled, intense acidity and the tender lightness of fresh hazelnuts notes, almonds and white flowers with hints of acacia, broom and honeysuckle. – Jean-Baptiste Lécaillon, Louis Roederer Cellar Master.
Tasting Notes
The Blanc de Blancs 2015 has a luminous yellow color, with slightly green reflections, a soft, creamy, ultra fine and delicate effervescence.
Precise and mineral bouquet. One can detect ripe citrus fruits (citron), white flowers almost vanilla (pollen) and harvest notes (almond, wheat). The freshness is also expressed in the bouquet in the form of mint and iodine (sea breeze) gradually complemented by warmer nuances of smoke, hot butter and toast.
The attack is creamy, both tender and concentrated. The wine unfolds intensely, supported by the delicate effervescence. The sensation is that of a mature, complete and concentrated juice carried by this incredible powdery texture with a resolutely saline finish. Some woody and smoky notes stretch the wine, giving it that extra length and complexity that presage a long ageing. The finish is pure, refreshing and salivating.
Technical sheet
Blend : 100% Chardonnay - The Blanc de Blancs Vintage is aged for an average of 5 years on lees and also benefits from a minimum of 6 months rest after disgorgement to perfect its maturity.
Vinification : As early as 1830, Louis Roederer acquired a great knowledge of the terroirs, practiced separate vinification and mastered effervescence. In the heart of the Côte des Blancs, where Chardonnay flourishes on limestone soils, Louis Roederer has selected an exceptional Grand Cru, Avize, whose typicity and complementarity allow the production of intense wines expressing finesse and aromatic richness.
The Blanc de Blancs Vintage is partially vinified in wood (16%) and malolactic fermentation has not been carried out in order to preserve the freshness of this wine.


Dosage : 8 g/litre
Characteristics : The 2015 Vintage: The 2015 harvest is extraordinary. 2015, which is also the year of the recognition of the Champagne region as a UNESCO World Heritage Site, is perfectly in line with the continental trend of the decade: mild and wet winter and hot and dry summer! The summer, hot and sunny, will remain marked by records of heat and drought... And by this happy summer finale where the vine was "relieved" by the saving rain of the second part of August. The maturation, thanks to this final under the sign of freshness, will give birth to juicy, ripe and concentrated grapes. The ambition of the vintage? To capture the concentrated signature of a spectacular vintage!
Characteristics : 2015