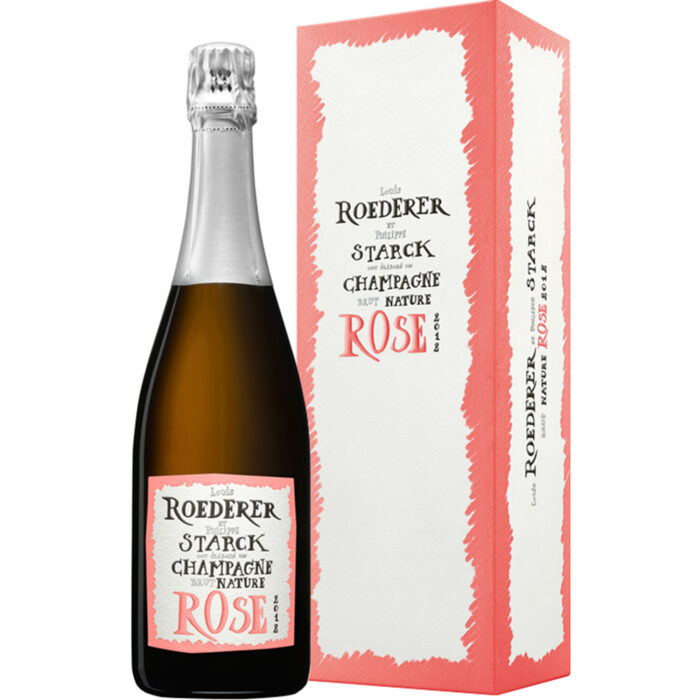 Champagne LOUIS ROEDERER

Brut Nature Rosé 2012 by Philippe Starck

Bottle (0.75L) | Box
The Brut Nature Rosé 2012 by Louis Roederer and Philippe Starck is an intense and fruity champagne
I would like to be notified when the product becomes available again.
Conservation optimale : hygrométrie contrôlée 24/24h
Emballage anti-casse soigné
Option message cadeau personnalisé
For which moment ?
As a gift, To pair with fish/seafood dinner
Brut Nature Rosé 2012 by Philippe Starck
The Brut Nature Rosé 2012 by Louis Roederer and Philippe Starck is fruity and intense!
"This combination of precise fruit, sweetness, saline freshness and smoke opens the way to the delicious, the Umami taste " Jean-Baptiste Lécaillon, Louis Roederer Cellar Master.
Presented in its magnificent box, the Brut Nature Rosé 2012 is ideal for all your gift-giving occasions.
Tasting Notes
The colour is orange with salmon hues.

The bouquet is spicy, Sichuan pepper combined with sappy, floral notes of violet and gentian. Roasted, mocha nuances give rise to an elegant bouquet of reduction. On aeration, the fruitiness is evident, with concentrated notes of wild raspberry.
The attack is fruity. The Pinot Noir expresses itself through its intense fruit and its tight, juicy texture with ripe, almost sweet tannins. The fruit and texture display remarkable depth and are starting to show a typical "Pinot" character.
Technical sheet
Blend : The Brut Nature Rosé 2012 is a fine blend of 55% Pinot Noir, 25% Meunier and 20% Chardonnay. 15% of the wines in the blend are vinified in wood. These grapes come exclusively from the Côteaux de Cumières.
Vinification : A small proportion of the estate's wines are harvested separately and "infused" for a few days without alcoholic fermentation, before being poured into the brut Nature Blanc. Zero dosage. The cuvée has been aged for 5 years on its lees and also benefits from a minimum rest period of 6 months after disgorgement, during which time no dosage is carried out.
Characteristics : The year 2012 was one of the most difficult and challenging years ever encountered in Champagne. Difficulty often gives birth to great things... The low yields, the result of climatic hazards, combined with these continental conditions at the end of the season, allowed a rare and historic level of maturity to be reached, giving rise to rich, full-bodied and structured wines, worthy of the greatest vintages of the Champagne region.
Characteristics2012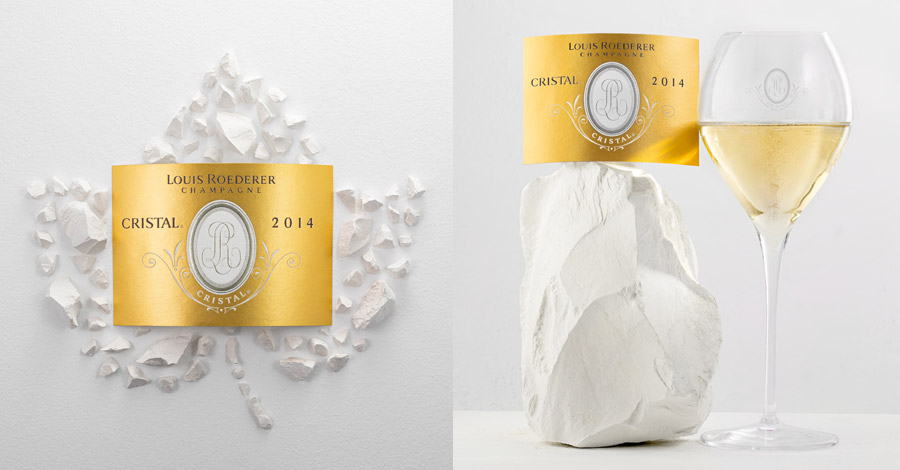 LOUIS ROEDERER
THE QUEST FOR THE MASTERPIECE
The search for the diversity of terroirs is an obvious choice for this great Champagne House, still independent and family-owned, whose vineyards cover 240 hectares located in the heart of the best terroirs, Grand Cru and Premier Cru of the Montagne de Reims, the Vallée de la Marne and the Côte des Blancs. Unique in Champagne region : all Louis Roederer vintages are produced exclusively from their own vines.
Voir tous les produits Champagne LOUIS ROEDERER