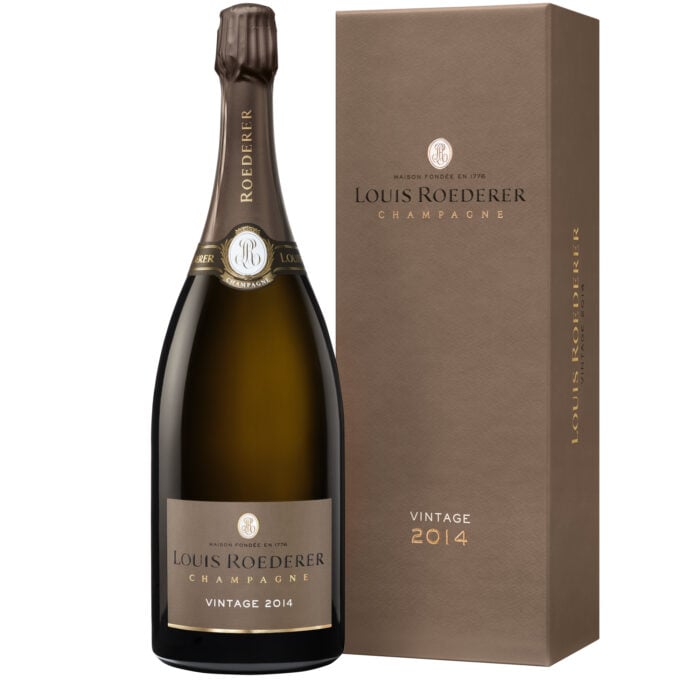 Louis Roederer

Brut Vintage 2014

Magnum (1.5L) | Box
Louis Roederer Brut Vintage 2014 Magnum Gift Box is the perfect emanation of the Louis Roederer terroir where finesse, purity, precision and harmony highlight the virtues of a great vineyard.
See all Champagne products from Louis Roederer
In stock.

5 to 10 days delivery
Free delivery from 500€ purchase
Neat, break-proof packaging
Give us your personal message when you confirm your order
For which moment ?
As a gift, For a dinner, For a special occasion or an event
Brut Vintage 2014
"It is all the power and maturity of Verzy Pinot Noir that is sought here" – Jean-Baptiste Lécaillon, Cellar Master Louis Roederer.
Fascinated by the diversity of aromatic expression of Pinot Noir in Champagne, Louis Roederer has developed his Vintage cuvée on the structure and power of the Pinot Noirs of the Montagne de Reims, where the vines, exposed to the North-East, are slower to mature. The personality of this great wine is refined and intensified remarkably with ageing in wood and time.
Tasting Notes
Golden yellow colour with brilliant and shimmering reflections. Dynamic, fine effervescence, delicately integrated into the wine.
The first nose is subtle, almost restrained. The bouquet then develops in the register of orchard fruits, apples, pears, then sweet flowers slightly honeyed. Then come the aromas of concentrated citrus fruits, almost candied, and acidic red fruits (redcurrant).
The attack in the mouth is rich, concentrated, broad, fruity and deep. It is all the power and maturity of the Verzy Pinot Noir that is sought here: concentrated matter, fresh vegetable and spicy notes with a hint of ginger. This particular terroir of Verzy Pinot Noir, combined with a high proportion of traditional maturation in French oak tuns, reveals a host of smoky, spicy and mineral flavours, supported by the freshness of the vegetation, to give a very gastronomic appearance, close to umami!
Technical sheet
Blend : The Brut Vintage is made from approximately 70% Pinot Noir and 30% Chardonnay with 30% of the wine vinified in wood.
Vinification : The Brut Vintage is aged for an average of 4 years on lees and also benefits from a minimum of 6 months rest after disgorgement to perfect its maturity.
Dosage : 9 g/litre
Characteristics : The year 2014: a three-beat climatic dance, with strong, sharp contrasts! A beautiful, dry spring ending in a scorching June; a cool, rainy autumn; a hot, sunny and very dry September... a classic August. The "key" to the vintage lies both in the soils and the work of the winegrowers: the chalk, which is more draining, in the middle of the hillside, allowed us to evacuate the excess water of the summer and limit the excess vigour... will be revealed by our winegrowing practices, which are increasingly virtuous, allowing us to go even further in the search for the balance of the grapes and the maturity.
Characteristics : 2014