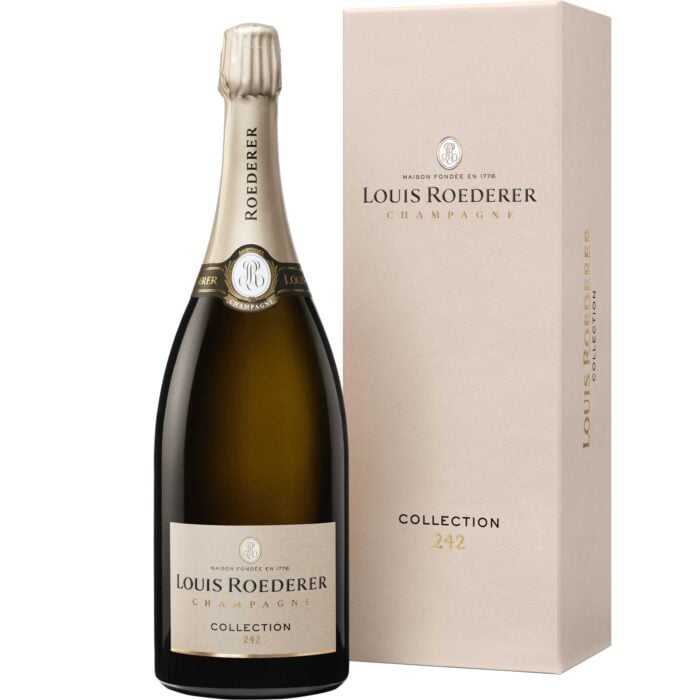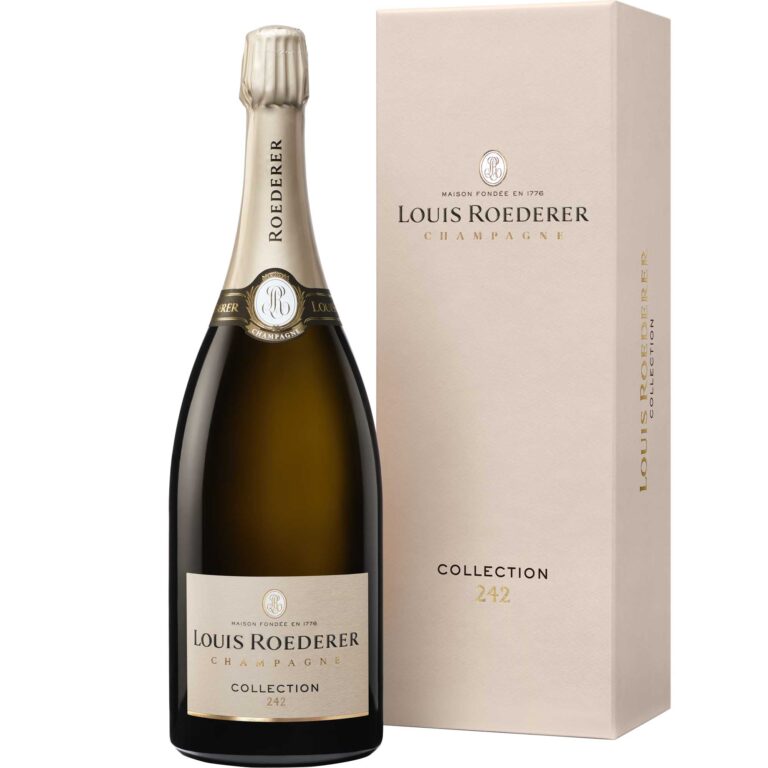 Louis Roederer

Collection 241

Jeroboam (3L) | Box
Louis Roederer Collection 242 Jeroboam Gift Box is an epicurean champagne: the great multi-vintages wine of the Louis Roederer House, its most faithful flagship! With Collection, the House of Louis Roederer combines the quest for excellence, which has always characterised it, with a new breath of freedom, with a unique and constantly renewed aim: to create the best possible wine with each blend.
Voir tous les produits Champagne Louis Roederer
En stock.

24/48 hours delivery
Frais de livraison offerts dès 500€ d'achat
Emballage anti-casse soigné
Confiez-nous votre message personnalisé lors de la confirmation de commande
For which moment ?
As a gift, For a dinner, For a special occasion or an event
Collection 241
The Collection cuvée opens a new chapter for Louis Roederer, extending the history of Brut Premier while reinventing it.
Collection responds to a desire for freedom, to push the quality of the multi-vintages blends even further, to shape know-how differently, to rethink gestures in order to root the House of Louis Roederer in a new relationship with Nature.
Each Collection blend thus has its own identity, which will be revealed even more fully over time. The Collection number will allow all wine lovers, like collectors, to choose their wine according to the degree of youth or maturity they desire and appreciate.
The Jeroboam format is a large 3 litres bottle, which represents 4 bottles of champagne or 24 glasses. This large format is ideal for your receptions, dinners and special occasions.
Tasting Notes
Collection opens with notes of white fruit, citrus zest and acacia flower, followed by a light touch of toasted hazelnut, the signature of Chardonnay. The long, very pure structure ends on a very pleasant saline note. Freshness, precision, finesse: this is Collection, a champagne of total evidence, which reveals complex and precise flavours throughout its tasting.
Technical sheet
Blend : 40% Chardonnay, 42% Pinot Noir, 18% Meunier.
Vinification : Collection is based on a selection of plots chosen from the heart of the Champagne terroir, adapted to its identity, with priority given to sustainable viticultural practices. In order to bring freshness even further, and to balance the beautiful maturity of the harvest, Collection is composed of a "Réserve Perpétuelle" which brings new sensations, both tactile and gustatory: the wine thus finds more breadth, depth, substance and relief; its more enveloping, fleshy texture enhances its complexity. Alongside this Réserve Perpétuelle, Louis Roederer has greatly increased the proportion of reserve wines in wood, which judiciously balance the freshness of the Réserve Perpétuelle and give intensity to the blend. Collection thus gains in modernity and complexity, adorning itself with all the virtues of a great champagne. Collection 242: The 242nd blend of the House since its creation. It is made from 34% of Réserve Perpétuelle, 10% of reserve wines aged in wood from the 2009, 2011, 2013, 2014, 2015 and 2016 vintages. Finally, it is completed by 56% of the successes of the 2017 harvest: mainly Chardonnays, and Pinots Noirs and Meuniers from the Marne Valley.
Ageing potential : Collection is a deep and nuanced wine that can be enjoyed now or after a few years of ageing.
Dosage : 8 g/litre
Characteristics : Non Vintage