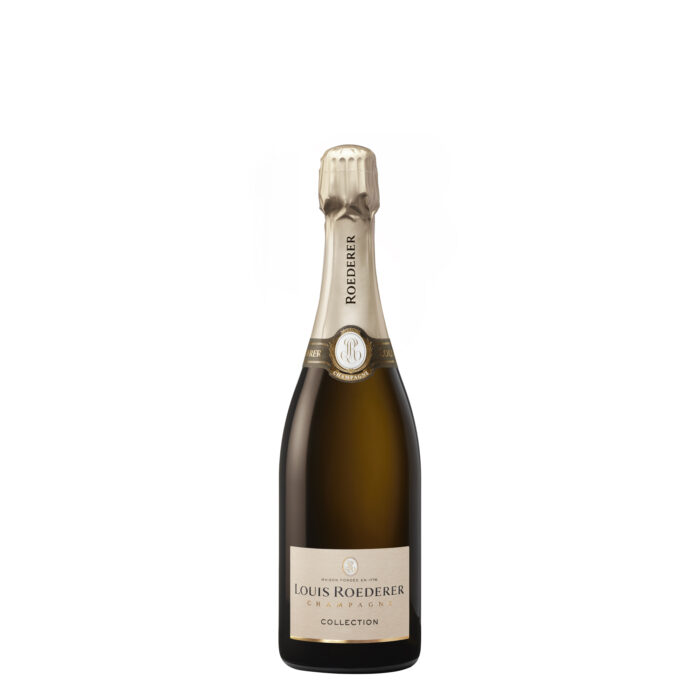 Louis Roederer

Collection 244

Half-bottle (0.375L) | Naked Bottle
Gourmand and powerful, Louis Roederer Collection 244 half-bottle is the 244th blend of the House. Collection 244 signs the return of the texture of the Meunier de Marne et de Montagne, which brings a beautiful greediness to the structured and saline Pinots Noirs and Chardonnays.
Symbolizing the freedom of the Louis Roederer style, each issue of the Collection is a "step aside", a new chapter in the universe of the House's taste: each time singular, but always resolutely Roederer!
Voir tous les produits Champagne Louis Roederer
En stock.

In 24/48 hours
Frais de livraison offerts dès 500€ d'achat
Emballage anti-casse soigné
Confiez-nous votre message personnalisé lors de la confirmation de commande
For which moment ?
As a gift, For a dinner, For a special occasion or an event
Collection 244
A multi-vintage Champagne, each Collection blend has its own identity and nuances, which reveal themselves over time. Each blend is associated with a number indicated on the labels, in order to appreciate its differences as well as its continuity.
The Collection number also allows wine lovers to keep and choose their wine according to the degree of youth or maturity they desire and appreciate, or to collect it.
The half-bottle format (0.375l) is ideal for your one-on-one tasting moments, your small attentions, your gifts and your corporate events.
Tasting Notes
A beautiful golden yellow color, very Champagne! A dense and regular effervescence with ultra-fine bubbles.
A full and deep bouquet of ripe fruits (vine peach, William pear) associated with citrus (lemon, blood orange). The iodine and smoke notes, linked to the autolysis and the ageing in wood, add aromatic freshness. Then come the notes of chalk, of light reduction suggesting a concentrated and powerful wine.
Mouth with a delicious attack and a powerful and greedy texture. Very juicy and concentrated sensation as if one was biting into a ripe fruit. The material is soft and caressing, enveloping the palate but immediately lightened thanks to the delicate effervescence. The length is brought by a nice line of chalky freshness. We are at the same time in full greediness, with this slightly roasted side, and in full freshness, thanks to a salivating final. The smoky notes finally take over to support this very tasty finish. Collection 244 signs the return in texture of the Meunier de Marne et de Montagne, which brings a beautiful greediness to the structured and salty Pinots Noirs and Chardonnays!
Technical sheet
Blend : 41% Chardonnay, 33% Pinot Noir, 26% Meunier.
Vinification : Collection is based on a selection of plots chosen in the heart of the Champagne region, adapted to its identity, with a priority given to sustainable viticultural practices.

To bring even more freshness and balance the beautiful maturity of the harvest, Collection is composed of a "Perpetual Reserve" (36%, composed of grapes harvested in 2012/2013/2014/2015/2016/2017/2018) which brings new sensations, both tactile and gustatory: the wine thus finds more breadth, depth, substance and relief; its texture more enveloping, more fleshy, increases its complexity.

Collection is also composed of Reserve Wines aged in wood (10%, composed of grapes harvested in 2012/2013/2014/2015/2016/2017/2018).

Alongside this Réserve Perpétuelle, Louis Roederer has greatly increased the proportion of reserve wines in wood, which judiciously balance the freshness of the Réserve Perpétuelle and give intensity to the blend. The Collection thus gains in modernity, in complexity, adorning itself with all the virtues of a great champagne.

The cuvée Collection 244 is made from 1/3 of the vineyard of "La Rivière", 1/3 of the vineyard of "La Montagne", 1/3 of the vineyard of "La Côte".
The grapes from the Louis Roederer estates are complemented with grapes from selected "Coeur de Terroir" plots from their partner winemakers.
Ageing potential : Collection is a deep and nuanced wine that can be enjoyed now or after a few years of cellaring.
Dosage : 7 g/litre
Characteristics : Vintage: The dry, continental year of 2019 broke all historical temperature records during unusually intense heat waves! Moderate yields and magnificent ripeness make for wines that are both dense and fresh. The harvest took place from September 10 to 21.
Characteristics : Non Vintage