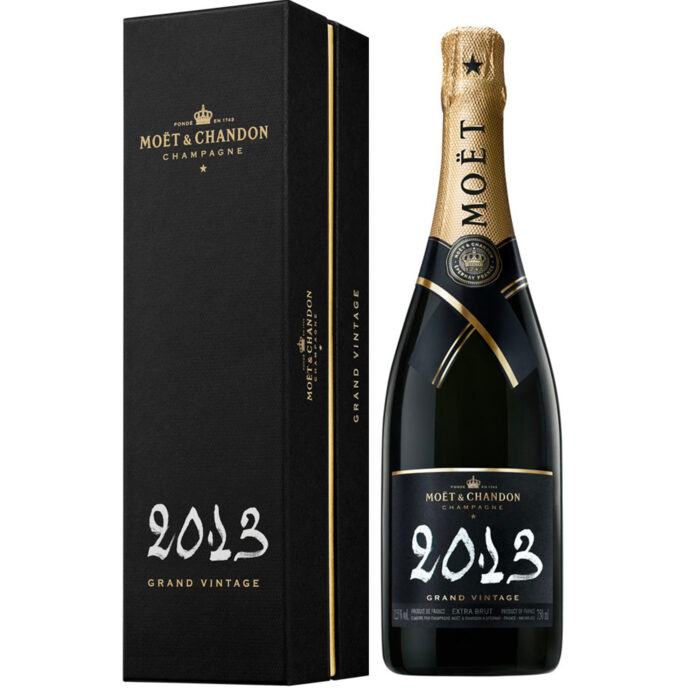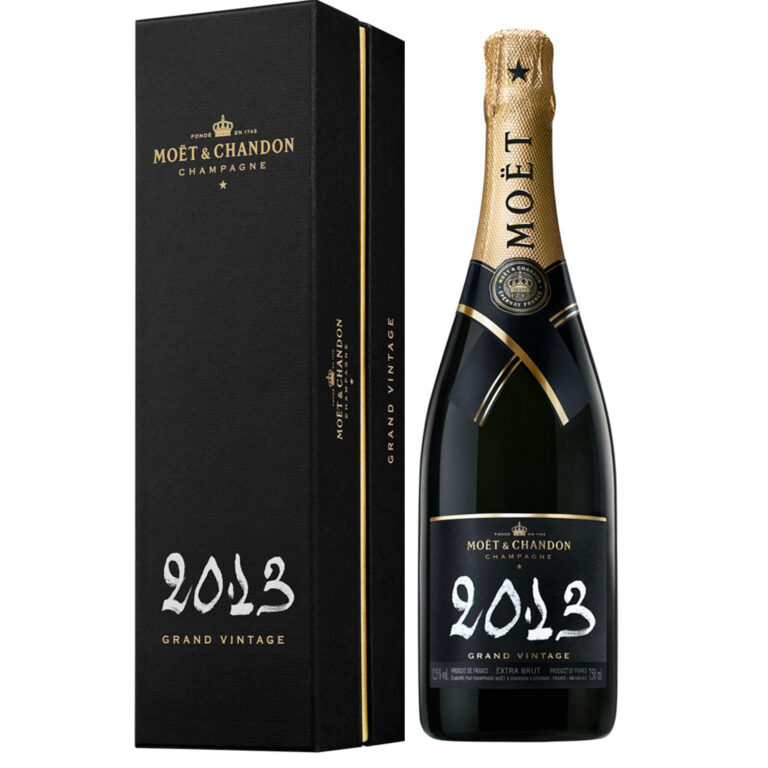 Champagne Moët & Chandon

Grand Vintage 2013

Bottle (0.75L) | Box
Moët & Chandon Grand Vintage 2013 Bottle Gift Box is an autumnal, chiselled and energetic champagne. Each Moët & Chandon Grand Vintage is the result of the Cellar Master's free interpretation of a selection of the most remarkable wines produced in a single year.
Out of stock
Je souhaite être informé(e) lorsque le produit sera à nouveau disponible.
Frais de livraison Standard 24-48H inclus dans le prix des coffrets
Emballage anti-casse soigné
Confiez-nous votre message personnalisé lors de la confirmation de commande
For which moment ?
As a gift, For a dinner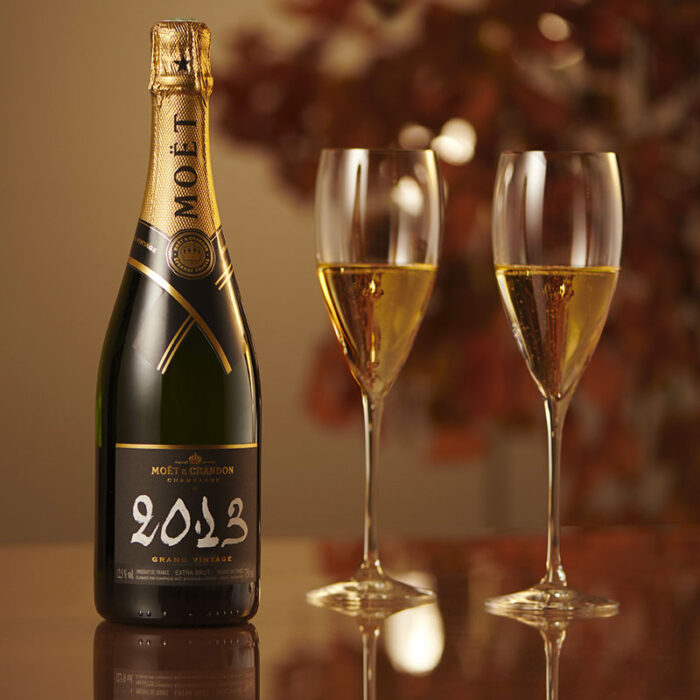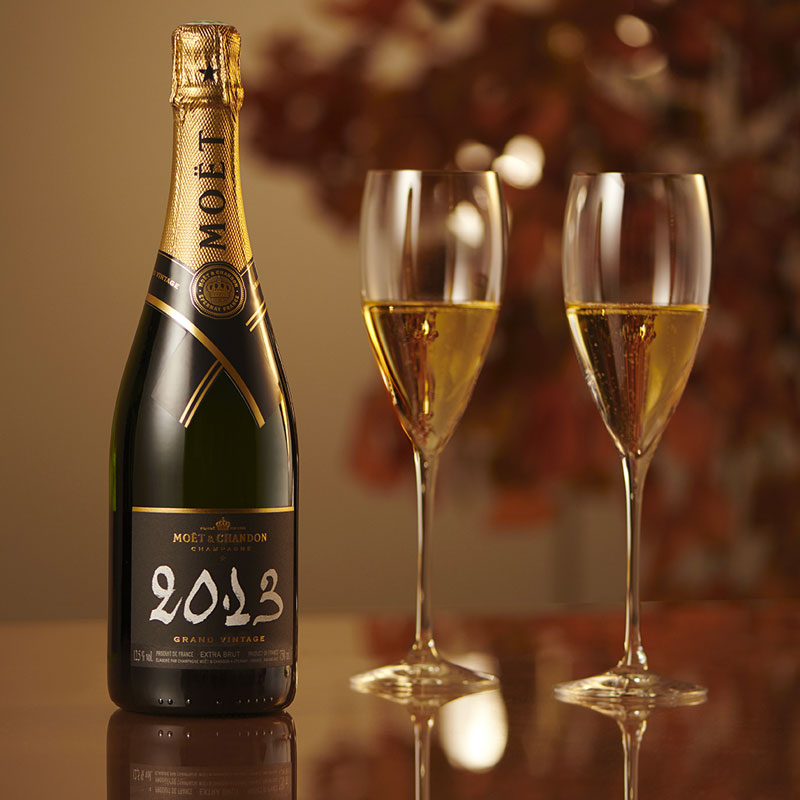 Grand Vintage 2013
Since 1842, when Moët & Chandon created the Grand Vintage cuvée, this great champagne has been made for the pleasure of connoisseurs looking for more mature wines. Since then, each Grand Vintage is unique, a free and personal interpretation of the year by Moët & Chandon's Chef de Cave.
The 75th vintage in the history of the House, from a harvest that was mainly and exceptionally picked in October, the Grand Vintage 2013 Moët & Chandon is a wine whose maturity is immediately asserted with autumnal aromas. This Extra Brut Champagne is distinguished by a chiselled structure and an energetic balance on the palate, a light golden colour as well as fine and persistent bubbles.
Presented in its elegant case, the Grand Vintage is ideal for all your gift-giving occasions.
Tasting Notes
A light golden-yellow colour, a fine and persistent bubble.
An autumnal bouquet. The ripeness expresses itself straight away, with autumnal notes of roasted chestnuts, toasted buckwheat, fatty nuts, honey and nougatine. Then the fruit reveals itself, evoking a perfectly ripe apple or pear. Hints of iodine, dried flowers and pine sap complete the aromatic bouquet.
Lively and well-structured on the palate. The palate is straightforward, energetic, supported by a lively but delicate acidity, underpinned by a chiselled structure and wrapped in a finely grained texture. The fine bitterness of white grapefruit holds the final note.
Food pairings
To create a recipe that pairs well with Moët & Chandon Grand Vintage 2013, focus on the texture and substance of the main ingredient: Choose a complementary ingredient with warm, toasty notes, such as hazelnuts, to create a dialogue with the champagne, and add a subtle touch of bitterness, such as lemon, to create contrast. For inspiration, the Grand Vintage 2013 has no shortage of associations, and is equally at home with seafood and meat. Try roasted scallops on whole-wheat blinis with a lemon coulis, or veal chops with sea almonds and a dash of lemon bergamot. The Grand Vintage 2013 Moët & Chandon also goes well with vegetarian options, such as aubergine with Lebanese spices.
Technical sheet
Blend : The Grand Vintage 2013 Moët & Chandon is the unexpected expression of a year particularly famous for its Chardonnays. This champagne is composed of 41% Chardonnay and 38% Pinot Noir, enhanced by the discreet presence of Meunier (21%).
Vinification : The year 2013: 2013 was a year of unusual weather. It was characterised by a cold winter climate which delayed the vegetative cycle and resulted in a later October harvest.
Ageing in the cellar: Seven years of maturation in the cellar have given it a truly unique character.
Ageing after disgorgement: 6 months minimum.
Dosage : 5 g/litre
Characteristics2013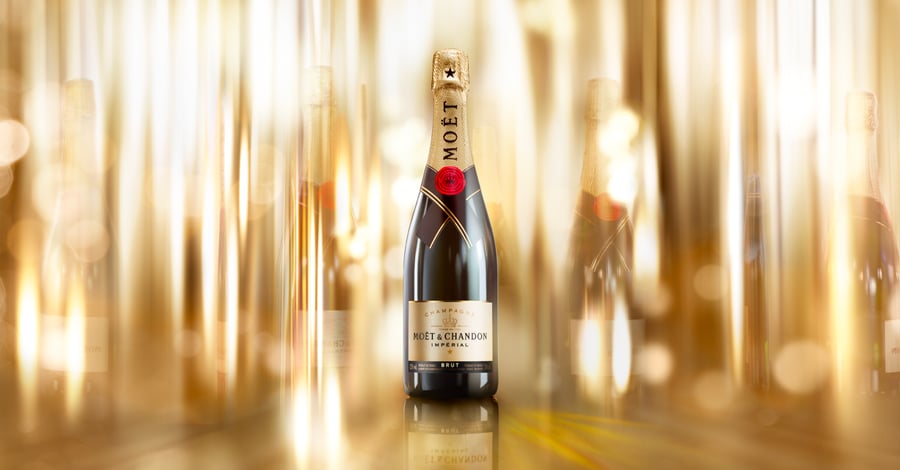 Champagne Moët & Chandon
A UNIVERSAL SUCCESS CHAMPAGNE
Since 1743, Moët & Chandon has been creating some of the world's best-loved Champagne wines. The richness and diversity of its 1000 hectare vineyard (the largest and most prestigious estate in Champagne) consisting mainly of Premiers and Grands Crus, are expressed in the recognised quality of its wines.
Voir tous les produits Champagne Champagne Moët & Chandon