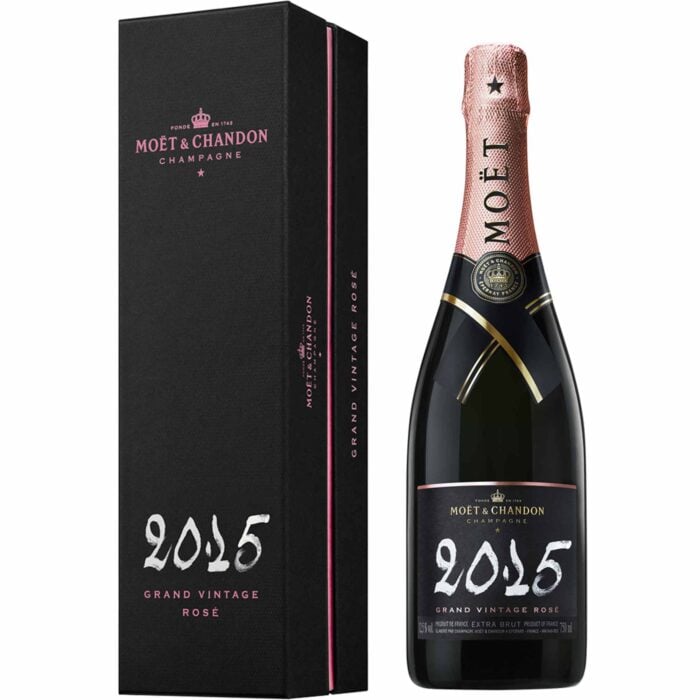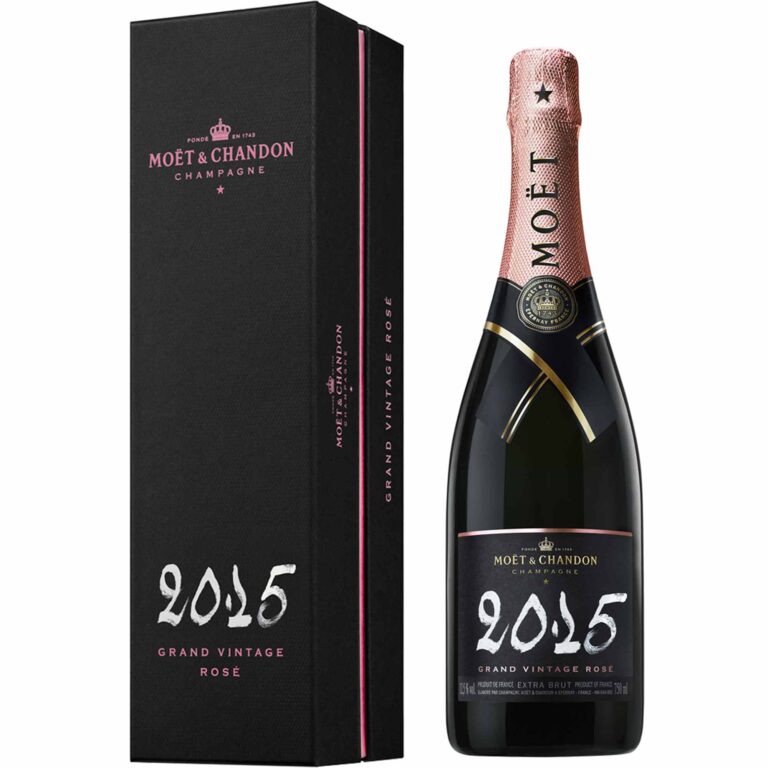 Moët & Chandon

Grand Vintage Rosé 2015

Bottle (0.75L) | Box
Each Grand Vintage is unique, revealing a free and personal interpretation of the year by the Cellar Master. In Champagne, 2015 was marked by uncertainty, climate change, and intense heat. The resulting Moët & Chandon Grand Vintage Rosé 2015 with box, the 45th vintage in the House's history, is endowed with incomparable character. It offers a sumptuous palate, the unexpected expression of a particularly warm year. Its story is one of controlled power, channelled intensity and irresistible light.
Voir tous les produits Champagne Moët & Chandon
En stock.

5 to 10 days delivery
Frais de livraison offerts dès 500€ d'achat
Emballage anti-casse soigné
Confiez-nous votre message personnalisé lors de la confirmation de commande
For which moment ?
As a gift, For a dinner
Grand Vintage Rosé 2015
Moët & Chandon Grand Vintage Rosé 2015 with gift box is the reflection of a harvest of black grapes of exceptional quality which revealed a remarkable maturity, with a powerful and fruity nose and a fleshy final note.
The chromaticity of the 2015: Grand Vintage Rosé 2015 evokes a powerful bouquet of red or black fruit, with warm notes of garrigue, faceted with violet nuances. Black fruit (blue plum, blackcurrant, blueberry, blackberry, fig) with a marked red tinge (wild strawberry), garrigue, heather.
Tasting Notes
An assertive and brilliant colour. A garnet pink colour with bluish highlights, fine bubbles and creamy foam.
The bouquet opens with aromas of red fruits. Fruity notes of fig and wild strawberry mingle with the spicy notes of aromatic pink peppercorns and allspice. With hints of flowery garrigue.
A powerful and complex palate. The fruit is intense, dark and deep. The tannins create angles that reveal multiple facets, similar to those of a rough diamond. The greedy bitterness of sloe and cranberry, tinged with mint and aniseed, refreshes the final note.
Food pairings
The champagne should not be rushed with overpowering flavours, but rather linked to its delicacy. The Grand Vintage Rosé 2015 will go wonderfully well with reduced juices, a hint of vegetable freshness (watercress, parsley, tarragon, artichoke hearts), the evocation of the garrigue without too much bitterness, aromatic peppers (Séchuan, Timut, long Java), bitter ingredients worked in the sweet universe (candied grapefruit zest with spices), a traditional cuisine in a modern minimalist version, inspired by India
Technical sheet
Blend : Pinot Noir 52% of which 14% is red wine, Chardonnay 27%, Meunier 21%.
Vinification : Maturation time in the cellar: 6 years. Ageing after disgorgement: 6 months minimum.
Dosage : 5 g/litre
Characteristics : The year 2015, marked by an unprecedented heat wave, offered black grapes of remarkable quality, sublimating the Pinot Noir, the majority in this blend. With 44% Pinot Noir, we have to go back to 2009 (50%) and 1996 (50%) to have such a high proportion. On the other hand, as Chardonnay suffered more from the drought, its share is rather low (32%). We have to go back to 2003 (28%) and 1999 (31%), two other sunny years, to find such a low proportion.
Characteristics : 2015