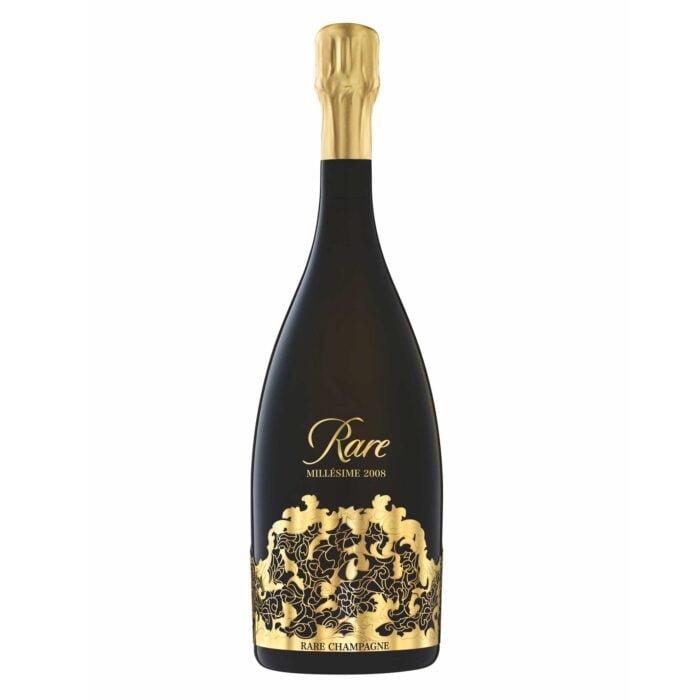 Rare Champagne

Rare 2008

Bottle (0.75L) | Naked Bottle
Rare 2008 Champagne offers offers all the emotions of a pure and infinite spring and the certainty of unlimited potential for growth, youth and complexity.
See all Champagne products from Rare Champagne
In stock.

24/48 hours delivery
Free delivery from 500€ purchase
Neat, break-proof packaging
Give us your personal message when you confirm your order
For which moment ?
As a gift, For a dinner, For a special occasion or an event
Rare 2008
By transforming Nature's obstacles into an exclusive and truly different creation, Rare Champagne exalts the singular, unexpected or resilient character of an exceptional year in an atypical, majestic and refined champagne.
Rare Vintage 2008 offers the certainty of unlimited potential for growth, youth and complexity. All the emotions of a pure and infinite spring.
It shows substantial potential for expression.
Tasting Notes
The intense crystalline golden robe evokes yellow diamonds enhanced by a subtle, joyful effervescence.
The first nose shines with the sheer vivacity of this vintage. As the Rare Vintage 2008 gradually warms up in the glass, a wide range of orange blossom, hyacinth and white flowers emerge. The second nose reveals abundant and refined saline minerality and a touch of liquorice.
On the palate, the crisp, precise attack is followed by exuberant aromas of freshly cut, crisp pineapple, passion fruit, kiwi and coconut, with hints of tart citrus. These combine with lush, spring-like flavours of unparalleled length. The finish, with its remarkable saline and iodine notes, continues the journey into endless spring.
Food pairings
Rare Vintage 2008 perfectly gos with oysters, ginger, lemon grilled sole, mint sabayon, preserved sweet peppers milk chocolate, mango and passion fruit.
Technical sheet
Blend : 70% Chardonnay, 30% Pinot Noir.
Ageing potential : Perfect until 2036, then unforgettable
Characteristics : The 2008 vintage : After a mild and wet winter, a dull spring, a cool and rainy summer, the weather became sunny and dry until the harvest.

Characteristics : 2008