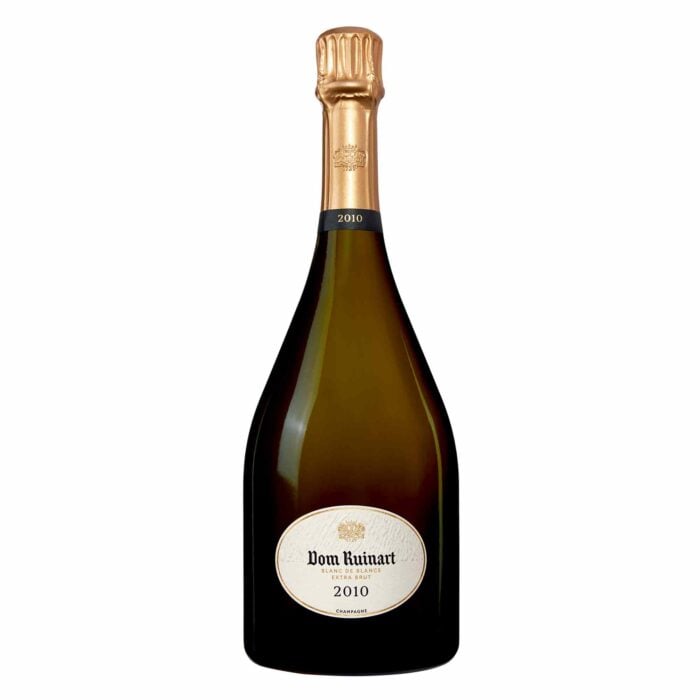 Ruinart

Dom Ruinart Blanc de Blancs 2010

Bottle (0.75L) | Naked Bottle
An exceptional Champagne, a tribute to the Ruinart taste, the Dom Ruinart Blanc de Blancs 2010 is a great Chardonnay wine. Sappy, concentrated, both rich and taut, it reveals a great aromatic intensity.
"The combination of a tense vintage and a major oenological change: the cork print" – Frédéric Panaïotis, Cellar Master at Ruinart.
See all Champagne products from Ruinart
In stock.

24/48 hours delivery
Free delivery from 500€ purchase
Neat, break-proof packaging
Give us your personal message when you confirm your order
For which moment ?
As a gift, For a dinner, For a special occasion or an event
Dom Ruinart Blanc de Blancs 2010
Always vintage, this exceptional cuvée was born in 1959. Dom Ruinart Blanc de Blancs 2010 second skin Case celebrates Chardonnay, the emblematic grape variety of the Ruinart House. This singular wine is the expression of the best years in which Chardonnay has been able to express all its complexity and elegance while preserving a great freshness.
Dom Ruinart 2010 marks a major step in the ageing process, with the return of a practice that was once used: tirage-liège. At the end of the 1990s, guided by an intuition, the cellar master decided to age part of the production of Dom Ruinart 1998 bottles under cork. Instead of the metal capsules commonly used, he opted for cork stoppers. Then, as usual, he let time do its work. In 2008, upon tasting, the difference is significant: the corked bottles give more complex wines with an extra dimension of complexity. Of course, this material is porous, but over a long period of time, it remains extremely stable. More so than the metal capsule, which allows oxygen to pass through in a constant and regular manner every year. The following Dom Ruinart cuvées benefited from this knowledge.
Tasting Notes
The colour of this wine is golden yellow with light green reflections. The effervescence is fine and persistent.
The first nose presents a powdery, floral (Iris) and mineral (wet rock) note evoking the chypre universe of perfumery. Toasted and spicy notes then dominate: the mace of nutmeg for its finesse and intensity, roasted hazelnut and almond, a hint of coffee, reminiscent of enveloping and reassuring perfumes. Zesty notes of ripe citrus fruits energise the aromas of this vintage.
Both rich and tense, Dom Ruinart 2010 is seductive, expressive and concentrated. It asserts itself with great aromatic intensity. Aromas of fig leaves mingle with notes of black tea and fresh spices (sil timur berries, mahaleb). On the palate, the material develops and persists, both firm and directed. The wine extends with a fresh finish enhanced by an elegant bitterness. The Dom Ruinart Blanc de Blancs 2010 is a great Chardonnay wine.
Food pairings
Served at a temperature of 10 to 12°C, in large Lehmann 45cL Jamesse tasting glasses or white wine glasses, it will enhance its complexity. The strong flavours of the 2010 vintage, combined with an intense freshness, offer numerous possibilities for pairing that combine know-how and modernity: - Fillet of black Périgord pig, nutmeg mace, Jerusalem artichoke, lovage oil drizzle & shavings of toasted chestnuts - Blue lobster from Brittany smoked with vine shoots and fir thorns, daikon petals, creamy wakame seaweed sauce & lemon zest - Leek in different textures (burnt, fried, mashed), potato sabayon & truffle.
Ideal serving temperature : Serve between 10 et 12 °C.
Technical sheet
Blend : 100% Chardonnay blend, 90% of which are from the Côte des Blancs (Cramant, Avize, Chouilly & Le Mesnil-sur-Oger) and 10% from the northern slopes of the Montagne de Reims (Sillery).
Vinification : - Manual harvesting - Alcoholic fermentation in temperature-controlled stainless steel vats - Malolactic fermentation - Corking - Manual racking - Minimum 9 years ageing on lattes - Manual disgorgement.
Ageing potential : Up to 10 years depending on storage conditions.
Dosage : 4 g/litre
Characteristics : The 2010 vintage : It was a cool spring that marked the beginning of the 2010 vintage with temperatures well below the ten-year average. This persisted until flowering, causing a delay of five days in the vine's cycle. The summer of 2010 started off well, neither too hot nor too cold, with a summer rainfall deficit of 25% compared to the average of the previous ten years. Everything changes in mid-August as the grapes begin to ripen: torrential rains (the equivalent of two months of rain) fall on the Champagne region. The extreme conditions of constant heat and humidity favoured the development of the Botrytis cinerea fungus, which particularly attacked the Pinot Noir and Meunier grapes. Fortunately, Chardonnay, which was less sensitive at this stage, was spared. September was a milder month. The harvest began on 15 September and the optimal quality of the Chardonnays was maintained until maturity and the end of the harvest. During the tasting of the clear wines, the 2010 Chardonnays surprise us with their richness: this balance in the altos allows our oenological team to express all its know-how when blending these great Chardonnays.
Characteristics : 2010