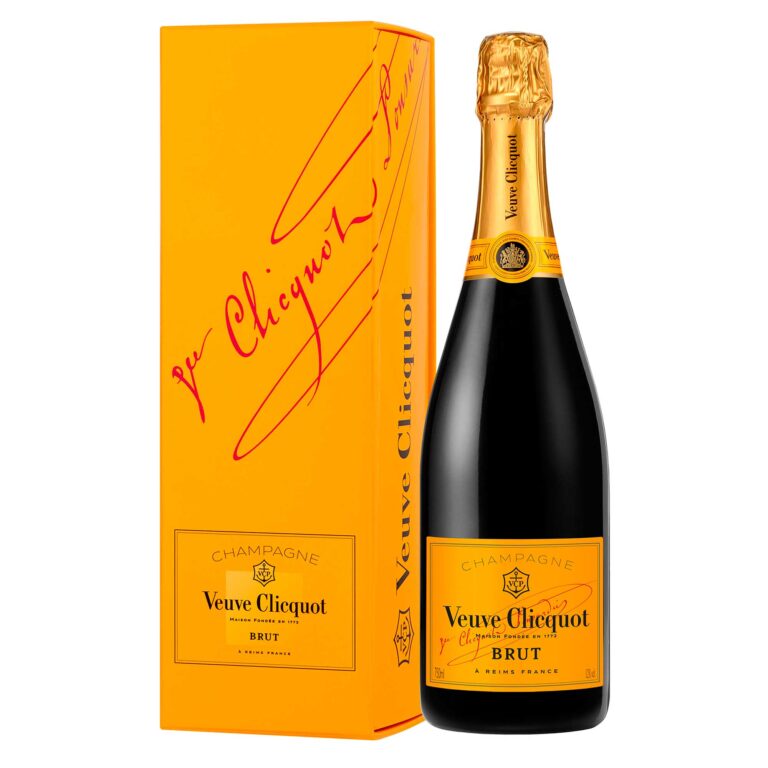 Veuve Clicquot

Brut Carte Jaune

Bottle (0.75L) | Gift box
Veuve Clicquot Brut Carte Jaune Bottle Gift Box is a great Champagne wine, powerful and structured, in line with the Veuve Clicquot know-how.
See all Champagne products from Veuve Clicquot
In stock.

24/48 hours delivery
Free delivery from 500€ purchase
Neat, break-proof packaging
Give us your personal message when you confirm your order
For which moment ?
As a gift, For a dinner, For a special occasion or an event
Brut Carte Jaune
A balance between finesse and power, the Brut Carte Jaune reflects the vineyards of the House of Veuve Clicquot and the consistency of its style: the dominance of Pinot Noir ensures the typical structure of the wines of the Champagne House, while a slight touch of Meunier completes the roundness. The Chardonnay gives it the elegance and finesse necessary for its perfect balance.
Tasting Notes
Beautiful colour with golden yellow reflections, abundant and fine foam.
Powerful and pleasant nose, initially fruity (white fruits, dried fruits), then vanilla and brioche.
On the palate, the attack is frank and dynamic then gives way to a fruity harmony.
Food pairings
The Brut Carte Jaune is both a remarkable aperitif wine and a privileged partner to pair the all meal.

Ideal serving temperature : Serve between 10 et 12 °C.
Technical sheet
Blend : With 50 to 55% Pinot Noir, 15 to 20% Meunier and 28 to 33% Chardonnay, the blend of Brut Carte Jaune is characteristic of the Veuve Clicquot style, marked by a predominance of Pinot Noir and Chardonnay over Meunier. The proportion of reserve wines, which is variable between 25 and 35%, helps to maintain the style of the Champagne House.
Vinification : Veuve Clicquot Champagne wines are aged longer than required by law. Thus, non-vintage vintages are kept in the cellar for at least 30 months and vintages for 5 to 10 years.
Characteristics : Non Vintage