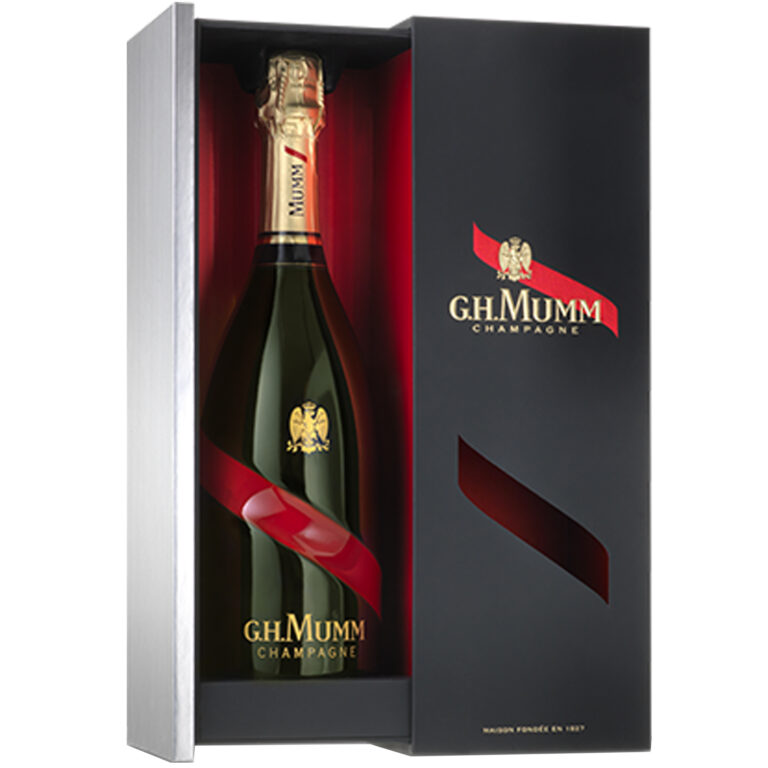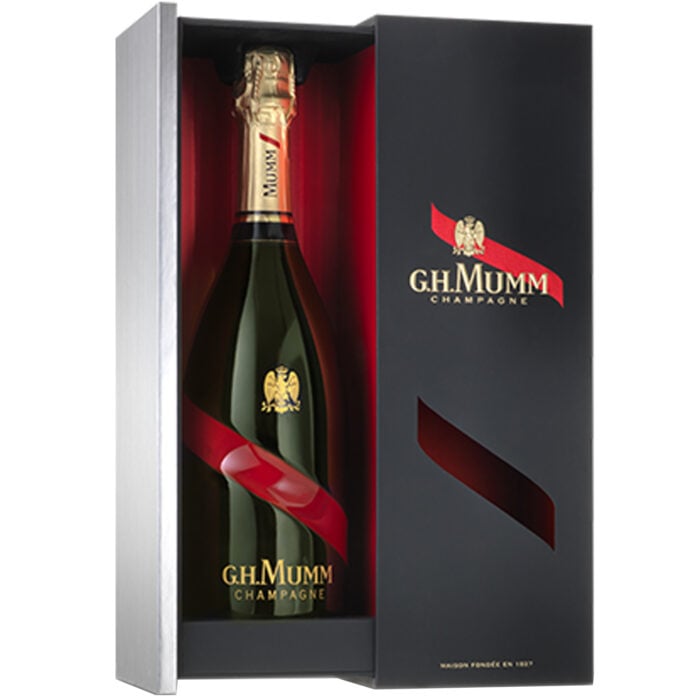 Champagne MUMM

Grand Cordon

Bottle (0.75L) | Box
Mumm Grand Cordon Bottle Luxury Case expresses all the nuances of the Pinot Noir grapes of the Champagne region, with grapes from more than 100 crus. With its assertive and complex profile, the cuvée presents a perfect balance between fresh and intense notes.
Out of stock
I would like to be notified when the product becomes available again.
Conservation optimale : hygrométrie contrôlée 24/24h
Emballage anti-casse soigné
Option message cadeau personnalisé
For which moment ?
As a gift, For a cocktail or business event, For a dinner, For an aperitif or a party
Grand Cordon
« The originality of this innovative bottle leaves no one indifferent. Mumm Grand Cordon embodies all the aromatic power and elegance of the Pinot Noir notes. » Laurent Fresnet, Cellar Master of the House of Mumm
The Mumm Grand Cordon bottle pays tribute to the past while innovating: the shape of the emblematic red ribbon is now moulded directly into the glass, a real technical feat.
For yourself or as a gift, its luxurious box is suitable for all occasions.
Tasting Notes
A golden colour with bright reflections, with a string of fine and lively bubbles.

A tonic and expressive nose, with notes of ripe peaches, apricots and pineapple. This aromatic richness and complexity is underlined by hints of vanilla and pastry, yeast, dried fruit, and honey.

Each sip of this structured and vinous champagne reveals intense and complex fresh fruit flavours, which then melt into a long finish, full of aromatic power and fresh notes.

Food pairings
Served as an aperitif or with a cold starter, Mumm Grand Cordon goes well with dishes that are both simple and refined: scallops, grilled or in carpaccio, soft-boiled eggs, delicate fish (trout, mullet or sole), crab or oysters. The perfect paring? Gourmet and delicate appetizers during a cocktail party, such as Reims ham or pan-fried foie gras.
Ideal serving temperature : Best served between 6 and 8°C as an aperitif, and with a starter between 9 and 12°C
Technical sheet
Blend : 70% Pinot Noir, 30% Chardonnay
Vinification : Some of the reserve wines of Mumm Grand Cordon have been aged in foudres, giving the champagne more aromatic richness.
Ageing potential : Aged in good conditions, the aromatic profile of Mumm Grand Cordon will remain the same for five years, before evolving towards more pronounced pastry notes, reminiscent of shortbread or Viennese bread.
Characteristics : It was the desire to pay tribute to its past while continuing its tradition of innovation that led Mumm to create Grand Cordon. The cuvée is presented in an innovative bottle, created in collaboration with the avant-garde designer Ross Lovegrove. Made from 75% recycled glass, the bottle is distinguished by its slender neck and clean lines. The label itself has disappeared, in favour of the emblematic red ribbon moulded directly into the glass. A true technical feat, always at the service of quality, as the philosophy of the House of Mumm.

CharacteristicsNon Vintage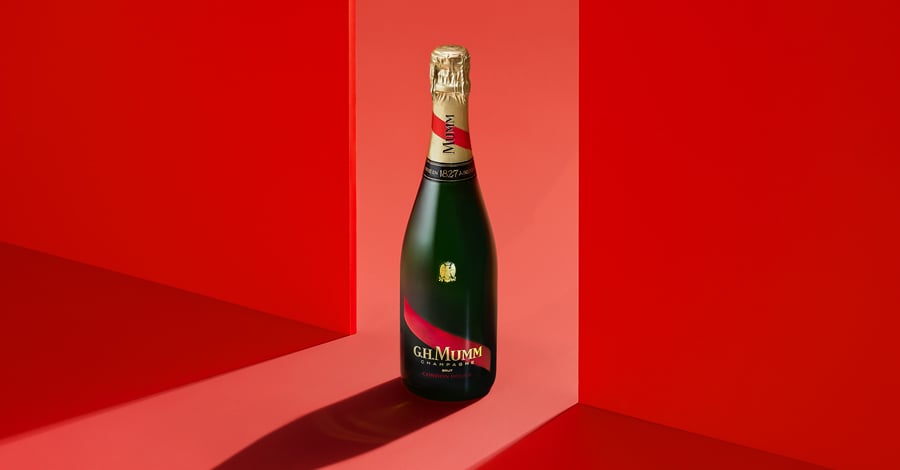 MUMM
BOLDNESS AND INNOVATION TO SERVE QUALITY
The G.H.MUMM Champagne House is one of the most famous in the world. Georges Hermann Mumm is the man to whom we owe the House's emblematic cuvée. In 1876, in order to affirm the quality of its champagne, the House decided to decorate the bottles with a red silk ribbon referring to the one of the Legion of Honour. The success was immediate: the Cordon Rouge has become the symbol of excellence and know-how of the House of Mumm, and has since become a true reference throughout the world.
Voir tous les produits Champagne MUMM