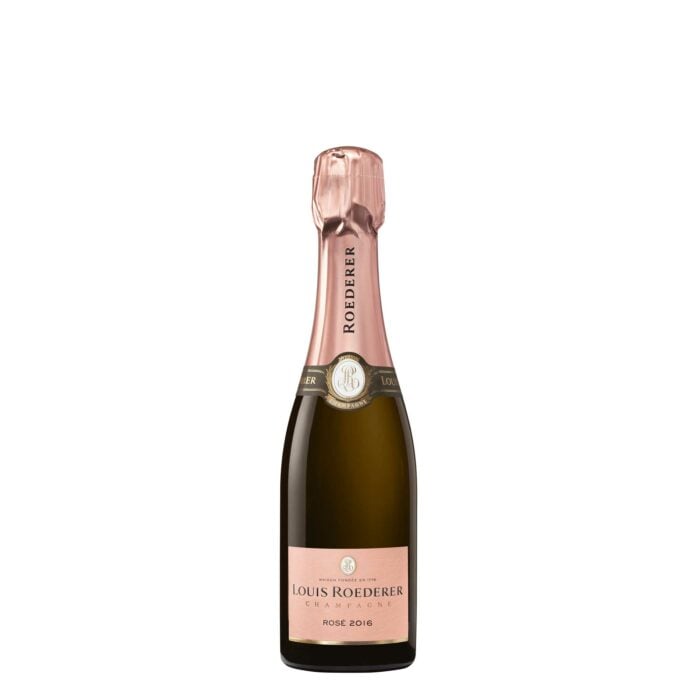 Louis Roederer

Rosé 2016

Half-bottle (0.375L) | Naked Bottle
The Louis Roederer Rosé 2016 half-bottle is a deep and fruity champagne, delivering all the maturity and intensity of a continental summer, dry and bright.
The half-bottle format (0.375l) is ideal for your one-to-one tasting moments, your small attentions, your gifts and your corporate events.
Voir tous les produits Champagne Louis Roederer
En stock.

In 24/48 hours
Frais de livraison offerts dès 500€ d'achat
Emballage anti-casse soigné
Confiez-nous votre message personnalisé lors de la confirmation de commande
For which moment ?
As a gift, For a dinner, For a special occasion or an event
Rosé 2016
Tasting Notes
Salmon color with bright red reflections. Stronger color. Fine effervescence, delicate but dynamic.
Summery bouquet, of beautiful intensity and aromatic freshness, mixing ripe and juicy yellow fruits (vine peach), slightly acidic red fruits (red currant) and citrus fruits (blood orange). With airing, we can then detect more jammy notes of red apricot from Roussillon.
Mouth with a caressing attack, juicy and concentrated but immediately followed by a saline and chalky freshness which makes the matter very voluptuous and delicate. We find ripe and crunchy fruits (vine peach, nectarine) and citrus fruits (lemon) which give a zesty, even slightly bitter look. The soft and delicate effervescence is perfectly melted in a velvet texture. Salivating, almost salty finish, with a hint of tannins and bitters, that incredible chalky dryness that gives an impression of infinite length.
Technical sheet
Blend : 62% Pinot Noir, 38% Chardonnay.
Vinification : Origin : Vineyard of " La Rivière ".
Crus : Cumières, Chouilly.
Wines under wood : 21%.
Malolactic fermentation: 4%.
Dosage : 8 g/litre
Characteristics : Louis Roederer Rosé 2016 is an infusion Rosé: a long, gentle infusion of Pinot noir that extracts its juicy, ripe side while preserving its immense saline freshness. Some Chardonnay juices are thus poured into a Pinot Noir maceration, to ferment together and integrate perfectly.
The Vintage: The year 2016 was characterized by a particularly pronounced climatic swing: after a cool and wet spring, rather late, the summer was dry and hot marked by a heat wave at the end of August and a dry and sunny period of harvest ensuring the beautiful maturity of the grapes. These dry and bright conditions benefited the Pinot Noir grapes, which ripened to an intense fruity character and a silky texture. The Chardonnays are not to be outdone, with a more classic, chiseled and saline look.
Harvest from September 15 to October 1, 2016.
Characteristics : 2016