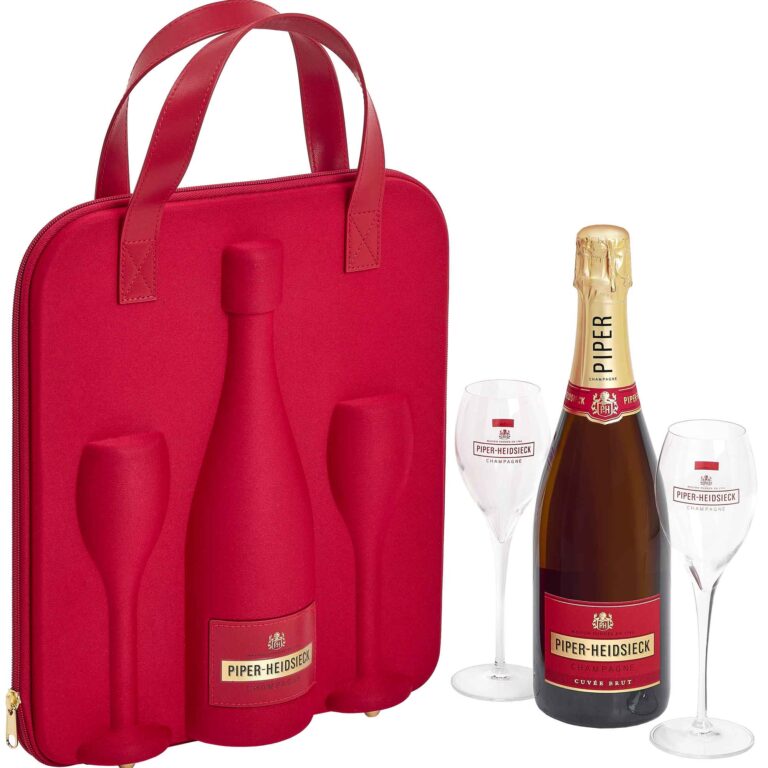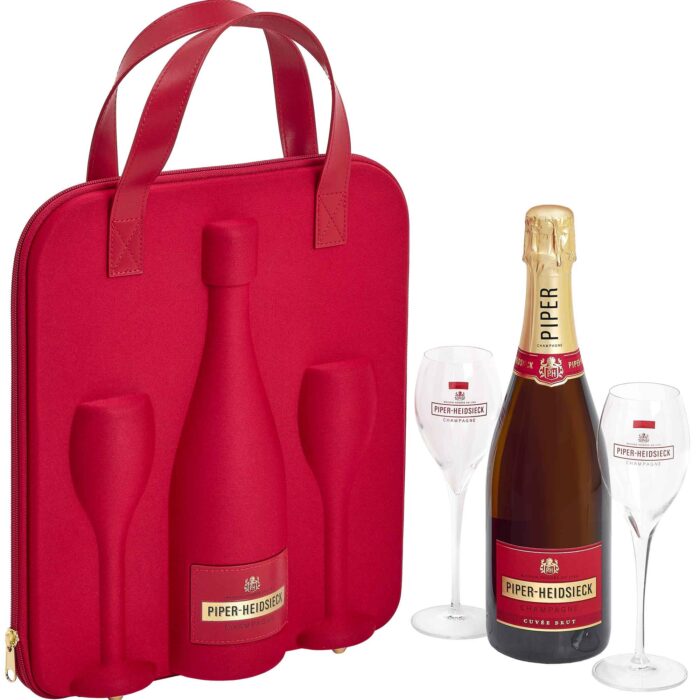 Champagne PIPER-HEIDSIECK

Cuvée Brut Travel Flute Gift Set 1 Bottle 2 flutes

Bottle (0.75L) | Box
Piper-Heidsieck Cuvée Brut Travel Flute Gift Set is the perfect gift, as the ideal companion for your aperitifs, receptions or improvised picnics with 1 bottle and 2 flutes,
For which moment ? : As a gift, For a cocktail or business event, For an aperitif or a party
Take advantage of the free delivery from 180 euros of purchase. (Metropolitan France)
Voir tous les produits Champagne PIPER-HEIDSIECK
Description
The signature of the Piper-Heidsieck Champagne House, the Cuvée Brut is a harmonious and lively champagne, reminiscent of the richness of its 100 crus blend.
With 1 Bottle (0.75L) and 2 flutes, the Piper-Heidsieck Cuvée Brut Travel Flute Gift Set is simply enjoyed as an aperitif, for the pleasure of informal moments.
Tasting notes
A glittering champagne! Like an assertive romantic character, this champagne has a strong and appealing personality, drawing us in with its radiant colour and the joyful effervescence of its bright, elegant bubbles.
A wine of precision! Notes of almond and hazelnut follow the rise of its bubbles. Full of vivacity, this subtle and elegant champagne leaves a delicious sensation of sweetness, underlined by the purity of fresh pears and apples, as well as a delicate touch of citrus fruit.
Lively! The harmonious blend of crisp, fiery pomelo, white grapes and juicy white fruit produces a delightfully surprising sense of lightness enhanced by the structure and depth of the Pinot Noir, offering a perfect balance.
Technical sheet
Blend : 50-55% Pinot Noir, 30-35% Meunier and 15-20% Chardonnay. 10-20% reserve wines.
Dosage : 10 g/litre
CharacteristicsNon Vintage