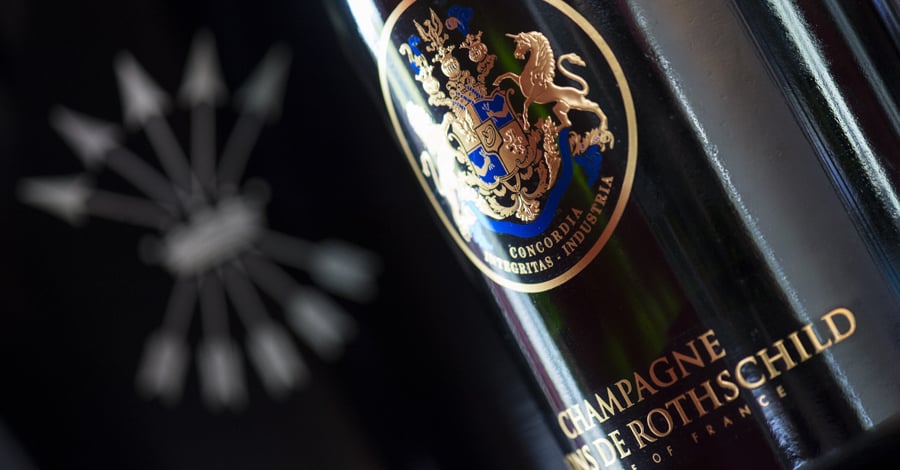 Champagne Barons de Rothschild
A GREAT NAME FOR AN EXTRAORDINARY CHAMPAGNE
United and driven for over two centuries around values of entrepreneurship, humanism and undisputed quality, the Rothschild family also embodies the art of living, and respect for tradition. Drawing on their wine expertise, Rothschild's Barons offer excellence with the Champagne Barons de Rothschild. The meticulous work carried out on each cuvée is part of an exceptional quality approach that makes it rare.
Showing all 36 results

Excellence, a family history
It all begins in the heart of the prestigious Grands Blancs region. This Champagne terroir is renowned for the important place given to the Chardonnay grape variety. Each bottle of Champagne Barons de Rothschild is crafted with exceptional quality, which makes it a rarity. As it was two centuries ago, each bottle rests in the cellars dug into the stone, where silence and darkness reign supreme, in respect of the great Champagne that is being prepared.
A great name for an exceptional champagne
In 2007, Barons de Rothschild installed itself in Reims, at the corner of Boulevard Lundy and Rue Camille Lenoir. The head office is located in the heart of the city in a 19th century bourgeois house, close to the most famous Champagne Houses of Reims, followed by the acquisition of the former Maison Prieur, in Vertus, with the development of a production tool in accordance with the objectives of requirement and quality. The strength of this young company is its size: small volumes in line with carefully selected supplies, and above all: time.
Barons de Rothschild Champagnes, in the heart of exceptional terroirs

Among the 312 villages or crus that make up the Champagne appellation, "a handful" of 17 are classified as Grand Crus and 44 as Premier Crus. It is in the heart of these most sought-after exceptional terroirs that the Rothschild family has built strong relationships to guarantee a supply of exceptional grapes. As with their famous Bordeaux wines, the close relationships of these men, experts in their art, and their exceptional terroirs has been part of the family's values for over 160 years.
Chardonnay in majesty
The exclusive approach that presides over the elaboration of Barons de Rothschild Champagne is expressed by the preponderance of Chardonnay in its cuvées. This grape variety, which occupies only 30% of the surface area planted in Champagne, is not only the rarest and most expensive, it is above all the guarantor of a style full of finesse.
Barons de Rothschild Champagne, the work of time
The Barons de Rothschild cuvées are affirmed by their blending of the greatest Chardonnay of Champagne after at least four years of aging in the cellar. They benefit from the care reserved for the best vintages of the greatest Champagne Houses.