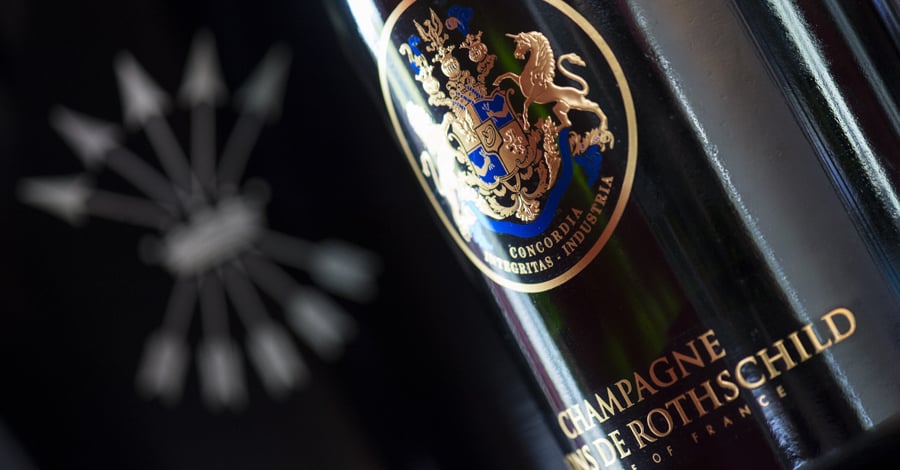 BARONS DE ROTHSCHILD
A GREAT NAME FOR AN EXTRAORDINARY CHAMPAGNE
United and driven for over two centuries around values of entrepreneurship, humanism and undisputed quality, the Rothschild family also embodies the art of living, and respect for tradition. Drawing on their wine expertise, Rothschild's Barons offer excellence with the Champagne Barons de Rothschild. The meticulous work carried out on each cuvée is part of an exceptional quality approach that makes it rare.
Showing all 34 results

L'excellence, une histoire de famille
Tout commence au cœur de la prestigieuse région des Grands Blancs. Ce terroir champenois est réputé pour la place importante accordée au cépage Chardonnay. Le travail d'orfèvre réalisé sur chaque flacon Champagne Barons de Rothschild s'inscrit dans une démarche qualitative exceptionnelle qui en fait sa rareté.Tel qu'il y a deux siècles, chaque flacon repose dans les caves creusées dans la pierre où silence et obscurité règnent en maître, en respect du grand Champagne qui se prépare.
Un grand nom pour un champagne d'exception
En 2007, la Maison Barons de Rothschild s'est installée à Reims, à l'angle du boulevard Lundy et de la rue Camille Lenoir. Le siège social est au cœur de la ville dans une maison bourgeoise du 19ème siècle, près des plus grandes Maisons de Champagne de Reims.Puis ce fut l'acquisition de l'ancienne Maison Prieur, à Vertus, avec l'aménagement d'un outil de production conforme aux objectifs d'exigence et de qualité. La force de cette toute jeune maison est sa taille : des petits volumes en adéquation avec des approvisionnements sélectionnés avec soin, puis et surtout : le temps.
Champagnes Barons de Rothschild, au coeur des terroirs d'exception

Parmi les 312 villages ou crus qui constituent l'appellation champenoise, "une poignée" de 17 est classée en grands crus et 44 en premiers crus. C'est au cœur de ces terroirs d'exception les plus recherchés que la famille Rothschild a su tisser de solides relations pour garantir un approvisionnement de raisins hors du commun.Comme pour leurs célèbres vins de Bordeaux, la proximité des hommes de l'art et de leurs terroirs fait partie des valeurs de la famille depuis plus de 160 ans.
Le Chardonnay en majesté
La démarche d'exclusivité qui préside à l'élaboration du Champagne Barons de Rothschild s'exprime par la prépondérance des Chardonnays dans ses cuvées. Ce cépage qui occupe seulement 30 % de la surface plantée en Champagne, n'est pas seulement le plus rare et le plus cher, il est surtout le garant d'un style tout en finesse.
Champagne Barons de Rothschild, l'oeuvre du temps
Les cuvées Barons de Rothschild s'affirment par leurs assemblages des plus grands Chardonnay de Champagne après au moins quatre années de vieillissement en cave. Elles bénéficient du soin réservé aux meilleures cuvées des plus grandes Maisons de Champagne.