THE EXPRESSION OF VEUVE CLICQUOT STYLE
La Grande Dame 2008 is the ultimate expression of the Veuve Clicquot style and a reflection of its terroir. Its unprecedented blend of 92% Pinot Noir and 8% Chardonnay brings the House style to its quintessence, guaranteed by the predominance of Pinot Noir. An oenological masterpiece that reveals all its power with finesse and elegance.
A TRIBUTE TO MADAME CLICQUOT
Created in 1962 and launched in 1972 to celebrate the House's bicentenary, La Grande Dame is a tribute to "La Grande Dame de la Champagne", Madame Clicquot. This remarkable wine is a perfect balance of complexity, structure and power. These characteristics come together to create an elegant balance of freshness and structure, enhanced by a perfect dosage (6 g/l) that resonates with the potential of this cuvée.
On the nose:
Notes of dried fruit (almonds, figs, apricots), ripe white fruit (pears) and finally, subtle toasted notes of hazelnut and praline.
On the palate:
Silky texture and young fruit, carried by citrus and red fruit notes (cherry).
This wine can be paired with oysters, fish tartar, seafood or sesame chicken.
An exceptional bottle for an exceptional vintage. Only a few bottles of La Grande Dame Brut 2008 in Jeroboam format are available.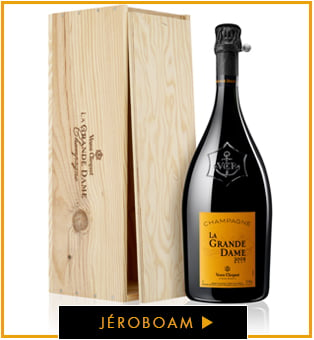 This cuvée is the result of an exclusive blend of 6 of the House's 8 historic Grands Crus, composed of 92% Pinot Noir and 8% Chardonnay.
Discover Champagne Veuve Clicquot gift ideas on Champmarket