Champagne, the ideal gift
Offering champagne is a safe bet. In your private as well as professional relationships, it is the ideal gift, without any lack of taste. Discover our selection of gift boxes, composable or pre-packaged, and the delicate attentions we have reserved for you, so that the pleasure is as much to give as to receive!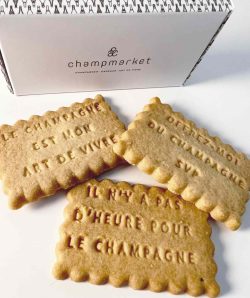 Limited offer : a free Shanty Biscuits mini-box
Make your tastings sparkle with our champagne messages 🍾
A mini-box of 3 Shanty Biscuits For any order of Champmarket boxes placed on the site.
Offer a tailor-made gift. For a truly unique champagne gift, express your creativity with our 6-bottle box, which can be composed according to your desires. To compose your customized box, it's very simple: choose your favorite champagnes among our selections, and give us your personalized message. And there you have it, your box is already ready to be shipped!
The gift experience
Champmarket
We care about design, but not only. We are also concerned with sustainable development and respect for the environment. We design and manufacture our boxes with the greatest care in France, in a biodegradable material…