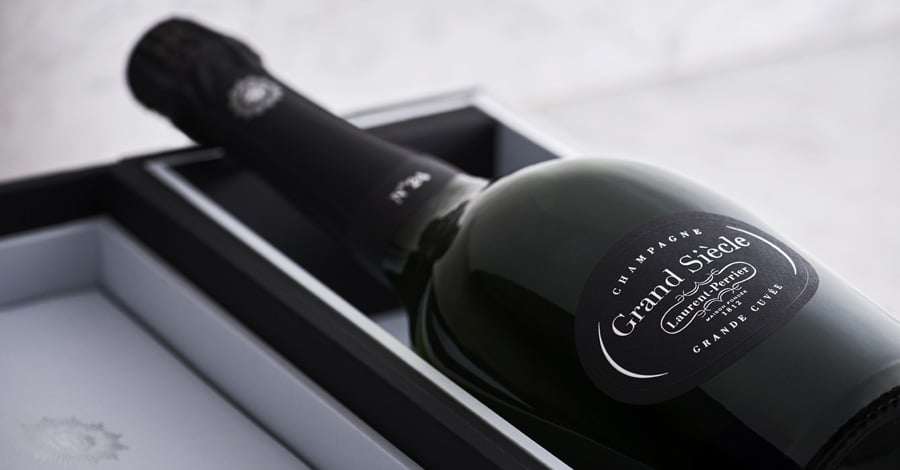 Champagne Laurent-Perrier
PLEASURE, REQUIRMENTS AND CREATIVITY
Founded in 1812, the Laurent-Perrier Champagne House cultivates independence of spirit, creativity and consistency in the quality of its wines, which are acclaimed by connoisseurs. Today, it is recognised as one of the greatest Champagne Houses in France and throughout the world.
Showing all 38 results

Laurent-Perrier's success is the result of the energy of a family led by Bernard de Nonancourt
Founded in 1812, the Laurent-Perrier Champagne House owes its success to the energy of a family led by Bernard de Nonancourt, initiator of the Laurent-Perrier style and range. His courage, convictions and dynamism have transformed the small Champagne House of Tours-sur-Marne, acquired by his mother in 1939, into a world-renowned brand. With his passion for innovation, his attachment to the traditions of the Champagne region and the quality of the people and wines, he gave Laurent-Perrier champagnes a tremendous boost and created a great brand with a unique range of prestigious champagnes.
Today, his daughters Alexandra Pereyre de Nonancourt and Stéphanie Meneux de Nonancourt have taken the wheel. They work to perpetuate the values of high standards and elegance, to preserve the independence of a House and to affirm their vision of the Brand.
Michel Fauconnet, emblematic Cellar Master
Michel Fauconnet has been working as Cellar Master since 2004, succeeding Alain Terrier, of whom he was first assistant. "
I have spent my entire career at this House, where I share its passion for champagne and its values: high standards and perfection. My job is to develop wines that bring pleasure, in keeping with the spirit of the Laurent-Perrier House.
"
Independence of spirit, creativity and consistency in quality
Laurent-Perrier has always been a pioneer and innovator in Champagne. Through its commitment to sustainable viticulture in the Champagne vineyards, and through each of its cuvées, the House has built itself around 4 strong convictions:
Blending, rather than the vintage
For Laurent-Perrier, blending is the true secret of Champagne quality. Therefore, the Grand Siècle cuvée, the most prestigious and most demanding, is not vintage but numbered.
A unique and distinctive style:
purity, elegance, freshness and finesse
Laurent-Perrier champagnes are always marked by an exceptional aromatic complexity, fullness and length in the mouth.
Chardonnay
With the exception of Cuvée Rosé and Alexandra Rosé, Chardonnay is the majority grape variety in Laurent-Perrier champagnes. It brings to the blends the freshness, finesse and elegance sought after and makes the Laurent-Perrier style so distinct from other Houses. As with the Laurent-Perrier Cuvée Brut, known for its aromas of fresh citrus and white flowers, notes of vine peach and white fruits.
The expression of Pinot Noir
The maceration following the harvest allows for an unequalled aromatic quality revealing all the richness of the best Pinot Noir Crus. Cuvée Rosé Laurent-Perrier is the perfect illustration of this.
Cuvée Rosé, chosen among the best*
Cuvée Rosé was launched in 1968, born of the audacity and unique know-how of the Laurent-Perrier House. Cuvée Rosé is recognized for its consistency and high quality, characterized by its fresh red fruit aromas, great intensity and freshness.
*In the best hotels and restaurants.
Ultra Brut, pure champagne
Precursor of the Brut Nature category, Laurent-Perrier Ultra Brut* is a wine with no added sugar, expressing a champagne in its pure state, originally named "Grand Vin sans sucre". Launched in 1981, this innovation is a true illustration of the House's expertise.
*Trademarked
Grand Siècle, recreating the perfect year
For Prestige cuvees in Champagne, the vintage is generally considered to be synonymous with excellence. At Laurent-Perrier, however, we believe that the art of blending can (re)create what nature will never give us: the perfect year.
The expression of the perfect year is that of a great Champagne wine that has developed a deep aromatic intensity and complexity, while managing to preserve its freshness and acidity over time. It is on this idea that the Cuvée de Prestige Grand Siècle was born in 1959. To create this wine, Laurent-Perrier relied on the characteristics of the great vintage years of Champagne: freshness, structure, finesse, etc.
The blend of Grand Siècle is based on 3 immutable principles:


Blend of a selection of 3 exceptional years chosen for their complementarity


Blend of a majority of Chardonnay with Pinot Noir selected from 11 of the only 17 Grands Crus in Champagne


Blend benefiting from a prolonged ageing period of more than 10 years.