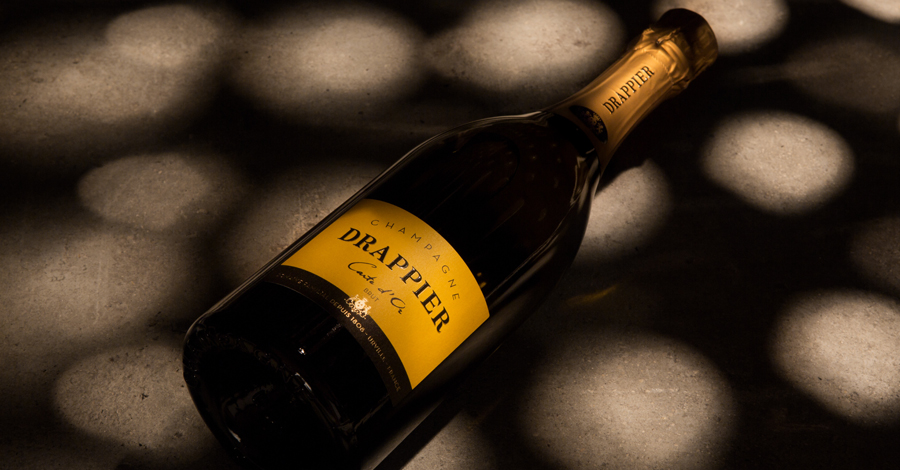 Champagne Drappier
THE SINCERITY OF PINOT NOIR SINCE 1808
The Champagne Drappier House has been making authentic wines for two centuries, known for their intense Pinot Noir aromas. General De Gaulle's Champagne supplier, the Drappier House has always produced wines marked by freshness and fine effervescence. The family House is also known for its great vintage cuvée, the Grande Sendrée, which surprises with its refinement and aromatic complexity.
Showing all 40 results

Drappier, a family history since 1808
Although vines were first planted in Urville by the Gallo-Romans 2000 years ago, it was Saint Bernard, founder of the Abbey of Clairvaux, who had the cellars of the Maison Drappier built in 1152.In 1808, seven centuries later, it was around this medieval testimony, magnificently preserved, that the family estate was created, directed today by Michel Drappier. The Drappier vineyard covers 62 hectares in Urville and is the favourite land of Pinot Noir, the emblematic grape variety of the House.Nowadays, instead of sophisticated and sometimes overrated excellence, Drappier prefers authenticity and nature. Particularly thanks to a very low dosage and an extremely moderate use of sulphites, of which the Brut Nature Sans Soufre is the result, it highlights the multiple facets of its terroir and its winemaking methods.
The vine at the heart of Drappier's identity
The family vineyard now covers 62 hectares, cultivated according to organic and natural principles.Mainly located in the commune of Urville, the vineyard retains the strong identity of the Bar-sur-Aube district, marked by the influence of Pinot Noir. This grape variety reigns supreme, and represents 70% of the estate, completed by Pinot Meunier at a rate of 15%, Chardonnay 9%, and 6% of old grape varieties. As an "archive" of the long history of the house, the house continues to cultivate forgotten yet unforgettable grape varieties: Fromenteau, Arbane, Petit Meslier and Blanc Vrai.The proximity to the vines is necessary to keep a close eye on the evolution of the plant and its interactions with its environment. This very local vineyard has enabled the Drappier family to reinforce its sustainable viticulture methods, with the "Agriculture Biologique" certification.
Drappier, the first "Carbon Neutral" Champagne house
Since 2016, Champagne Drappier is the first estate in Champagne to be "carbon neutral" (Ecoact).From the vineyard to the tasting, every effort is made to reduce the carbon impact. Thanks to the photovoltaic panels placed on the roofs of the buildings on nearly 2000 m², they produce 75% of the electricity necessary for their needs.A fleet of electric vehicles (electric tractor, utility vehicles) reduces fossil fuel consumption, while charging stations (generic and Tesla) allow visitors and staff to benefit from the energy produced by the facilities.The new Drappier bottle shape designed by Michel Drappier is 15% lighter than a traditional Champagne bottle.The materials, from the bottle to the champagne stand, are recycled. The bottles tasted at the estate, transformed into plant wax candles, are given a second life.On the edge of the Cornellier vineyard, architecture students were given carte blanche to recycle used desks and barrels. It is now a reinterpretation of the ancestral "vineyard lodges" that punctuate the winegrowing landscape. This new lodge welcomes visitors for a tasting in the middle of nature.The house's early commitment to a global ecological approach, culminating in "Carbon Neutral" certification in 2016, has earned Drappier Champagne several awards:Michel Drappier, Green Personality of the YearThe Drinks Business - 2017Innovation AwardLa Revue du Vin de France - 2019Champenois Trophy for the eco-responsible approachBulles & Millésimes - 2018