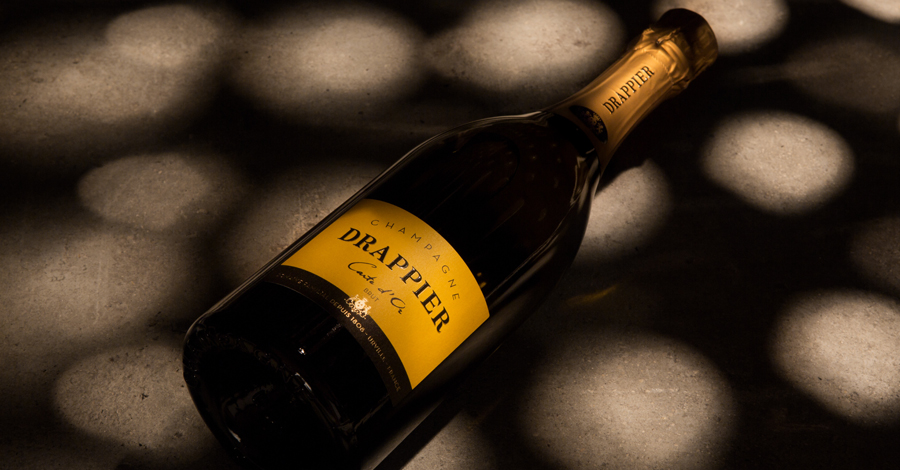 DRAPPIER
THE SINCERITY OF PINOT NOIR SINCE 1808
The Champagne Drappier House has been making authentic wines for two centuries, known for their intense Pinot Noir aromas. General De Gaulle's Champagne supplier, the Drappier House has always produced wines marked by freshness and fine effervescence. The family House is also known for its great vintage cuvée, the Grande Sendrée, which surprises with its refinement and aromatic complexity.
Showing all 35 results

Drappier, une histoire de famille depuis 1808

Si les vignes furent plantées pour la première fois à Urville par les Gallo-Romains il y a 2000 ans, c'est Saint Bernard, fondateur de l'Abbaye de Clairvaux qui fit construire les caves de la Maison Drappier en 1152.

En 1808, sept siècles plus tard, c'est autour de ce témoignage médiéval, magnifiquement préservé, que fut créé le domaine familial dirigé aujourd'hui par Michel Drappier. Terre de prédilection du Pinot Noir, cépage emblématique de la Maison, le vignoble Drappier s'étend sur 62 hectares à Urville.

Aujourd'hui, à l'excellence sophistiquée parfois surfaite, la Maison Drappier préfère l'authenticité et le naturel. Grâce notamment à un très faible dosage et un usage extrêmement modéré des sulfites, dont la cuvée Brut Nature Sans Soufre est l'aboutissement, elle met en exergue les multiples facettes de son terroir et de ses méthodes de vinification.

La vigne au cœur de l'identité Drappier

Le vignoble familial s'étend aujourd'hui sur 62 ha, cultivés selon les principes du bio et du naturel.

Essentiellement situé sur la commune d'Urville, le vignoble de la maison conserve l'identité forte de l'arrondissement de Bar-sur-Aube, marqué par l'influence du Pinot Noir. Ce cépage règne en maître, et représente 70% du domaine, complété par le pinot meunier à raison de 15%, le chardonnay 9%, et 6% de cépages anciens. Comme des « archives » de la longue histoire de la maison, la maison continue à cultiver des cépages oubliés et pourtant inoubliables : le Fromenteau, l'Arbane, le Petit Meslier et le Blanc Vrai.

La proximité avec les vignes est nécessaire pour garder un œil attentif à l'évolution de la plante et de ses interactions avec son environnement. Ce vignoble très local a permis à la famille Drappier de renforcer ses méthodes de viticulture durable, avec la certification « Agriculture Biologique ».

Drappier, la Première maison « Carbone Neutre »

Depuis 2016, le Champagne Drappier est le premier domaine en Champagne à être "carbone neutre" (Écoact).

De la vigne à la dégustation, tous les efforts sont faits pour réduire l'impact carbone. Grâce à des panneaux photovoltaïques installés sur les toits des bâtiments sur près de 2000 m², ils produisent 75% de l'électricité nécessaire à leurs besoins.
Une flotte de véhicules électriques (tracteur électrique, utilitaires) permet de réduire la consommation d'énergie fossile, tandis que des bornes de recharges (génériques et Tesla) permettent aux visiteurs et au personnel de bénéficier de l'énergie produite par les installations.
La nouvelle forme de bouteille Drappier conçue par Michel Drappier est 15% plus légère qu'une bouteille de Champagne traditionnelle.
Les matériaux, de la bouteille au pupitre champenois, sont recyclés. Les bouteilles dégustées au domaine, transformées en bougies à cire végétale, bénéficient d'une seconde vie.

En bordure de vigne du Cornellier, des étudiants en architecture ont eu carte blanche pour recycler les pupitres et les tonneaux usagés. C'est aujourd'hui une réinterprétation des "loges de vigne" ancestrales qui ponctue le paysage viticole. Cette nouvelle loge accueille les visiteurs de passage pour une dégustation en pleine nature.

L'engagement précoce de la maison dans une démarche écologique globale, qui culmine avec la certification « Carbone Neutre » en 2016, a valu au Champagne Drappier l'obtention de plusieurs distinctions :

Michel Drappier, Green Personality of the Year
The Drinks Business – 2017

Prix de l'innovation
La Revue du Vin de France – 2019

Trophée Champenois de la démarche éco-responsable
Bulles & Millésimes – 2018