Blended wine? Champagne wines are generally made from different plots of vines and, with the exception of single-variety wines, are a blend of the three Champagne grape varieties: Chardonnay, Pinot Noir and Pinot Meunier.
With the exception of vintage champagnes, the wines of Champagne are generally made with blends of several years' harvests thanks to reserve wines, this is what makes them so special compared to other wine regions. This is how the different types of champagnes are created: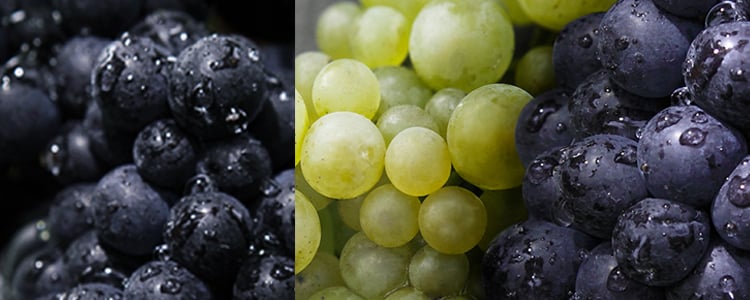 The reference champagne with a legendary, unique, constant and timeless taste that makes it the signature of each House.
The Brut cuvées are made from the grapes of the year, generally by blending the three Champagne grape varieties, to which the cellar master adds wines from previous years, known as reserve wines.
All the Houses offer this type of cuvée, which represents the essence of their style, their spirit and their legend. What would Louis Roederer be without its Brut Premier, Moët & Chandon without its Brut Impérial or Veuve Clicquot without its Carte Jaune?
Its light sugar content makes it an ideal champagne for the aperitif, but also for all occasions.
It can be obtained in two ways: Either from a blend of red wine with white wine. It is the only French wine that is allowed to blend red wine (from Pinot Noir or Pinot Meunier, from the most mature plots) with still wine. Either from the color left after pressing by the black grapes skin.
For some Houses, it expresses the elegance and finesse of their terroir with a predominance of Chardonnay. For others, on the contrary, it displays the complexity and vinosity of their vines with a majority of Pinot Noir and Pinot Meunier grapes.
Its fruity freshness and delicate aromas make it the perfect pairing to a red fruit dessert or scampi.
Blanc de Blancs Champagne
Fine, elegant and light, Champagne Blanc de Blancs is made from white grapes from the Chardonnay variety only, the variety of finesse and elegance. These cuvées are synonymous with minerality, freshness and purity. Appreciated by gourmets, Blanc de Blancs champagne is perfect as an aperitif or with delicate dishes such as caviar, oysters, shellfish or fish dishes.  
A rather rare type of champagne because not all houses offer it. It is made exclusively from black grapes (Pinot Noir and Pinot Meunier). Reflecting its terroir, this powerful champagne is much appreciated by wine lovers for its vinous side, which deserves to be tasted like a real wine. The Blanc de Noirs champagne is ideal to accompany a whole meal, it sublimates the dishes of character like the small game.   
Champagne in its "pure state" to which no sugar has been added. It is also called Brut Nature, Extra Brut or even Ultra Brut depending on the house. These cuvées open up the tasting of Champagne to new encounters, new adventures placed under the sign of lightness.
Appreciated by connoisseurs, Non Dosé Champagne is perfect with seafood or sushi, revealing its flavors!
It is made only with grapes from the same year of harvest.
Vintage champagne highlights an exceptional harvest year. Its production reserved for the best years makes it a rarer champagne. A champagne with character that will surprise you and leave a lasting impression!
It also ages longer than other vintages: it must age for a minimum of 5 years in the cellar before being sold.
Recent vintages are: 2009, 2008, 2006, 2004, 2002, 1996 exceptional vintage.
Limited, rare, precious and therefore priceless editions…
In the catalogue of a Champagne house, the Prestige cuvées hold a special place. They are not governed by any rules, except that of luxury and rarity.
Produced from the best plots of vines, vinified with great care, aged for longer in the cellar than the other cuvées and produced in limited quantities, the Prestige cuvées are a demonstration of know-how!
Ideal for all rare occasions and major events, they can mark an event, commemorate a birthday or pay tribute to a personality.