For 100 days from November 9th, Chefs Alain Ducasse, Albert Adrià, Romain Meder, Jessica Préalpato and Vincent Chaperon Cellar Master of Dom Pérignon, are launching ADMO, the temporary restaurant at the Musée du Quai Branly – Jacques Chirac.
This innovative project is designed as a high culinary project that is rooted both in Spanish and French culture, while seeking to be innovative and pioneering. Unique in its conception, this initiative reflects on a new way of practicing high gastronomy, with a conscious and sustainable approach.
Set up at Les Ombres, the historic restaurant of the Quai Branly Museum – Jacques Chirac, ADMO is an experiential and temporary project imagined together by Alain Ducasse, Albert Adrià, Romain Meder and Jessica Préalpato. With this unexpected invitation to Albert Adrià, Alain Ducasse wanted to celebrate the return of a vibrant gastronomy in the heart of Paris.
For 100 days, the chefs will take a transversal look at today's high gastronomy, putting their experience, talent and personality at the service of this common project. The contemporary culinary proposal presented at ADMO is rooted both in Spanish and French culture.
Designed to answer the challenges of our time, ADMO is a project committed to a conscious cuisine, which honours producers, key players in sustainable gastronomy.
This initiative also honours the Dom Pérignon Rosé, presented by Vincent Chaperon, Cellar Master of the Dom Pérignon Champagne House.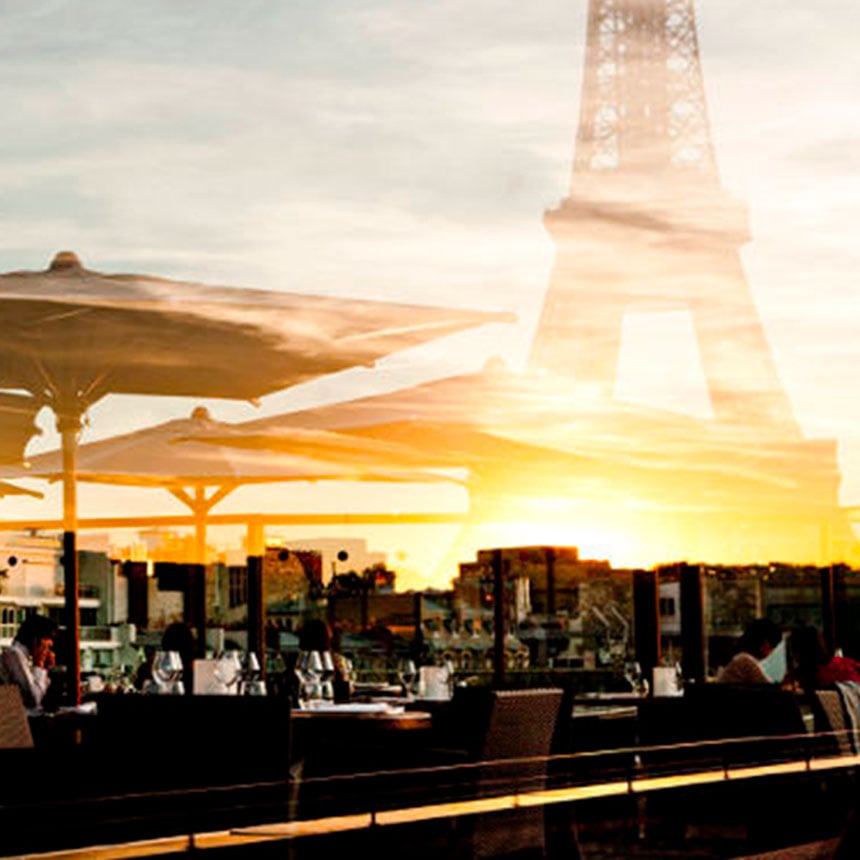 Quai Branly Museum - Jacques Chirac
The location chosen for this project is very significant. Located on the Quai Branly Museum rooftop, the project will offer a unique view of Paris, just like the building designed by the architect Jean Nouvel. This unique location also allows for exchanges between the periods and continents presented in the museum.
Almond, celery and caviar : Light and shade of pressed caviar and vegetable milk of almond and celery
Chestnuts, anchovies and curry: A fine cake of raw grated chestnuts from the Ardèche, baked in the oven. Chestnut butter, anchovies, curry leaves.
Cauliflower mole and monkfish liver: Mole, spicy Mexican sauce and black garlic, cauliflower with salt, then dehydrated and rehydrated in the juice of the leaves then roasted in hazelnut butter. Monkfish liver confit and black sesame paste.
Oyster sausage and wakame: Toasted oyster steam bun, Yvonnick Jégat's oyster sausage, seaweed, parsley and sofrito condiment.
Lemon and coriander vetch: Gaec Emmanuel and Marion's vetch is a legume considered a green fertilizer, served in a salad and emulsion, shallot powder in vinegar, lemon caviar and Espelette chilli pepper. Shekwasha paste, a Japanese citrus fruit, at the bottom of the bowl.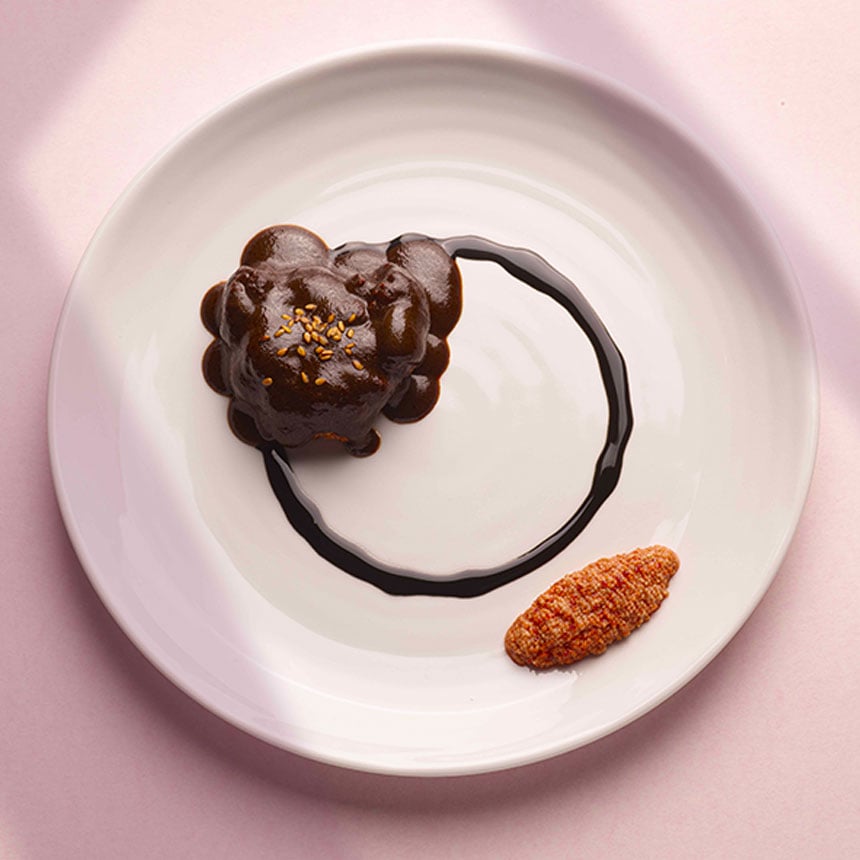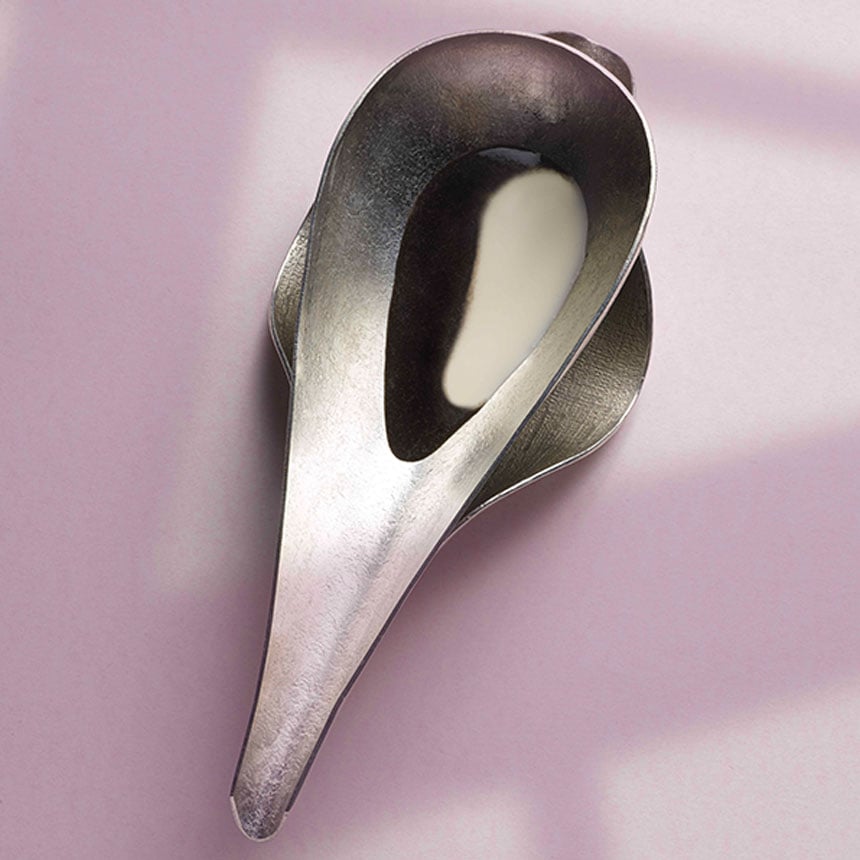 Knife, herb and verbena: Galician knife cooked with fear, tangy verbena butter. Extraction of parsley, coriander, plantain corne-de-cerf seasoned with ginger, lemon and hazelnut butter.
Crispy barquette, red mullet and citrus: crispy brick sheet, red mullet tartar from the Port of Boulogne-sur-Mer and fried scales.
Bacalao skin, sea urchin and broth: Cod skin soba, mushroom and sea urchin broth, Galician sea urchin tongue and soft quail egg.
Persimmon, rosehip and pomegranate: Fresh persimmon and calamansi in vinegar snacked on the BBQ. Rosehip condiment, calamansi vinegar. Fresh persimmon paste.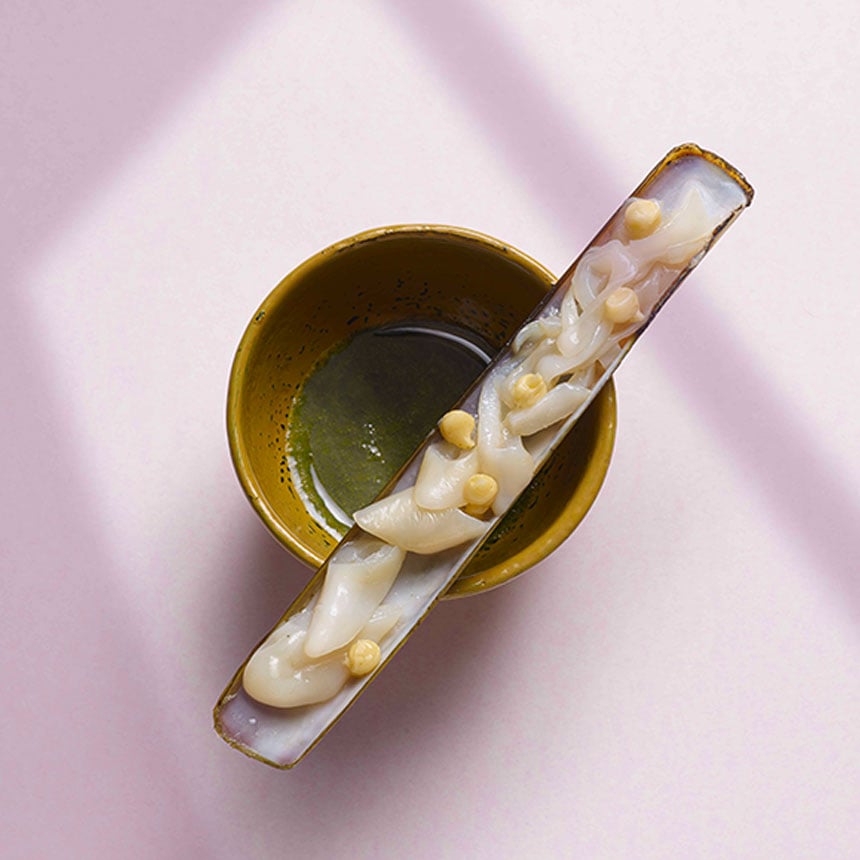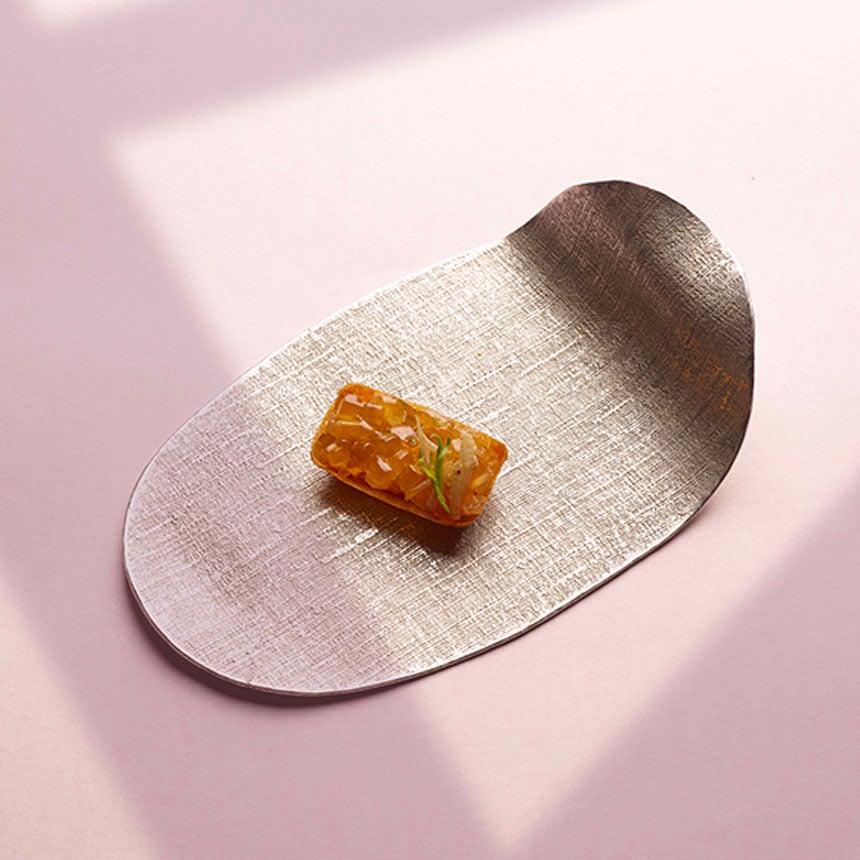 Since his beginnings in Monaco in 1987, Alain Ducasse has never compromised the coherence of his project: to reveal through his cooking the best of the terroirs and ingredients, whether they are prestigious or modest. Always in search of adventures and projects, he has imagined ADMO to consider high gastronomy differently.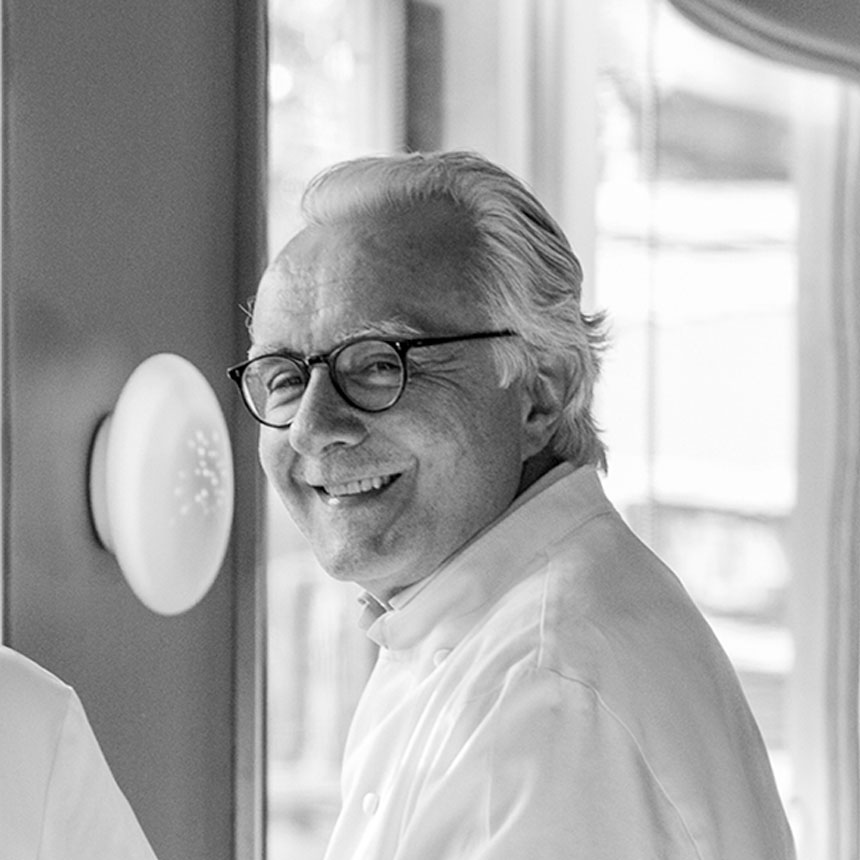 More than 30 years in the kitchen have not affected Albert Adrià's pioneering spirit. Albert has put his creativity at the service of restaurants with strong personalities such as Tickets or Enigma in Barcelona, or Heart in Ibiza. A genius pastry chef, an enlightened cooking chef, always focused on creativity.
Eager for novelty and change, Romain Meder travelled the world to satisfy his need for curiosity and knowledge before taking over the kitchens of the Alain Ducasse restaurant at the Plaza Athénée. There he developed a radically new approach of French cuisine, both in terms of taste and in the products used.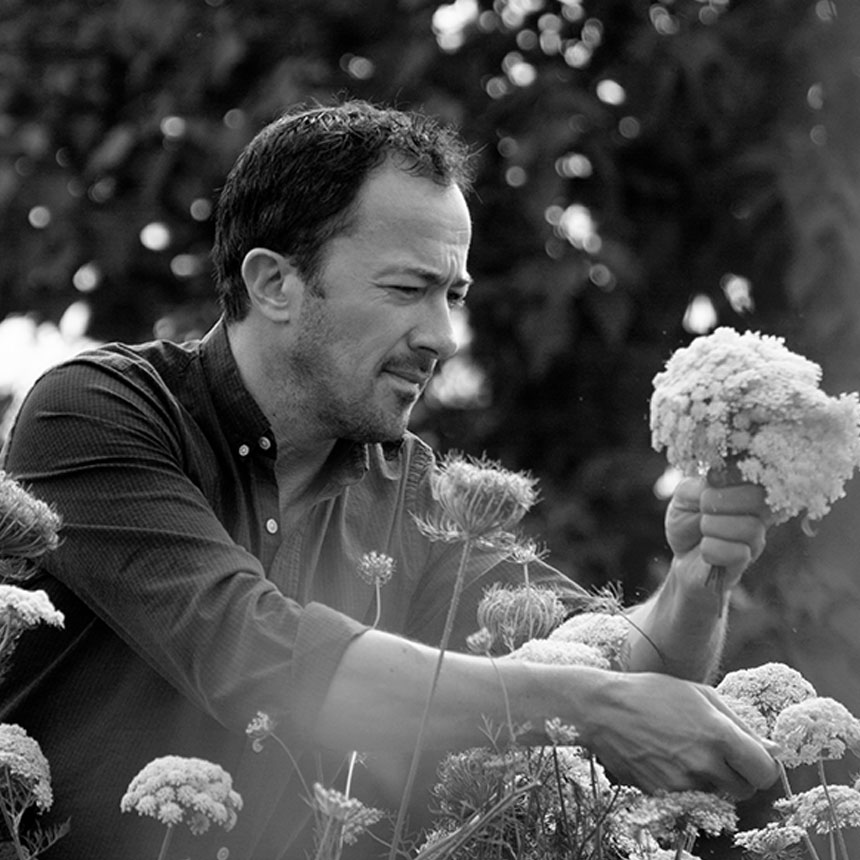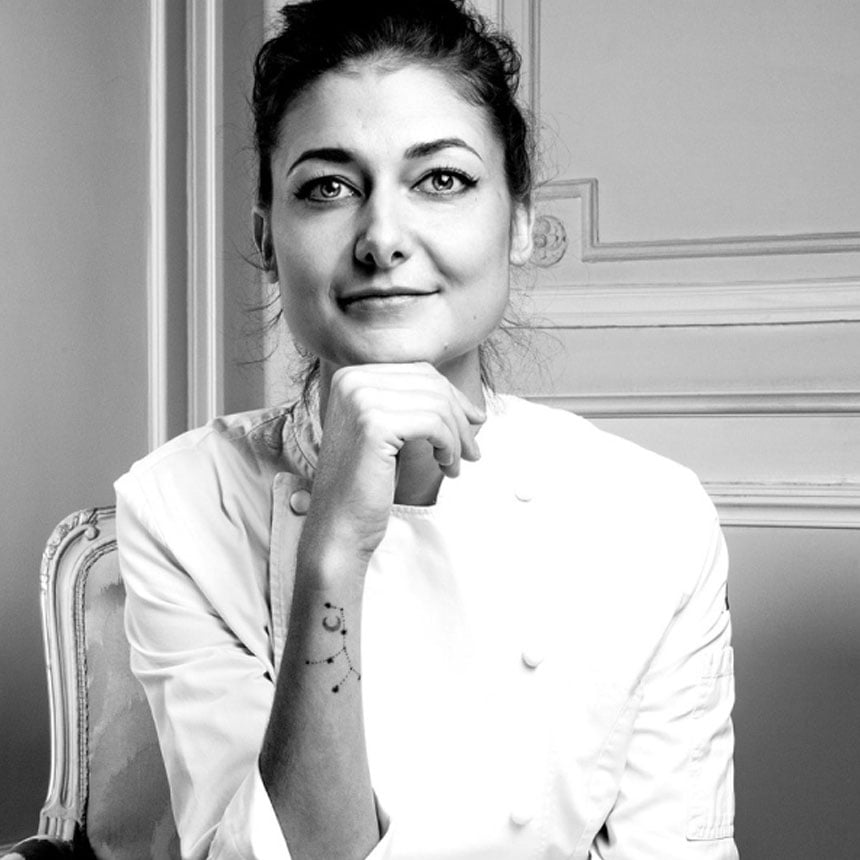 Jessica Préalpato transcends the generosity of Nature in high quality desserts. With this project, she continues her work by extending the new dessert philosophy initiated by Alain Ducasse, Jessica finds an essential role at the heart of ADMO's experimental system.
7-course dinner: 380 € / person (excluding drinks)
5-course lunch: 200 € / person (excluding drinks)
7-course lunch: 380 € / person (excluding drinks)
Booking on > Les Ombres website
Sources Les Ombres & Dom Pérignon Champagne