The Ruinart House unveils its artistic reinterpretation by Jeppe Hein in Paris. Named Champagne Stories, his interactive artwork will be displayed from April 1st to 3rd, at the Palais de Tokyo, during an open exhibition.
Each year,
The Ruinart House
invites an international contemporary artist to share his or her vision of the history and know-how of the oldest champagne house. In 2022, Ruinart has given
Danish artist Jeppe Hein
free rein.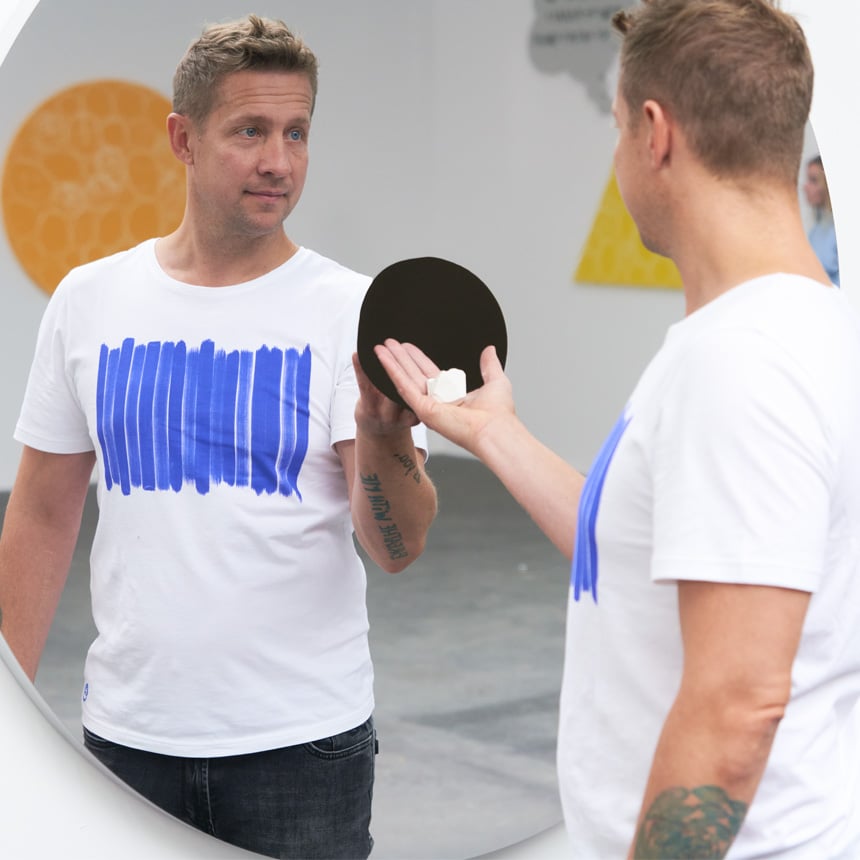 Champagne Stories is the result of artist Jeppe Hein's first impressions of the Ruinart terroir. This creation calls upon the five senses and calls upon the four elements. Using fragments of raw materials, the Danish artist transports us to the heart of this unique terroir, and renews our tasting experience. If you register, you will be able to discover Jeppe Hein's works and interact with the different facilities he has created in order to live a unique experience.
For Jeppe Hein, the production and tasting of champagne, from the moment the grapes are harvested to the moment the wine releases its effervescence in the mouth, is a complete sensorial experience. He thought of translating this spirit into a creative artwork. Champagne Stories is a participative installation that appeals to the five senses – touch, hearing, sight, smell and taste – and calls upon the four elements: earth/soil, water/rain, air/wind and fire/sun, essential to champagne elaboration. To evoke the nature experience, Jeppe Hein uses 'tools' that appeal to our senses, fragments of the raw materials that shape this terroir.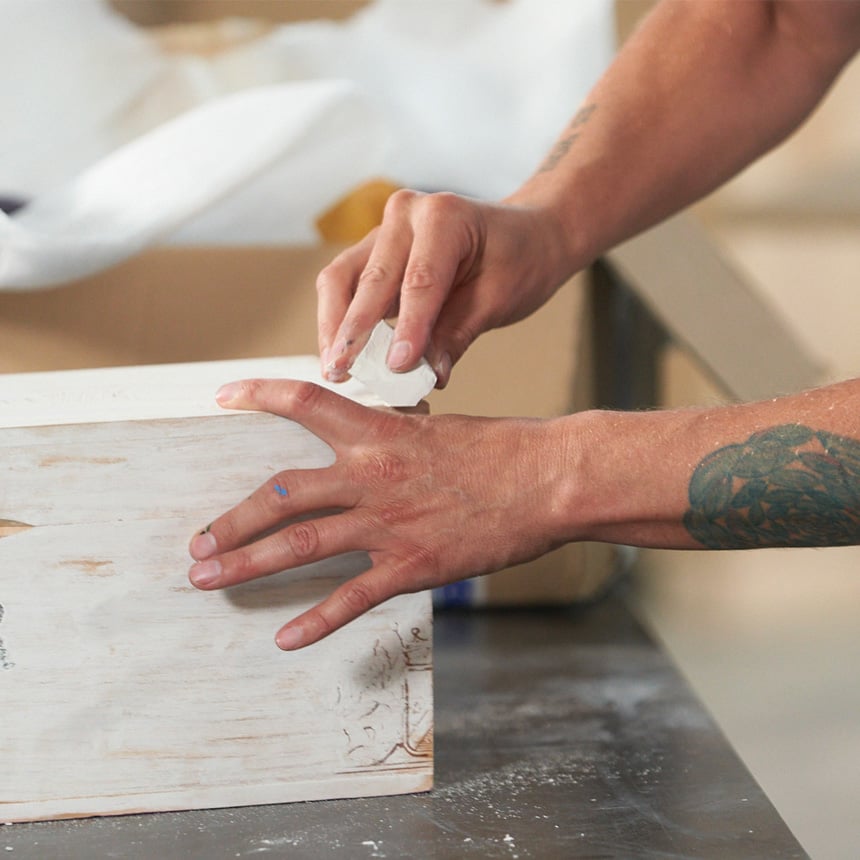 Everyone is then invited to …
Taste the sun-ripened grapes.
Smell the Chardonnay flower in the air.
Listen to the sound of the rain falling on the vineyard.
Touch the chalk of the chalky cellars.
"Through his work, Jeppe Hein takes a fresh look at the world: each of his works becomes an experience connecting with nature." – FREDERIC PANAIOTIS Cellar master of the Ruinart House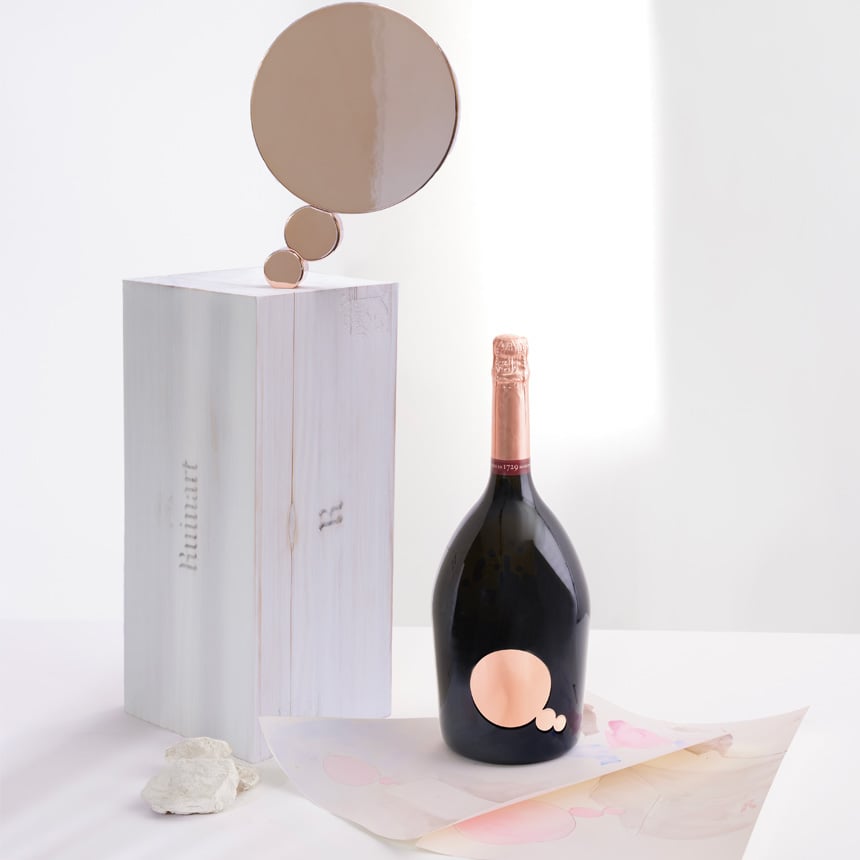 As part of his artistic reinterpretation of the House of Ruinart, Jeppe Hein wanted to redesign
a Jeroboam of Ruinart Rosé.
Son intervention métamorphose le coffret en bois renfermant le flacon ainsi que l'habillage de la bouteille en verre. En écho à son installation sensorielle, le coffret a été poncé avec de la craie directement prélevée dans les parois des Crayères de Ruinart à Reims, conférant au bois un aspect cérusé. Tandis qu'à la place de l'étiquette habituelle de la Maison, des bulles dépourvues d'inscriptions apparaissent sur le devant du flacon, faisant écho au pétillement du champagne. Libéré de son flacon, le coffret sert de socle à une sculpture en inox rose évoquant la couleur du champagne, et en rappellant l'effervescence.
The Ruinart Rosé cuvée was chosen by the artist as a tribute to the visionary spirit of the House: the first to launch, in 1764, a rosé champagne called "partridge eye".
The Limited Edition is produced in 25 signed and numbered copies. Available on request at contact@champmarket.com. (price: 3500 euros).
USEFUL INFORMATION
Champagne Stories by Jeppe Hein, 1-3 April 2022
Palais de Tokyo
13 Avenue du Président Wilson 75116 PARIS
Booking : www.ruinart.com
Free exhibition:
Friday 01/04 : 14h30 – 17h
Saturday 02/04 : 12h – 23h
Sunday 03/04 : 13h00 – 18h00
A brunch and a champagne bar will be available on site.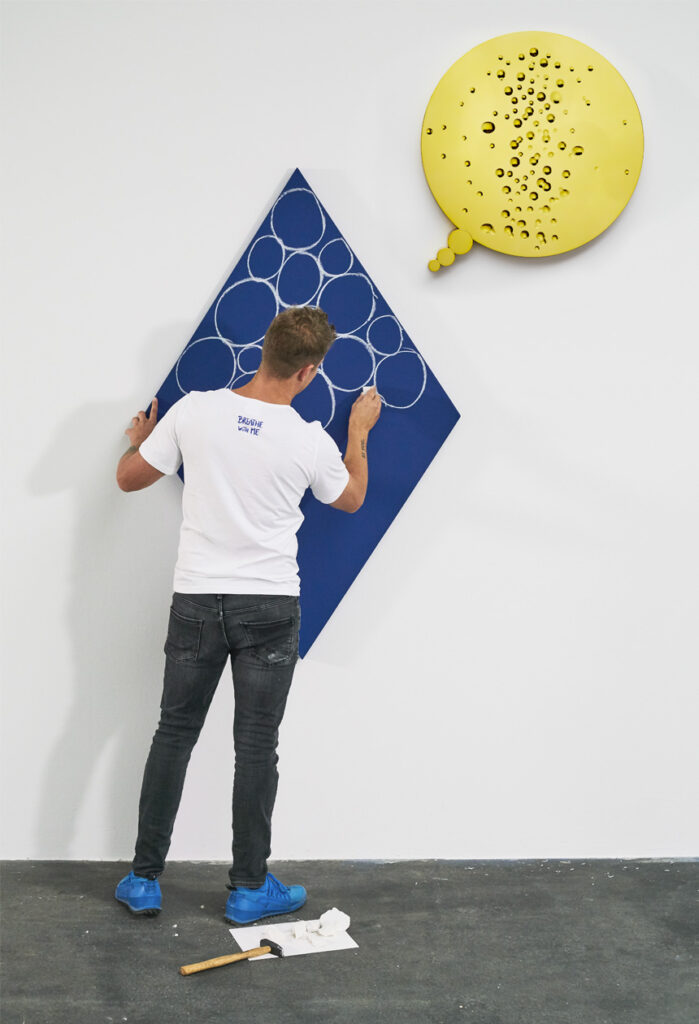 Jeppe Hein was born and raised in Denmark, on a farm near the ocean, by parents who were teachers. From this childhood he has kept a closeness to nature, which he considers as a shelter. He has been exhibiting worldwide for over ten years. Heir to the conceptual art and Minimalism of the 1970s, Jeppe Hein has since developed work that always involves the public. His seemingly simple installations change the relationship to the space and encourage dialogue. Invisible Labyrinth, Modified Social Benches, Appearing Rooms. As an artist, he attracted attention and soon began a steady stream of exhibitions, biennials and commissions for works in public spaces. At the end of the 1990s he met the gallery owner Johann König. Since then, their collaboration has continued and Jeppe now occupies the small one-storey building in Berlin where König's gallery was located, which has since moved to a more central address. Today, Jeppe Hein's studio is that of an internationally renowned artist, with a team of about twenty people.