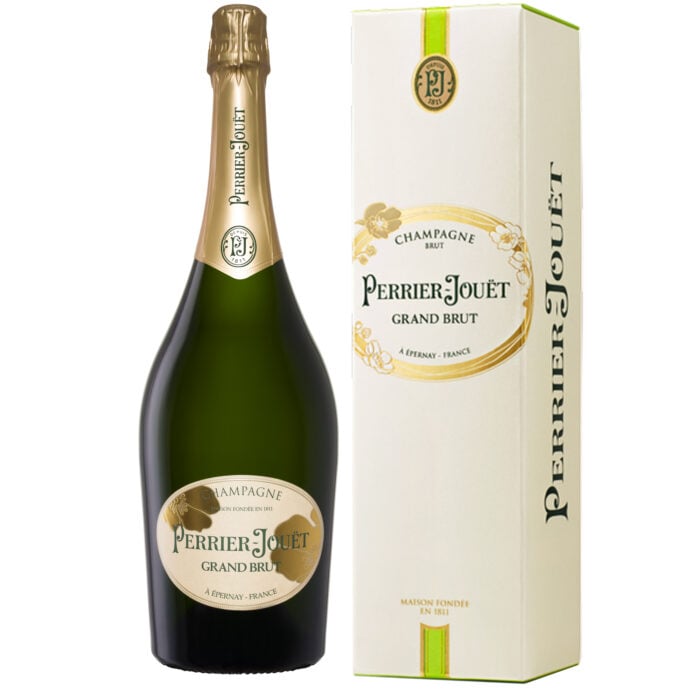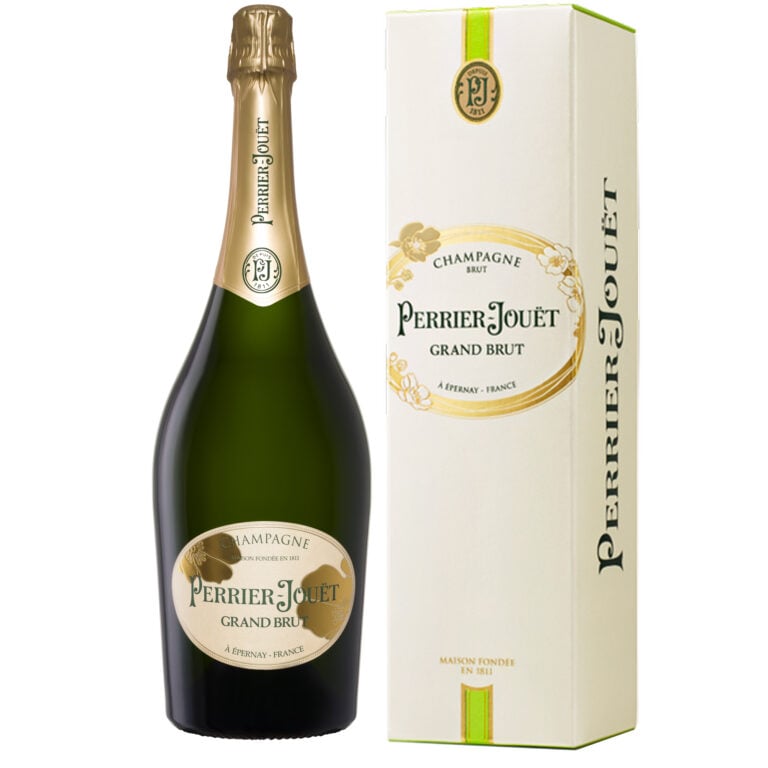 Perrier-Jouët

Grand Brut

Magnum (1.5L) | Gift box
Perrier-Jouët Grand Brut Magnum Gift Box is a floral, harmonious, elegant and structured champagne that fully reveals the notes of Chardonnay, perfectly complemented by Pinot Noir and Meunier. Perrier-Jouët Grand Brut epitomises the heritage of Maison Perrier-Jouët. Perpetuating the House's tradition of making brut champagne.
Out of stock
Je souhaite être informé(e) lorsque le produit sera à nouveau disponible.
Frais de livraison offerts dès 500€ d'achat
Emballage anti-casse soigné
Confiez-nous votre message personnalisé lors de la confirmation de commande
For which moment ?
As a gift, For a cocktail or business event, For an aperitif or a party
Grand Brut
"Perrier-Jouët Grand Brut is the cuvée on which Perrier-Jouët has built its reputation; a refined and balanced cuvée that reveals all the floral nuances of Chardonnay" Hervé Deschamps, Cellar Master of the Perrier-Jouët House.
The Magnum format is a large 1.5 litres bottle, which represents 2 bottles of champagne or 12 glasses. This large format, presented in its luxurious case, is ideal for your receptions, your dinners and for all your gift-giving occasions.
Tasting Notes
A beautiful golden hue.
Perrier-Jouët Grand Brut is an elegant cuvée characterised by delicate floral notes combined with hints of fresh fruit, buttered brioche and vanilla.
Its freshness and generosity offer a very rich length in the mouth, with a very clear balance and harmony until the end of the tasting.
Food pairings
A floral and fruity fragrance that blends perfectly with the aromas of spring vegetables and the delicate flavours of poultry. Perrier-Jouët Grand Brut can be served with dishes such as fish in carpaccio or white meats. Its liveliness goes well with semi-cooked vegetables served with poached blond tofu.
Ideal serving temperature : Serve between 9 and 10°C
Technical sheet
Blend : To craft Perrier-Jouët Grand Brut, Hervé Deschamps, Cellar Master, selects the best wines from at least fifty different crus. Each vintage is meticulously blended with a percentage of reserve wines to guarantee the style and quality of this cuvée year after year. This complex blend reveals the floral nuances of the Chardonnay (20%) - mainly from the Côte des Blancs, but also from the Sud of Épernay and Montagne de Reims. The other two Champagne grape varieties enhance it, preserving its elegance. Pinot Noir (40%) - Montagne de Reims North and South, also Petite Montagne de Reims and Aube - gives it structure and power, as well as a form of purity. The Meunier (40%) - from the Marne Valley and the Épernay region - provides roundness and a link.
Characteristics : A heritage that continues: The history of Perrier-Jouët Grand Brut dates back to 1846. It was in response to the English preference for drier champagnes that Perrier-Jouët launched Cuvée K, recognised as the world's first lightly dosed champagne, a category of champagne that is now known as "Brut". According to the House's records, Cuvée K had a sugar level of less than 5%, whereas the champagnes of the time contained around 40%. Thanks to the very high quality of its grapes, Perrier-Jouët used very little added sugar. As the direct heir to this historic cuvée, Perrier-Jouët Grand Brut faithfully perpetuates a tradition that made its reputation at the time. Beyond the fact that it is part of the history of the House, this champagne is the pioneer of the House style.
Characteristics : Non Vintage