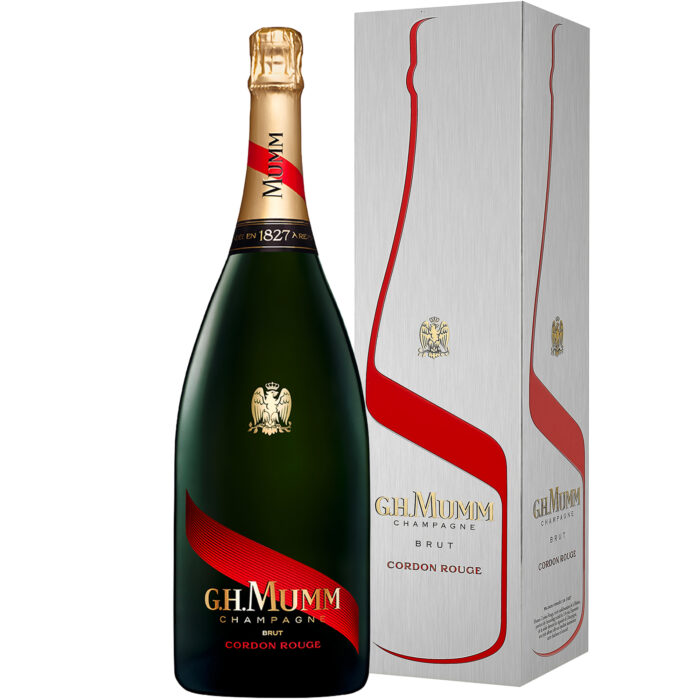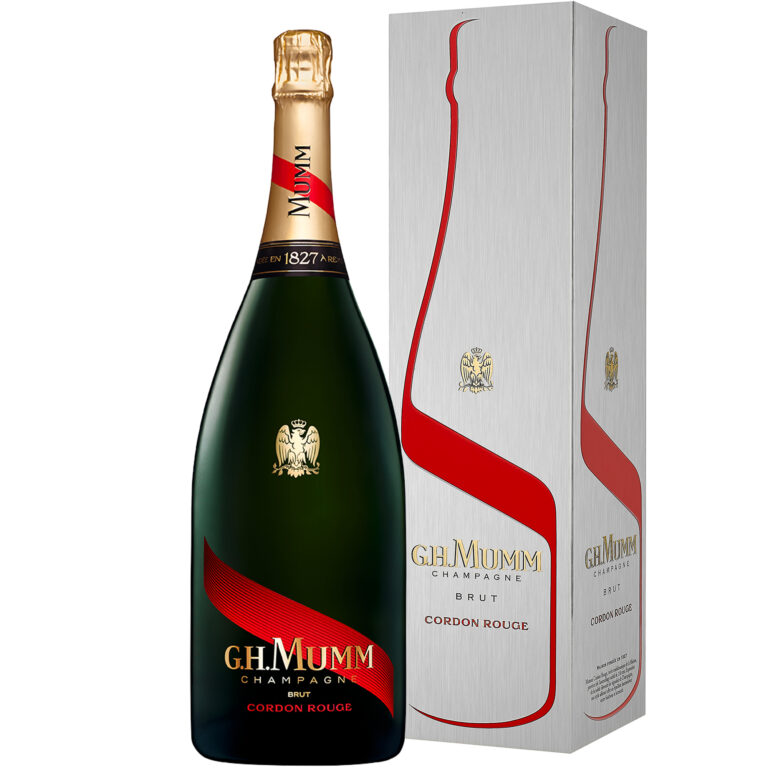 Mumm

Cordon Rouge Brut

Magnum (1.5L) | Gift box
Mumm Cordon Rouge Brut Magnum Gift Box expresses the rich diversity of the Champagne terroirs, always in the style of the House of Mumm. Since 1876, the Mumm Cordon Rouge iconic cuvée has been instantly recognizable thanks to its famous red ribbon.
Out of stock
Je souhaite être informé(e) lorsque le produit sera à nouveau disponible.
Free delivery from 500€ purchase
Neat, break-proof packaging
Give us your personal message when you confirm your order
For which moment ?
As a gift, For a cocktail or business event, For a dinner, For an aperitif or a party
Cordon Rouge Brut
"Revealing lively and fresh aromas, Mumm Cordon Rouge is the ideal champagne for an aperitif or to pair with tapas before sitting down to dinner." Laurent Fresnet, Cellar Master of the House of Mumm
Mumm Cordon Rouge is an ideal champagne for the aperitif, thanks to its intense aromatic freshness and its assertive aromas of yellow and white fruits.
The Magnum format is a large 1.5 litres bottle, which represents 2 bottles of champagne or 12 glasses. This large format, presented in its luxurious box, is ideal for your receptions, dinners, special occasions and gifts.
Tasting Notes
A golden yellow colour with delicate stream of fine bubbles.

The first impression reveals an aromatic freshness, with round and greedy scents of yellow and white fruits. Notes of lychee, pineapple and praline harmoniously complete this first nose, before evolving into nuances of pastry (breadcrumbs, yeast and a light touch of brioche).

A fresh and lively attack on the palate immediately comes. Complex and perfectly balanced, the wine reveals an elegant roundness, with aromas of fruit and caramel. The finish is powerful and unctuous, while retaining a beautiful effervescence.

Food pairings
Ideal as an aperitif, Mumm Cordon Rouge is a perfect blend for simple pairings with high quality products: red mullet or trout, white meats, Reims ham or soft cheeses (Saint-Nectaire for example). A perfect pairing? A brunch composed of fresh products such as a mixed salad, cheese and seasonal fruit.
Ideal serving temperature : Best served between 6 and 8°C as an aperitif, and with a starter between 9 and 12°C
Technical sheet
Blend : 45% Pinot Noir, 30% Chardonnay, 25% Meunier
Ageing potential : Ready to be enjoyed immediately, Mumm Cordon Rouge can also be kept for a few more years. Kept in good conditions, its aromatic profile will be preserved for five years, before developing more complex evolutionary notes, reminiscent of shortbread biscuits.
Characteristics : In 1876, Georges Hermann Mumm, a visionary entrepreneur, chose to decorate his Brut cuvée with a red ribbon. Five years later, this ribbon was replaced by a label with a red stripe, which would soon become known throughout the world. Immediately recognisable, the famous Cordon Rouge became the symbol of the House of Mumm and its pioneering spirit.
The style of the House of Mumm, a pioneer since 1827: Innovating to sublimate the essence of Pinot Noir The history of the House of Mumm is that of emblematic terroirs and a bold grape variety: Pinot Noir. With its powerful and elegant character, it holds a chosen place in the House's historic blends, to which Chardonnay and Meunier add their remarkable floral and fruity notes.
Characteristics : Non Vintage