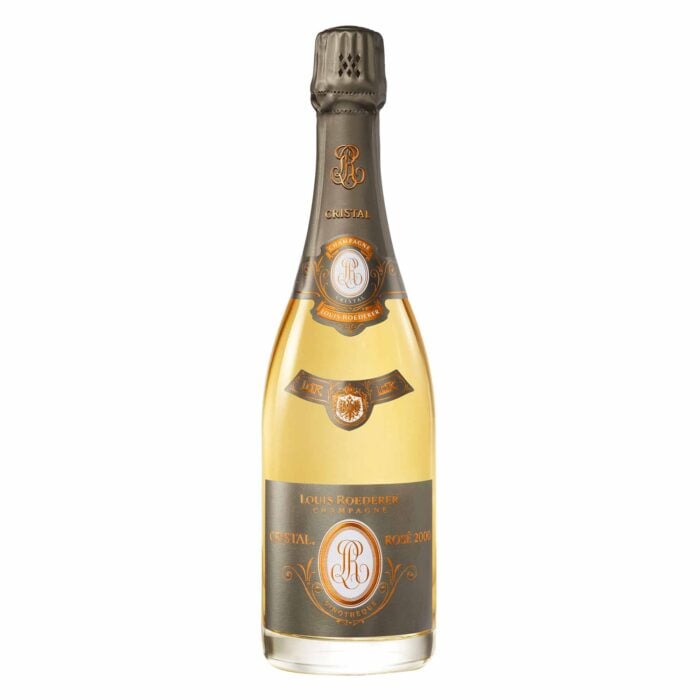 Louis Roederer

Cristal Rosé Vinothèque 2000

Bottle (0.75L) | Naked Bottle
Louis Roederer Cristal Rosé Vinothèque 2000 celebrates the astonishing adventure of a few bottles kept for 20 years in the Louis Roederer cellars, in search of the perfect balance. The cuvée was aged for 11 years on laths, then 5 years on points and rested for 4 years after disgorgement.
Born in a chaotic year, surprising at birth, very delicate, Louis Roederer Cristal Rosé Vinothèque 2000 was without doubt the most elusive of all the Cristal vintages and is today the one that best embodies the beauty of Champagne.
"This Cristal Rosé Vinothèque, while retaining an incomparable purity and energy, perfectly embodies the search for intensity and complexity revealed in the Vinothèque. – Jean-Baptiste Lécaillon, Cellar Master
See all Champagne products from Louis Roederer
In stock.

5 to 10 days delivery
Free delivery from 500€ purchase
Neat, break-proof packaging
Give us your personal message when you confirm your order
For which moment ?
As a gift, For a special occasion or an event, For an aperitif or a party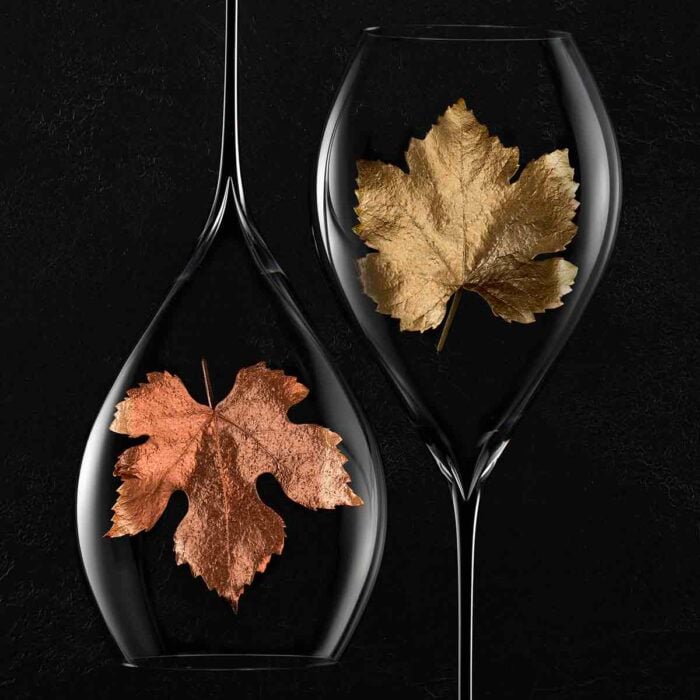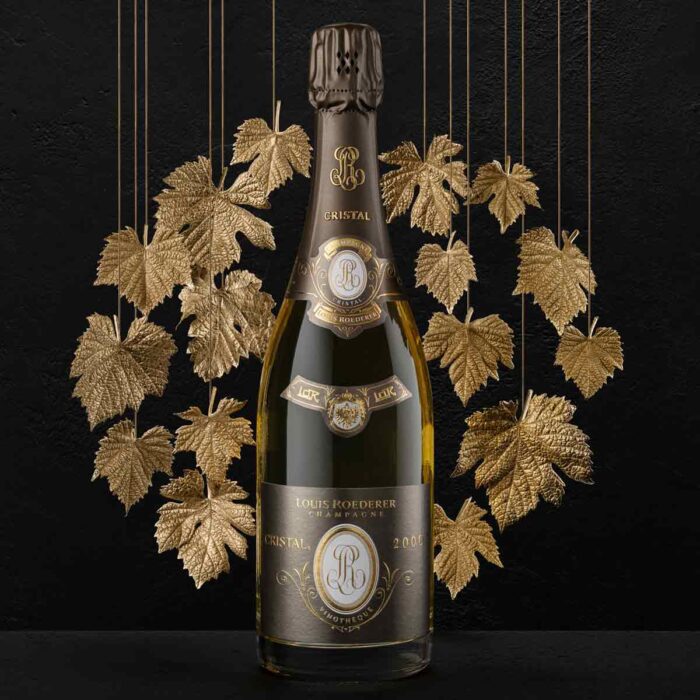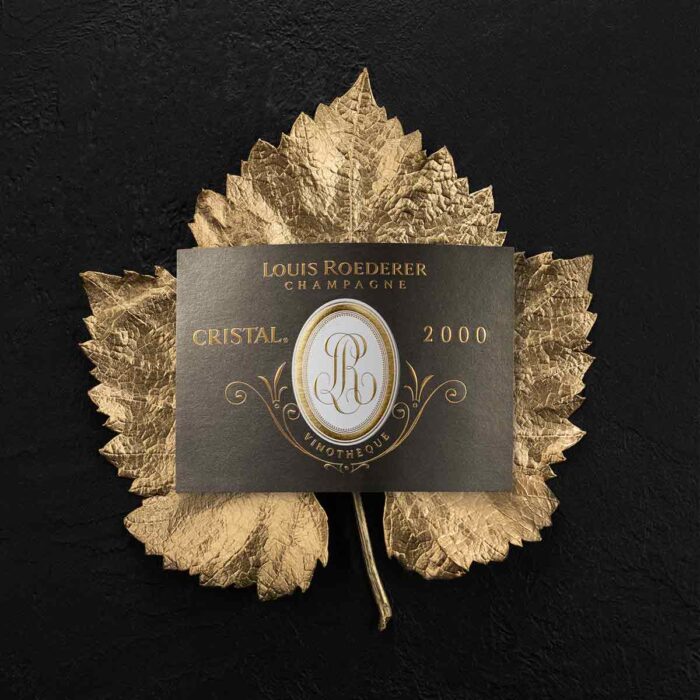 Cristal Rosé Vinothèque 2000
Made from the greatest vintages of Cristal and the fruit of twenty years of unique attention and craftsmanship, Cristal Vinothèque Rosé 2000 represents the pinnacle of Champagne's savoir-faire. After 1995, 1996 and 1999, Vinothèque 2000 continues the quest for sophistication that defines this cuvée, revealing exceptional intensity and complexity.
Crafted by 20 years of tailor-made ageing in three successive phases (on laths, on a point and then on a cork), the bottles of Cristal Vinothèque have been given a new identity. The laboratory of time offers them a new case and, releasing the full radiance of the wine, a fusion of the material, human know-how and expectation, draws the outlines of a total achievement.
By pushing back the limits of time, a new Cristal is born. Once it has reached maximum expression, the chosen cuvée achieves greater complexity, texture and grain.
The Louis Roederer Cristal Vinothèque Rosé 2000 is ideal for special occasions.
Tasting Notes
Beautiful orange-pink colour with slightly amber reflections. Fine and regular effervescence.
Intense bouquet of raspberry, hazelnut, stone fruit liqueur and sweet cocoa powder. The expression of the Pinot Noir is clear, bright and incredibly fresh.
The palate is ample, enveloping, both concentrated and fresh. There are notes of tart raspberry, blackcurrant and citrus (Sicilian orange). The texture is like velvet with a fascinating impression of concentrated liquor in the middle of the mouth followed by the saline and chalky freshness of the magnificent white soils from which Cristal Rosé is made. The finish is pure, airy and salivating.
Food pairings
Available in white and rosé, Louis Roederer Cristal Vinothèque 2000 is a great Champagne wine ready to sublimate the most beautiful gastronomic combinations.
Technical sheet
Blend : 56% Pinot noir, 44% Chardonnay.
Vinification : Main Crus: Aÿ, Avize, Mesnil-sur-Oger. Origins : 1/2 plots from " La Rivière ", 1/2 plots from " La Côte ". Wines in wood: 20% Malolactic fermentation: 0%.
Ageing potential : Louis Roederer Cristal Vinothèque 2000 can be kept for over twenty years without losing its freshness and character.
Dosage : 8 g/litre
Characteristics : The year 2000: 2000 was a chaotic, trying and generally rainy year. Stormy episodes followed one another relentlessly, sometimes accompanied by devastating hail, notably on 2 July in the Montagne de Reims. The summer, particularly oceanic, gave birth to classic, supple, greedy, refined and precise wines. Moderately powerful, they are particularly seductive and signed by the great success of the Chardonnays. About Cristal Vinothèque: In the light of a Nature that each year renews the challenge, Cristal Vinothèque is the joint work of eternal Champagne time and a tailor-made maturation. An initial phase of eight to twelve years of rest on the lees is necessary to give the champagne all its structure and rich aromas. The lees give the wine its caressing texture and depth. After riddling, the wine is left to rest on the lees for five to ten years. This is a fundamental time to slow down its ageing, prolonging its maturation while preserving its original freshness which forms the essence of Cristal Vinothèque. Finally, after disgorging, a third and last phase begins, lasting two to six years, which is still necessary for the bubbles to become one with the wine. In the heart of Louis Roederer's cellars, under the rock, where the water table flows just above, a silent and secret process is set in motion. Total darkness and a temperature of 11 degrees provide the perfect conditions for the champagne to blossom and flourish. Thus kept, the wines preserve the purity, the fruitiness and the surprising spontaneity that make the quintessence of Cristal, of which they offer a renewed perception, more complex, more sophisticated and even more moving.
Characteristics : 2000