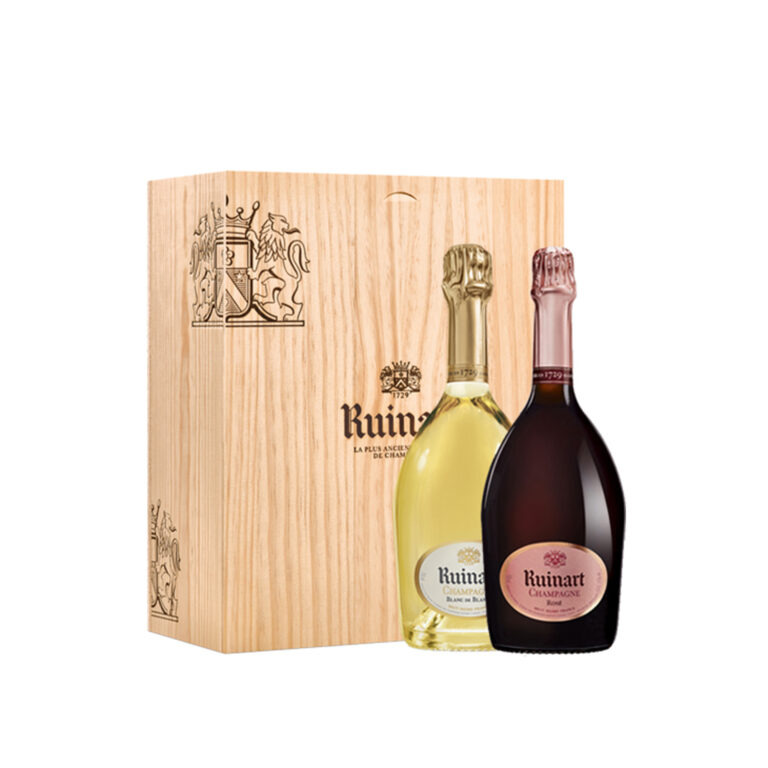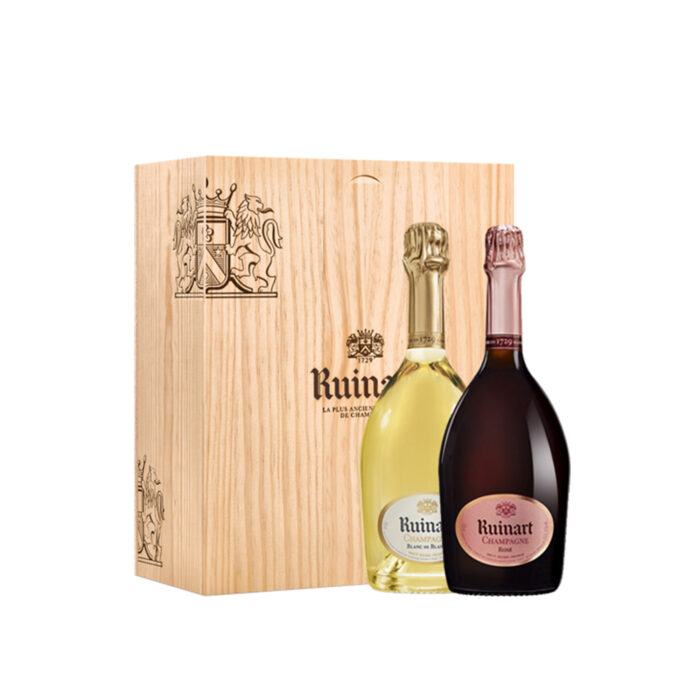 Champagne RUINART

Ruinart Duo Box 2 Bottles Blanc de Blancs and Rosé

Bottle (0.75L) | Wooden Case
The Ruinart Duo Box 2 Bottles contains 1 Ruinart Blanc de Blancs bottle and 1 Ruinart Rosé bottle. The perfect gift suitable for all occasions.
Out of stock
I would like to be notified when the product becomes available again.
Conservation optimale : hygrométrie contrôlée 24/24h
Emballage anti-casse soigné
Option message cadeau personnalisé
For which moment ?
As a gift, For a dinner, For a special occasion or an event
Ruinart Duo Box 2 Bottles Blanc de Blancs and Rosé
Entering the Ruinart universe means discovering the key principles of this great Champagne House: a constant requirement, a pure and refined spirit, the luminous dominance of Chardonnay and a unique bottle, characteristic of Ruinart champagnes.
The Duo box is the opportunity to discover 2 essential champagnes of the Ruinart House:
Ruinart Blanc de Blancs, the emblem of Ruinart taste. A very beautiful Blanc de Blancs, pure, clean and precise.
Ruinart Rosé, the gourmet expression of the Ruinart taste.
For yourself or as a gift, this elegant wooden box is suitable for all occasions.
Tasting Notes
The first nose is fine, fresh and fruity, with notes of white fruits (pear, reinette apple), apricot as well as hazelnut and fresh almond. Some floral and spicy notes add an extra layer of complexity. The second nose reveals a beautiful olfactory intensity, on a more brioche and biscuity background.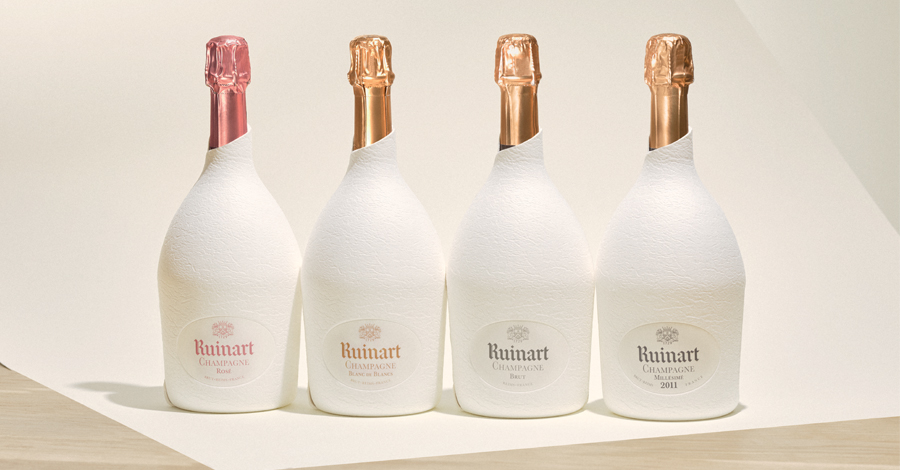 RUINART
CHARDONNAY, THE ESSENCE OF RUINART TASTE
Since its foundation in 1729, Ruinart Champagne, the oldest Champagne House has been committed to the excellence of its wines. Ruinart's taste bears the signature of Chardonnay, the common thread in all its blends. Present in high proportions in all the House's cuvées, this grape variety offers luminous and intense wines with a unique lightness. This delicate grape variety requires time, care and know-how to express itself and reveal the secret of its complexity. Ruinart sublimates it by developing a great aromatic freshness that is found in its emblematic cuvée, R de Ruinart.
Voir tous les produits Champagne RUINART