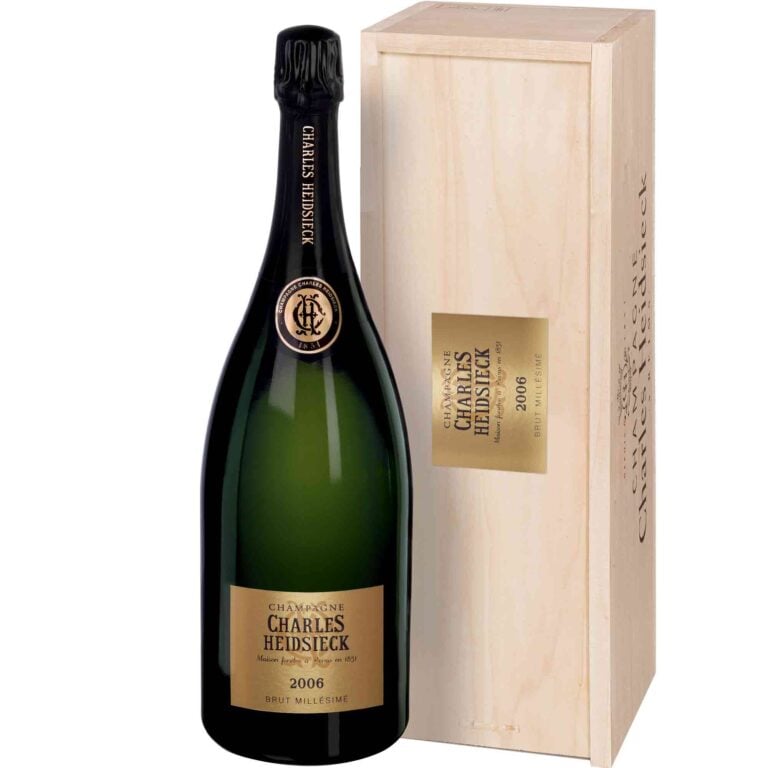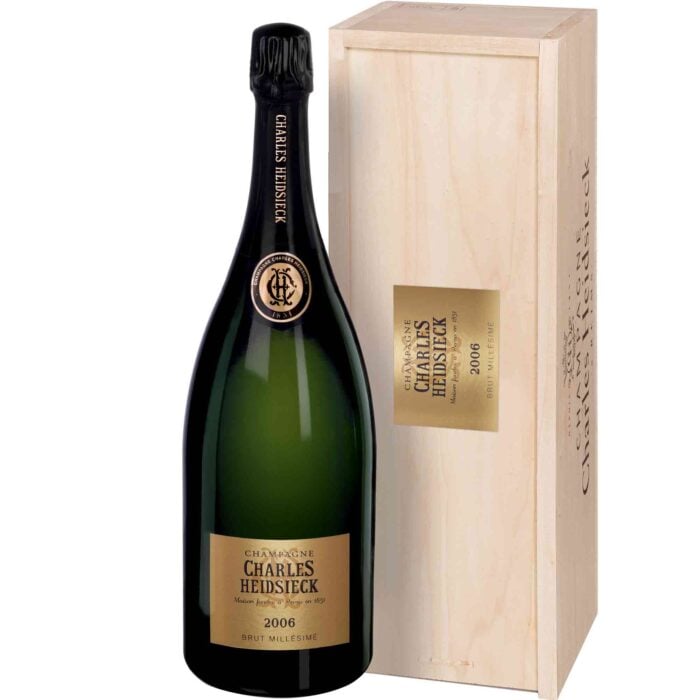 Champagne CHARLES HEIDSIECK

Brut Vintage 2006

Magnum (1.5L) | Wooden Case
Charles Heidsieck Brut Vintage 2006 magnum with Wooden Case is a fresh champagne with an expressive personality.
En stock.

From 5 to 10 days
Conservation optimale : hygrométrie contrôlée 24/24h
Emballage anti-casse soigné
Option message cadeau personnalisé
For which moment ?
As a gift, For a dinner
Brut Vintage 2006
From the first sip, the Charles Heidsieck Brut Vintage 2006 magnum with wooden case is surprising. It unfolds with more lightness and freshness than its predecessor, the Brut Vintage 2005. A distinct aromatic profile reaffirming the very vocation of a vintage, an expression of a particular year. The fruit of a year of beautiful acidity, this vintage has excellent ageing potential. It is a classic beauty, to which more than ten years of maturation in thousand-year-old chalk pits have allowed it to reveal itself fully and to place itself among the greatest Champagnes.
The Magnum format is a large 1.5 litres bottle, which represents 2 bottles of champagne or 12 glasses. This large format, presented in a wooden case, is ideal for your receptions, dinners, special occasions and gifts.
Tasting Notes
The colour is a beautiful deep gold with a remarkable brilliance underlined by a subtle and dynamic effervescence.
The first nose is generous: floral tones at first with touches of jasmine and honeysuckle. Then the fruity cornucopia comes to life: white peach, fresh apricot, mirabelle plum, pomelo and yuzu play elbows on the aromatic balcony. With swirling, subtle notes of bergamot, toasted hazelnut, liquorice and shredded coconut add complexity to this beautiful bouquet.
Beautiful balance between the saline, mineral character and the silky texture evoking nougat and butter cream. The touch of bubbles is all in delicacy, in suavity. This champagne is full of generous flavours and is enthusiastic about its accomplishment and richness in the mouth. Its incredible aromatic breadth makes it an unrepentant delight for our senses.
Technical sheet
Vinification : More than ten years of maturation in chalk cellars.
Ageing potential : This champagne has an excellent ageing potential.
Characteristics : The vintage 2006: An abundant harvest despite climatic contrasts. In 2006, the winter was cold and the snow very heavy. After a spring period punctuated by a few violent storms in May, the summer began in overwhelming heat. While July set a new temperature record, August was rainy and cold.
Characteristics2006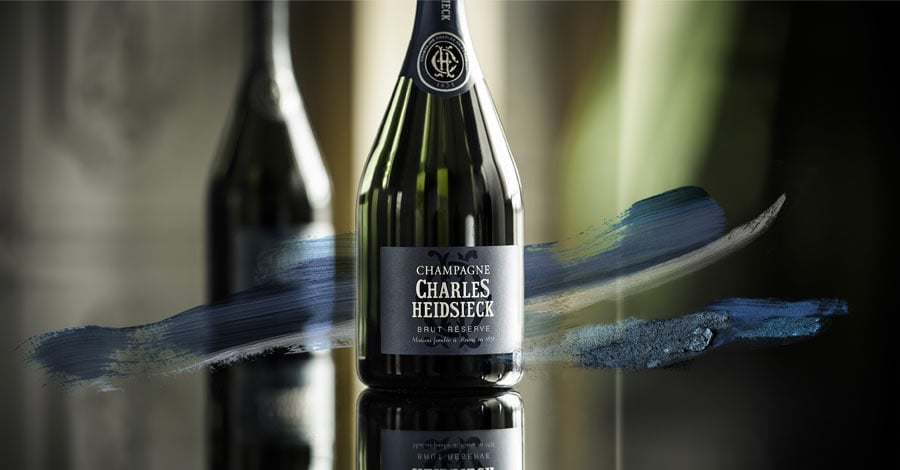 CHARLES HEIDSIECK
THE CHARLES SIGNATURE
Charles Heidsieck champagne owes its unique character to its 40% reserve wines and a minimum of three years maturation in large and rare chalk cellars. These choices have made it one of the most awarded champagnes in the world. Like his wine, Charles not only had style, but also deepness and a lot of character.
Voir tous les produits Champagne CHARLES HEIDSIECK