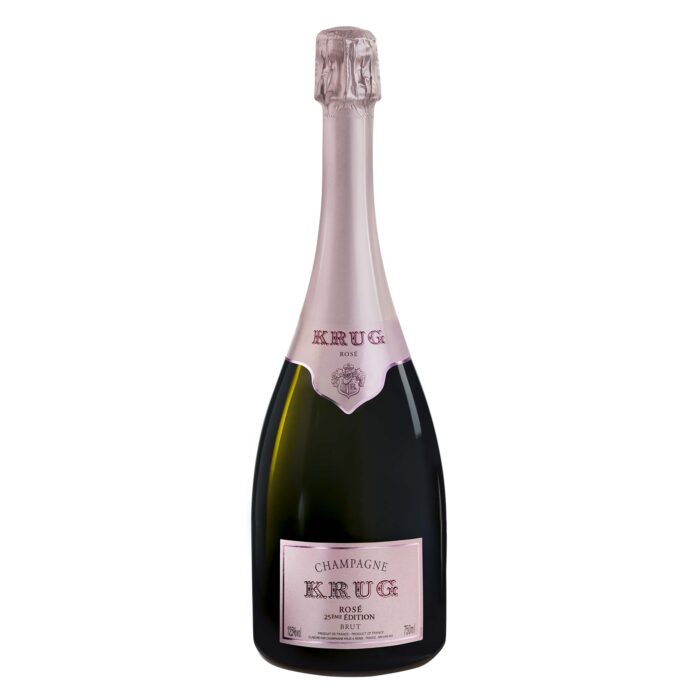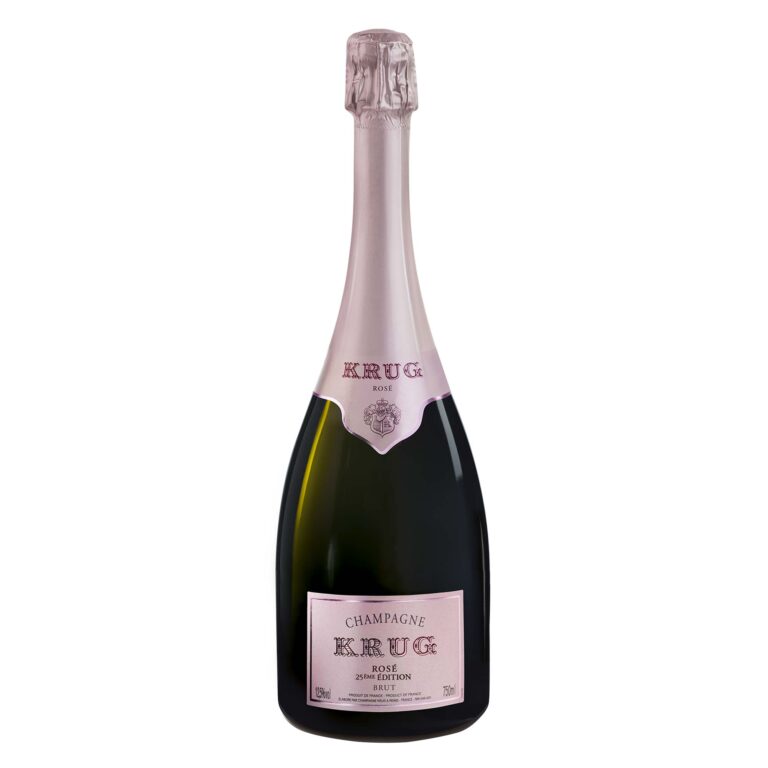 Krug

Krug Rosé 25th Edition

Bottle (0.75L) | Naked Bottle
Krug Rosé 25th Edition is not a classic rosé champagne: it is original, voluptuous, mysterious, born of the dream of the fifth generation of the Krug family to create an original, unexpected, daring and elegant rosé champagne that can be recreated every year. Krug Rosé 25th Edition is a blend of 28 wines from 5 different years. The youngest from 2013 and the oldest from 2008.
Voir tous les produits Champagne Krug
En stock.
Frais de livraison offerts dès 500€ d'achat
Emballage anti-casse soigné
Confiez-nous votre message personnalisé lors de la confirmation de commande
For which moment ?
As a gift, For a dinner, For a special occasion or an event
Krug Rosé 25th Edition
The edition number corresponds to the number of times the fifth generation dream has been recreated in the House of Krug. It also serves as a reference for collectors to taste it later. Like all Krug Champagnes, the Krug Rosé 25th Edition will continue to mature over time.
The full history of each Edition is revealed online via its Krug iD, the six digits on the back label.
Its final composition is made up of 45% Pinot Noir, 30% Chardonnay and 25% Meunier. The composition is then structured around a traditionally macerated Pinot Noir, for its spicy character, colour and structure. Ageing for about seven years in the Krug cellars gives Krug Rosé its refined elegance.
Krug Rosé 25th Edition is the ideal champagne for your special occasions and great tasting moments.
Tasting Notes
To the eye, its subtle pale pink colour is a sign of elegance.
The nose reveals aromas of rosehip, smoked ham, blackberry, redcurrant, peony, pepper and pink grapefruit.
On the palate, delicate notes of honey, citrus and dried fruit follow a long finish enhanced by fine bubbles.
Food pairings
Krug Rosé, the most unconventional of Krug champagnes, is the ideal companion for daring gastronomic adventures: combining grace, depth and generosity, it is the perfect partner for all savoury dishes, successfully playing the role of a great red wine on your table. This Champagne can be enjoyed with foie gras, lamb, game, white meat, venison and even spicy dishes.
Ideal serving temperature : Serve between 9 and 12°C.
Technical sheet
Blend : Krug Rosé is a blend of 3 grape varieties and 10 to 15 different wines. A rigorous selection is made when choosing the three grape varieties that will be used in the complex blends produced by Krug: Pinot Noir, which is deep, intense and gives the wine exceptional longevity. The Meunier, with very fruity notes. Chardonnay, fine and elegant.
Vinification : The 25th Edition is structured around the 2013 harvest. The season began with a seemingly endless winter, followed by a rainy and cool spring. Fortunately, the summer was warm and sunny, but also marked by hailstorms that wreaked havoc on the vineyards. The 2013 wines were complete, expressive and full of flavour. To craft the final creation, the year's wines, which include vibrant, chiselled Chardonnays from plots in the Côte des Blancs and Montagne de Reims, and structured Meuniers from Sainte Gemme plot, were blended with reserve wines from selected parcels from four other years. The smooth reserve wines from the 2008 plots bring roundness, while the pinot noir wines from the Ambonnay and Bouzy plots from different years bring fruit intensity and the meuniers from 2012 bring structure. Reserve wines from Krug's extensive library make up 50% of the blend for this Krug Rosé Edition.
Characteristics : The Krug singularity, a unique champagne. Its methods guaranteeing the highest quality, its 19-hectare vineyard, the strictness of its supplies from 56 hectares and its three million bottles that have been waiting for many years in its cellars make Krug the reference for Prestige Champagne.
Characteristics : Non Vintage