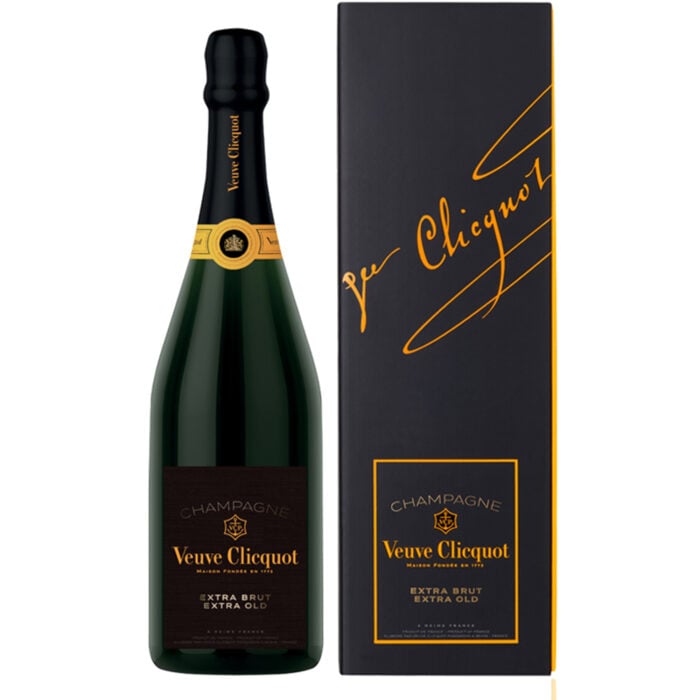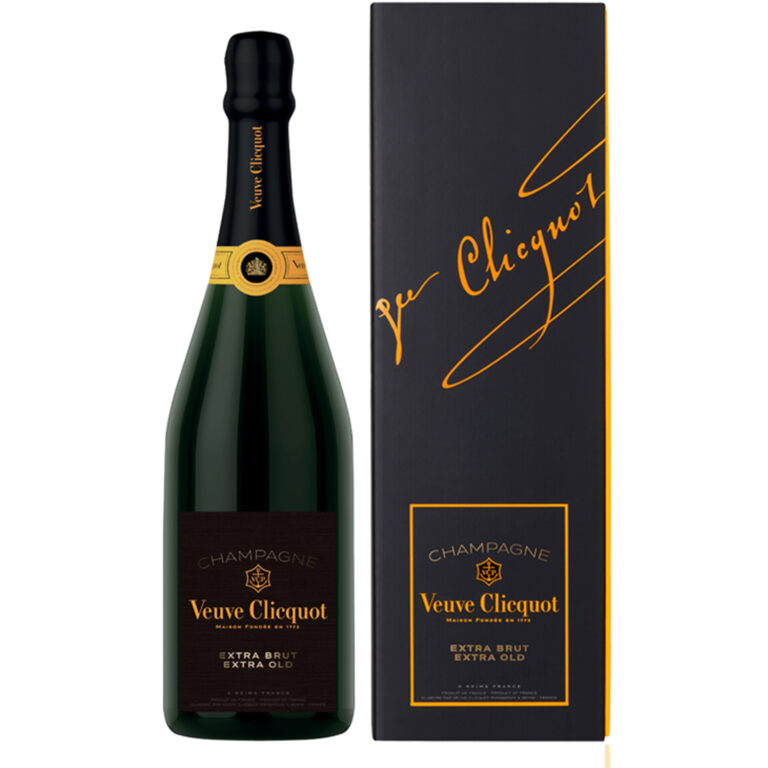 Veuve Clicquot

Extra Brut Extra Old

Bottle (0.75L) | Box
Veuve Clicquot Extra Brut Extra Old Bottle Gift Box is an absolutely innovative champagne that blends the best of Veuve Clicquot's heritage.
Out of stock
Je souhaite être informé(e) lorsque le produit sera à nouveau disponible.
Free delivery from 500€ purchase
Neat, break-proof packaging
Give us your personal message when you confirm your order
For which moment ?
As a gift, For a special occasion or an event, To pair with fish/seafood dinner
Extra Brut Extra Old
In the art of blending Champagnes at Veuve Clicquot, the reserve wines play one of the noblest parts, conferring depth, sophistication and mystery to their wines. As a tribute to the founding values of the House, its reserve wines are among the most precious in the cellar master's palette.
The Extra Brut Extra Old Champagne is created from these highly prized reserve wines alone, taking the essence of Veuve Clicquot's signature Carte Jaune to reveal it in a new light, with an exceptionally low sugar dosage, where sophistication and purity, opulence and freshness are exalted to the fullest.
Presented in a luxurious gift box, Extra Brut Extra Old is an ideal champagne to give as a gift or for all your tasting occasions.
Tasting Notes
An intense colour, with golden highlights. As soon as it is released in a glass, its very fine bubbles draw a refined necklace.
The first nose shows richness and amplitude. Ripe stone fruit aromas and a delicate yeasty note emerge alongside candied lemon aromas, all wrapped in the signature crispness of Veuve Clicquot Champagne.
The attack is both powerful and silky. Another major asset of the Champagne House, this softness is underlined by a very light effervescence which often accompanies the oldest Champagnes: the pressure which provokes the fine bubbles of Extra brut extra old is only 4.5 bar instead of the usual 6 bar of non-vintage Champagnes.
Food pairings
Extra Brut Extra Old lends itself magnificently to all occasions. This champagne has both the freshness of an aperitif and the depth required to pair with a dish. This versatility, as well as its character, makes it the ideal companion for delicate and subtle dishes as well as for more pronounced flavours.
Technical sheet
Blend : 47% Pinot Noir, 26% Pinot Meunier, 27% Chardonnay.
Vinification : Veuve Clicquot's Extra Brut Extra Old cuvée contains exclusively reserve wines from the 1988, 1996, 2006, 2009 and 2010 vintages, chosen for their freshness, opulence and structure. The Cellar Master has imagined this blend, embodying the spirit of the Cuvée Carte Jaune, emblematic of the House, by giving it intensity, depth and purity. The wines at the heart of Extra Brut Extra Old are aged for at least three years in vats, on their lees. This is followed by a second maturation in the bottle, where Extra Brut Extra Old blossoms in the cellar for three years before disgorging.
Dosage : 3 g/litre
Characteristics : Non Vintage