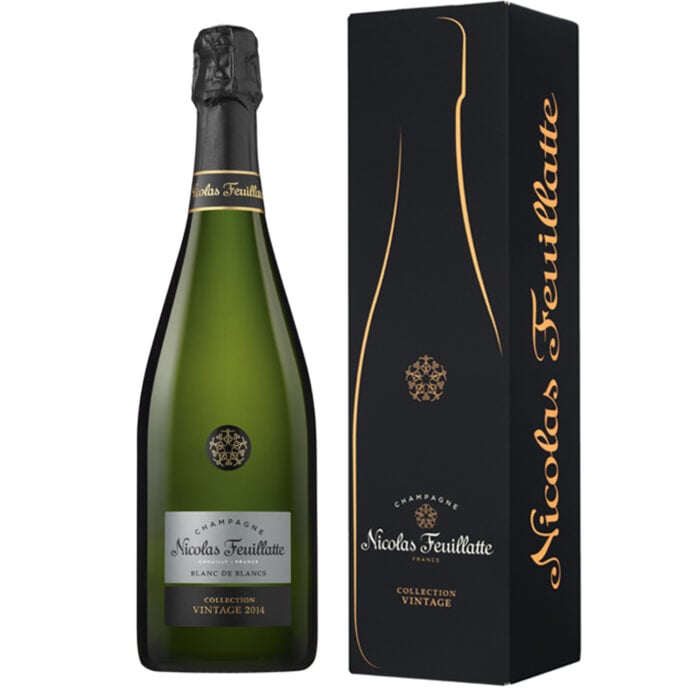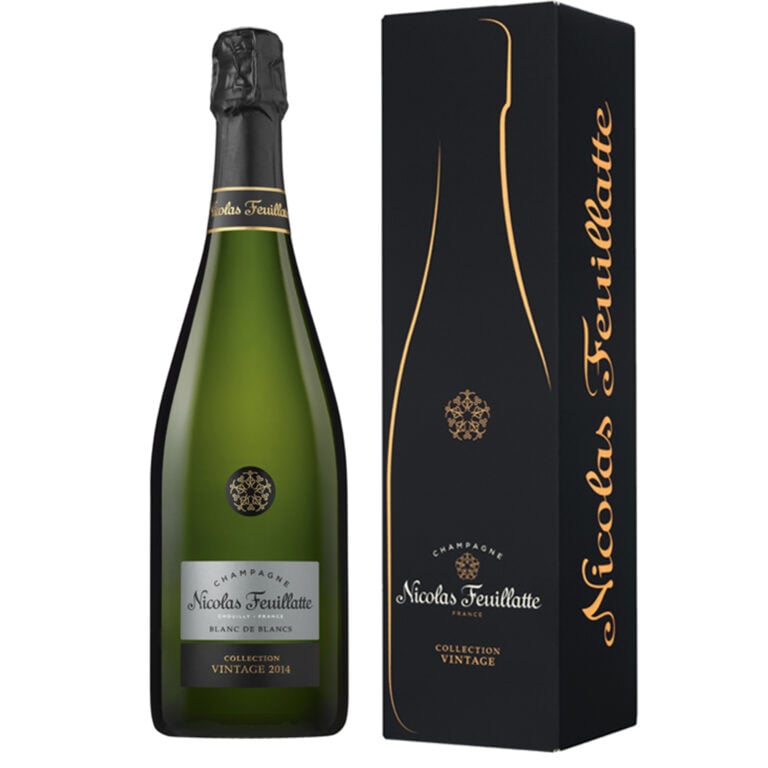 Nicolas Feuillatte

Collection Vintage Blanc de Blancs 2014

Bottle (0.75L) | Gift box
Nicolas Feuillatte Collection Vintage Blanc de Blancs 2014 Bottle Gift Box is a refined and delicate champagne that combines the purity and elegance of the Chardonnay with the richness of the vintage, bringing an extra soul to the wine!
Voir tous les produits Champagne Nicolas Feuillatte
En stock.

5 to 10 days delivery
Frais de livraison offerts dès 500€ d'achat
Emballage anti-casse soigné
Confiez-nous votre message personnalisé lors de la confirmation de commande
For which moment ?
As a gift, For an aperitif or a party, To pair with fish/seafood dinner
Collection Vintage Blanc de Blancs 2014
All the subtlety and aromatic complexity of Chardonnay are cultivated here; between delicacy, greed and flavours.
For yourself or as a gift, its case is suitable for all occasions.
Tasting Notes
Its delicate bubbles create a regular and dancing cordon. The colour is luminous and slightly golden, with silvery green highlights.
Pure and graceful, this Champagne is carried by country and spring notes of fresh flowers and angelica on the palate. The aromatic complexity deepens during the tasting: fresh honey and mirabelle plum then mint and coriander on the finish. Its freshness and balance support the potential of this Blanc de Blancs with its fine minerality.
Food pairings
Nicolas Feuillatte Collection Vintage Blanc de Blancs is perfect for delicate combinations and can be enjoyed from the aperitif to the meal.
Simple pleasures: Salmon tartar and sesame seeds / Goat's cheese and mint wrap / Snacked prawns and chopped coriander / Brioche des Rois.
Relaxing moment: Risotto with green asparagus tips / Veal Cocotte / Vegetable Linguine / Waffles.
Fine dining: Soft-boiled egg, bread and seed rolls, truffle butter / Sea bass with herbs, Champagne sauce / Tête de Moine AOP / Rocamadour.
Ideal serving temperature : As an aperitif, serve at 7 - 8°C. At the table: serve at 10 - 12°C.
Technical sheet
Blend : 60 crus are used to make this 100% Chardonnay Champagne. The grapes selected for the elaboration of this 100% Chardonnay Champagne come mainly from the Côte des Blancs - which gives the wine its freshness and minerality - the Sézannais, Montgueux and the Marne Valley. This mosaic of territories and soils (clay, limestone, chalk) brings an aromatic complexity to this cuvee.
Vinification : Guillaume Roffiaen, Cellar Master of Champagne Nicolas Feuillatte, has decided to adapt the liqueur dosage to each cuvée in order to emphasise its flavours and aromas. The choice of the reserve wine is essential. It is chosen according to the vintage, the year of harvest, the grape variety, the winemaking method and the ageing process to guarantee the unique style of each cuvée. Aged in the cellar for a minimum of 6 years.
Characteristics : 2014