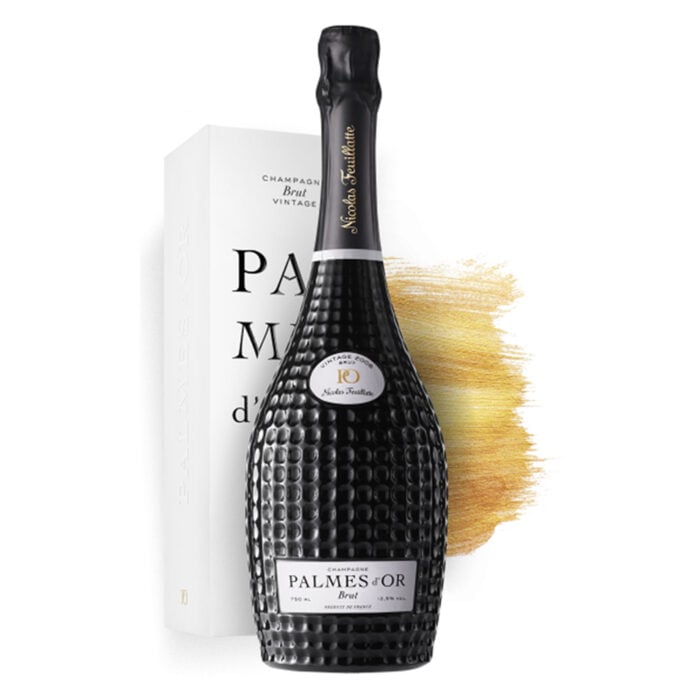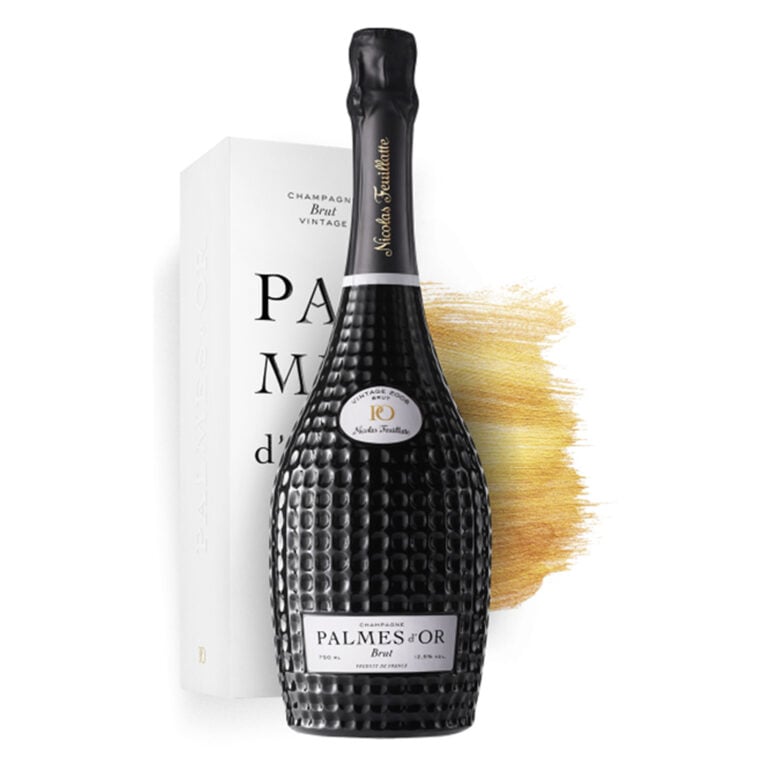 Nicolas Feuillatte

Palmes d'Or Vintage 2008

Bottle (0.75L) | Box
Nicolas Feuillatte Palmes d'Or Vintage 2008 Luxury Case is a wine of time and supreme emotion, full of finesse in texture and flavour. The iconic cuvée of Nicolas Feuillatte champagnes, the quintessence of its style, Palmes d'Or Brut is a pure jewel, an ode to beauty, which is only revealed through its year, each time an exceptional vintage which allows all its primary qualities to be exalted.
Voir tous les produits Champagne Nicolas Feuillatte
En stock.

From 5 to 10 days
Frais de livraison offerts dès 500€ d'achat
Emballage anti-casse soigné
Confiez-nous votre message personnalisé lors de la confirmation de commande
For which moment ?
As a gift, For a special occasion or an event, To pair with fish/seafood dinner
Palmes d'Or Vintage 2008
At first glance, Palmes d'Or is a precious bottle, opaque black, which contrasts with the usual Champagne codes. A specially designed bottle to contain this exceptional champagne, shaped like a precious stone and vibrating with a thousand sparkles, subtly underlined by gold letters. The promise of an exceptional champagne.
For yourself or as a gift, its luxurious box is suitable for all occasions.
Tasting Notes
Notes of white fruit, very fresh, dry almond and apricot. A slight touch of spice.
Frank and lush flavours, between redcurrant and citrus fruits. A revival of freshness and minerality carried by the Pinot Noirs, with a chalky signature and a hint of smokiness of extreme delicacy.
Food pairings
Palmes d'Or Brut can be enjoyed in its simplicity, there is no need for a pedestal: you have to immerse yourself in it, appreciate it for its own sake, just with a noble product such as truffles, parmesan cheese, foie gras au naturel, or salmon gravelax.
Technical sheet
Blend : Nearly 95% Grands Crus, equally divided between Pinot Noir and Chardonnay. An element of distinction: the Chardonnay of Montgueux, more exotic, fleshy and intense, which brings its aromatic patina and binder.
Vinification : Dosage: The Cellar Master's approach is to adapt the dosage level to each cuvée in order to sublimate its flavours and aromas and thus guarantee its unique style. Vinification: Resting in the cellar for almost ten years.
Characteristics : The 2008 vintage: This was the coldest year of the decade, marked by a late flowering followed by a remarkable late ripening of the berries. The grapes were in excellent health and had a fine, nuanced aromatic profile, promising superb potential. This straight, balanced vintage has forged wines of time, built for the future and whose aromas will reveal themselves in crescendo. 2008 is a vintage of patience and slow construction, distinguished and refined. To date, the wines are still in their youthful expression, delivering notes of dried flowers, with a caressing touch of bubbles, a straight and elegantly structured body.
Characteristics : 2008