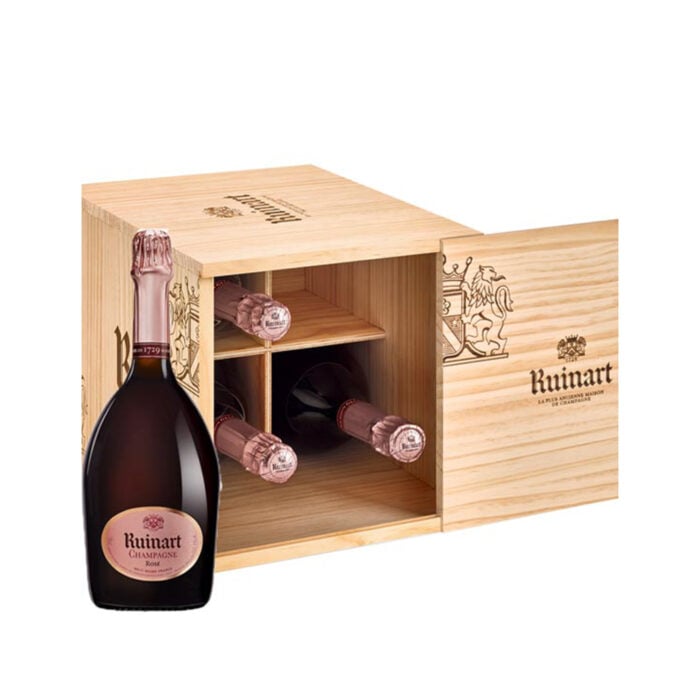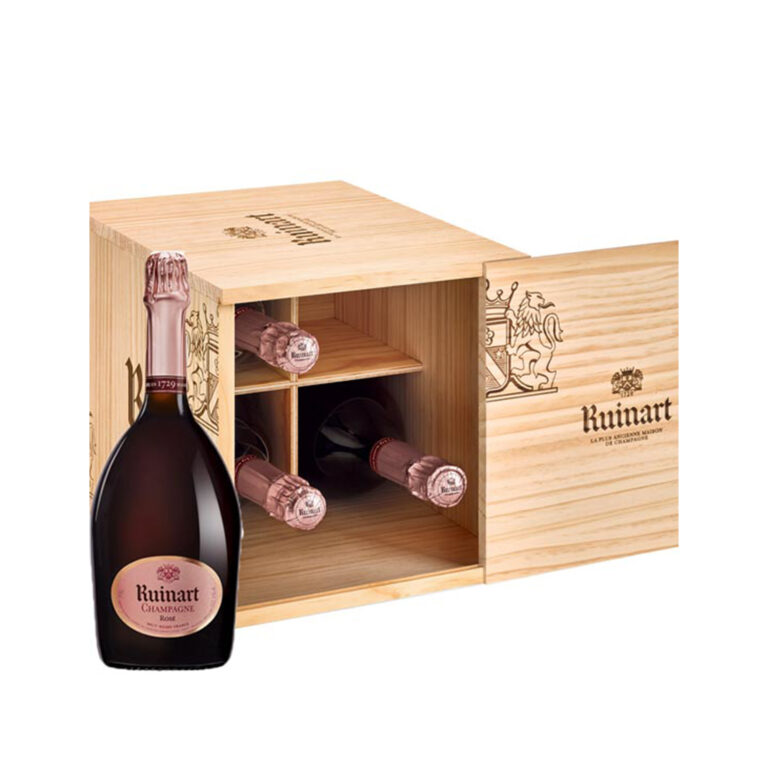 Ruinart

Rosé Cellar-Box 4 Bottles

Bottle (0.75L) | Wooden Case
Ruinart Rosé Cellar-Box 4 Bottles is a playful and contemporary tribute to the first wooden cases that housed Ruinart Rosé champagne, the gourmet expression of Ruinart taste.
Out of stock
Je souhaite être informé(e) lorsque le produit sera à nouveau disponible.
Free delivery from 500€ purchase
Neat, break-proof packaging
Give us your personal message when you confirm your order
For which moment ?
As a gift, For a dinner, For a special occasion or an event
Rosé Cellar-Box 4 Bottles
Ruinart has reinvented the Cellar-Box, a practical and fun wooden case: rectangular, it can be stacked like a construction set, creating a Ruinart space in your wine cellar, or in your home. Thanks to its ingenious front opening system, you can easily access the Ruinart bottles it contains. This modern case is nevertheless authentic and elegant with its fire marking on each side, a reminder of the original practice. The name and coat of arms of the Champagne House make it identifiable at first glance, a positive point if your cellar is already well stocked.
Entirely "Made in France", the Ruinart Wine Cellar Case is made entirely of wood from 100% eco-managed forests.
The Ruinart Rosé is the gourmet expression of the Ruinart taste.
Tasting Notes
A delicate pomegranate pink with glints of a slightly orange hue. The sparkling, light effervescence displays a persistent bead.
Intense aromas of exotic fruits (pomegranate, lychee and guava) develop alongside soft and floral essences (rose) and notes of freshly picked red fruits (cherry, raspberry and wild strawberry). These aromas enhance the subtle spice notes present in this wine (tonka bean and nutmeg).

The attack is frank and full, cradled by a gentle effervescence. The balance combines roundness and freshness. An elegant and invigorating touch of peppermint and pink grapefruit completes this impertinent palette of aromas.
Food pairings
Ruinart Rosé is a very convivial champagne that can be enjoyed throughout a meal, from the aperitif to the dessert. It will be enhanced by thin slices of Italian cured ham (San Daniele, Parma...). As a starter, a half-cooked salmon or a Japanese-style "tataki" will reveal its many facets. It also pairs well with an exotic main course : an Andalusian gazpacho will awaken its freshness and liveliness, while a rosé duck breast with cranberries will highlight its harmonious complexity. At the end of the meal, it will express itself fully with a red fruit soup enhanced by an excellent Modena balsamic vinegar.
Ideal serving temperature : Serve between 8 et 9 °C.
Technical sheet
Blend : The result of a Chardonnay and Pinot Noir blend, mostly classified as Premiers Crus, with 25 to 30% reserve wines from the two years preceding the base. Ruinart Rosé is made up of 45% Chardonnay from the Côte des Blancs and Montagne de Reims and 55% Pinot Noir from the Montagne de Reims and Vallée de la Marne, of which 18 to 19% is vinified as red wine.
Vinification : Harvests are made by hand, the alcoholic fermentation is done in thermo-regulated stainless steel vats using the malolactic fermentation process.

Dosage : 8 g/litre
Characteristics : Enter the Ruinart world is discovering the principles of this great Champagne House : a constant demand, a pure and refined spirit, the luminous dominance of Chardonnay and a unique bottle, characteristic of Ruinart champagnes.
Characteristics : Non Vintage