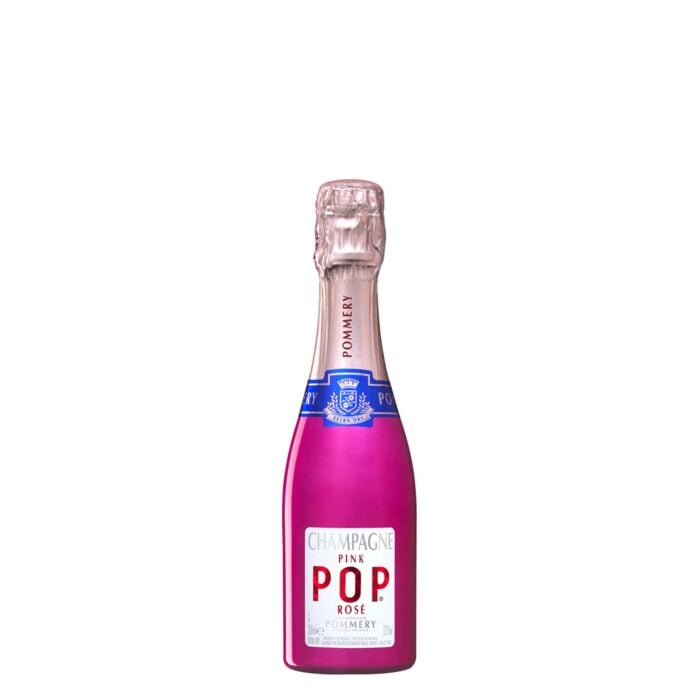 Pommery

Pink POP

Quarter-Bottle (0.2L) | Naked Bottle
Seductive and avant-garde, Pommery Pink POP is a resolutely young and fresh champagne, intensely fruity and almost sensual, in the spirit of the Pommery POP vintage.
See all Champagne products from Pommery
In stock.

24/48 hours delivery
Free delivery from 500€ purchase
Neat, break-proof packaging
Give us your personal message when you confirm your order
For which moment ?
As a gift, For a dinner, For a special occasion or an event
Pink POP
Its quarter-bottle format (0.20 liter) is ideal for your private and professional events, an aperitif or a party. It is also an ideal gift, a small attention that always pleases.
Tasting Notes
Nice soft pale pink color. The sight of it incites your senses as its pale pink color calls for softness imbued with great femininity.
An aromatic bouquet of red fruits on a background of pastries. Smelling it takes you through an aromatic succession that goes from redcurrant to pomegranate, all nuanced by yeast notes that give it those scents of spoon cookies.
Perfectly balanced, it appears a beautiful fresh fruitiness, behind the finesse and delicacy brought by the Chardonnays. Pink POP is a real treat. The taste will remain a real and great pleasure because you will discover in mouth all the delicacy recognized to the wines of the range POMMERY with all these notes already described, the whole wrapped in a slightly sweet cocoon. The impression is such that your palate seems to be caressed by velvet.
Technical sheet
Vinification : The Pommery Pink POP champagne has been elaborated according to the principles dear to Pommery for the confection of its rosés: blending between different wines of Chardonnay and Pinot and a hint of red wine to allow to perpetuate, from year to year, this new blending wine called Pink POP.
Characteristics : Non Vintage