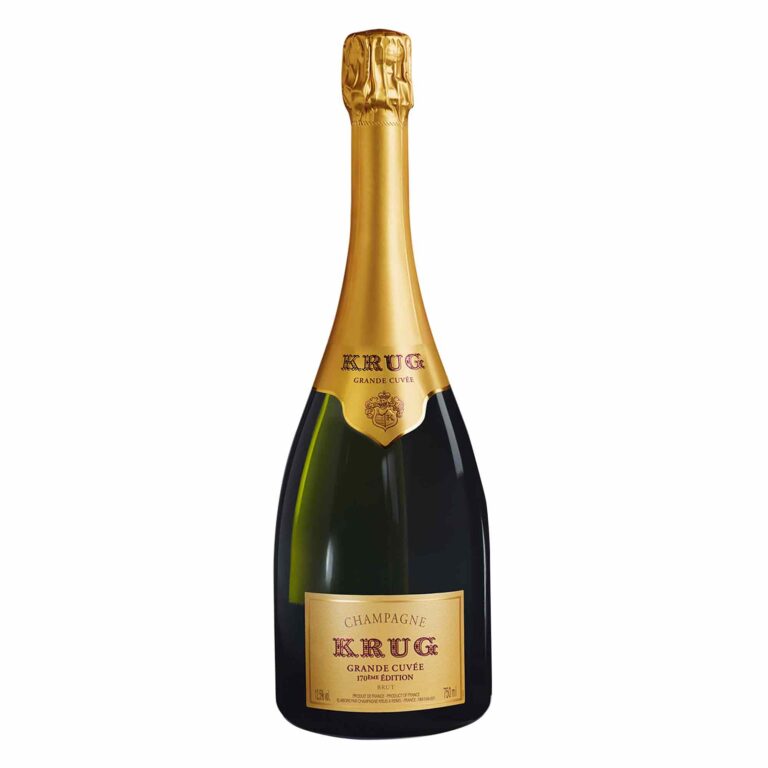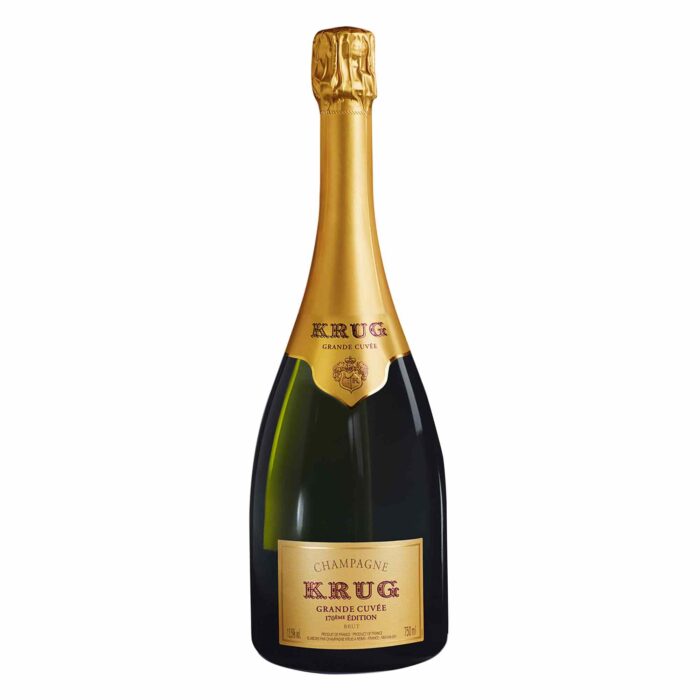 Champagne KRUG

Krug Grande Cuvée 170th Edition

Bottle (0.75L) | Naked Bottle
Krug Grande Cuvée 170th Edition is the most generous expression of Krug champagnes. A blend of 195 wines from 12 different years, the youngest dating from 2014 and the oldest from 1998, Grande Cuvée Edition 170 is a champagne of great richness and fine elegance, beyond the notion of vintages.
En stock.

From 5 to 10 days
Conservation optimale : hygrométrie contrôlée 24/24h
Emballage anti-casse soigné
Option message cadeau personnalisé
For which moment ?
For a dinner, For a special occasion or an event, For an aperitif or a party, To pair with fish/seafood dinner
Krug Grande Cuvée 170th Edition
Every year since the foundation of the House of Krug, a new Edition of Krug Grande Cuvée is crafted. The signature of the Champagne House, born from the vision of one man, Joseph Krug, who dreamed of offering the best champagne possible each year, regardless of climate variations.
This bottle of Krug Grande Cuvée 170th Edition has rested for about seven years in the cellar, thus gaining in expression and elegance.
Reserve wines from Krug's large wine library give this Champagne the fullness and roundness essential to each Krug Grande Cuvée Edition.
Tasting Notes
This champagne has a pale gold colour and fine, lively bubbles, a promise of incredible pleasure.
Aromas of flowers, ripe, candied and dried citrus fruits, as well as marzipan and gingerbread can be felt on the nose.
On the palate there are toasted notes and flavours of marzipan, quince, lemon, limoncello and dried fruit.
Food pairings
Krug Grande Cuvée 170th Edition lends itself to many culinary combinations, from the simplest to the most sophisticated, pairing with an old parmesan cheese or with a turbot with truffles. This champagne can be served as an aperitif with Jabugo ham and an old Comté cheese, a plate of oysters, grilled shrimps, Indian or Moroccan dishes, and also to accompany desserts such as tarte Tatin or cheesecake.
Ideal serving temperature : Serve between 9 et 12 °C.
Technical sheet
Blend : Krug Grande Cuvée is made of Pinot Noir (51 %), Chardonnay (38 %) and Meunier (11 %). Reserve wines from Krug's large wine library make up 45% of the final blend, lending the essential fullness and roundness to each Krug Grande Cuvée Edition.
Vinification : This cuvée was crafted around the 2014 harvest, a capricious year in Champagne marked by hot, dry periods and cool, rainy ones. The vines developed in good conditions, ensuring a generous harvest. The climatic contrasts helped to preserve freshness and achieve great heterogeneity across the region, reinforcing the importance of understanding each parcel through its wine, according to the House's wishes.
Characteristics : Krug Grande Cuvée is the essence of the Krug identity. Like all other Krug Champagnes, Krug Grande Cuvée owes its personality from its first fermentation in small oak barrels: the distinctive dimension that marks the Krug style. The wine making techniques of the highest quality, its 19-hectare vineyard, the strictness of its supplies from 56 hectares and its three million bottles that have been waiting for many years in its cellars make Krug the reference for Prestige Champagne.


CharacteristicsNon Vintage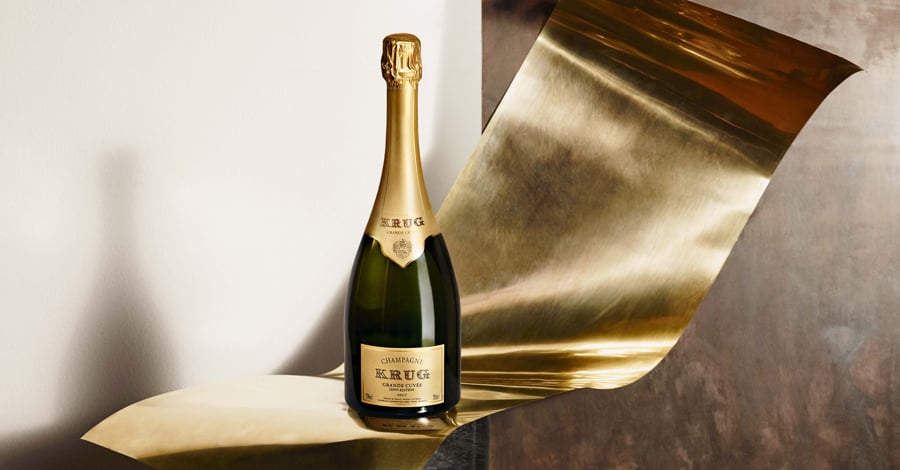 KRUG
A NON-CONFORMIST VISION
Krug has never failed to maintain its reputation as a great Champagne House, producing exclusively prestige cuvées! When the visionary Joseph Krug founded his House in 1843, he decided to go beyond the vintage and transcend the existing limits of blending to create an unexpected and contrasting Champagne of undisputed quality: Krug Grande Cuvée, the first prestige cuvée, recreated each year.
Voir tous les produits Champagne KRUG