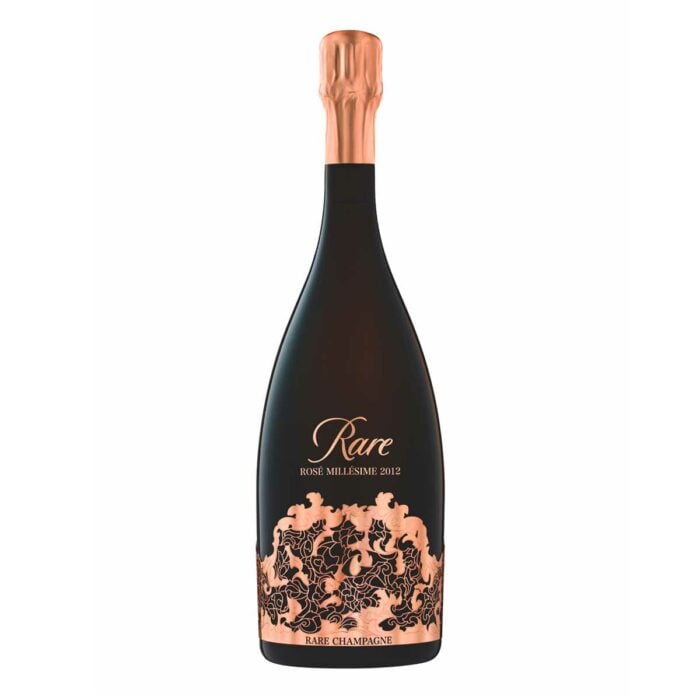 Rare Champagne

Rare Rosé Vintage 2012

Bottle (0.75L) | Naked Bottle
Rare Rosé Vintage 2008 is gracefully refined. Designed like a contemporary Mondrian, its subtle minerality, full of contrasts, combines the assertive tenderness of pink with the expressive precision of the blends.
See all Champagne products from Rare Champagne
In stock.

5 to 10 days delivery
Free delivery from 500€ purchase
Neat, break-proof packaging
Give us your personal message when you confirm your order
For which moment ?
For a dinner, For a special occasion or an event
Rare Rosé Vintage 2012
After Rare Rosé Vintage 2008, the house did not wait so long to declare a new rosé cuvée. Despite the challenging weather conditions of 2012, Rare Champagne has once again proven its exceptional vision of Champagne and its oenological expertise. Rare Rosé Vintage 2012 is a testament to this exciting challenge to blend a memorable vintage.
Precious and enigmatic rose. Rare Champagne proves its mastery and more. Watching the bubbles of Rare Rosé Millésime 2012 rise in the glass, it would seem that the style, created with Rare Rosé Vintage 2007, is carefully preserved. In fact, it is impossible to imagine what the ten years spent in the cellar have brought to the wine: a floral accent, but not only. Floral, fruity and spicy are in unison in Rare Rosé Vintage 2012.
Tasting Notes
The eye: rose petals and chalcedony with bluish hues. Rare Rosé Vintage 2012 has a precious, luminous colour. Some bluish highlights add a subtle nuance to the champagne's rose petal brilliance. The bubbles are cheerful, but not extravagant. Certainly the bright, clean hue of Rare Rosé Vintage 2012, oscillating between rose petals and chalcedony, could suggest a floral accent, only floral. It is reminiscent of the rose quartz hue of Rare Rosé Vintage 2008, the house's previous rosé vintage. This same harmony unites them, a sign of Rare Champagne's style. In a joyful effervescence, without extraversion, some bluish reflections enhance the champagne's brilliance with a subtle nuance.
Floral, fruity, spicy, a harmony of contrasts. After the sight, Rare Rosé Millésime 2012 is discovered as you go along. The cuvée surprises with its remarkably wide sensory and gustatory palette. Complex harmonies come together: floral, fruity and spicy flavours are ideally balanced. The tasting takes on a new dimension. Rare Rosé Millésime 2012 is a truly virtuoso cuvée whose marked personality is in line with the house's two previous rosé vintages. From the first nose, the pink colour infuses the aromas. In a perfect floral-fruity balance, delicate aromas of cherry blossom, subtly acidic red fruits - raspberries, wild strawberries - and lychee follow one another, when suddenly a spicier touch appears. With unprecedented elegance, jasmine, turmeric, ginger and white pepper contrast with notes of grapefruit, bergamot, mandarin, white peach and orange blossom. Everything is in unison, each aroma stands out in a complete balance between the floral, the fruity and the spicy.
Spicy freshness. After a generous attack, Rare Rosé Vintage 2012 develops crisp cherry and lychee aromas and invigorating ginger flavours, already present on the nose. At the same time, the structure of Rare Rosé Millésime 2012 plays with the ambivalence of hot and cold. The warmth of the spices, paprika, Espelette pepper, curcuma and pepper, is followed by the mineral freshness of the texture. The finish is both tannic and iodized, with an incomparable sophistication. The signature of Rare Rosé Vintage 2012 is determined by its lively salinity.
Food pairings
Rare Rosé Millésime 2012 is best enjoyed with : - Fresh tomato and black cherry soup, goat cheese ice cream and crushed pistachios. - Breton lobster in carpaccio, duo of beetroot with sweet spices. - Red mullet fillet, small scales, young courgettes and bouillabaisse juice. - Roasted farm poultry on the bone, lime, meat juice with Reims mustard and small vegetables. - Red fruit soup with spices, speculoos shortbread.
Technical sheet
Blend : 60% Chardonnay, 40% Pinot Noir.
Vinification : - Exclusive use of "la cuvée". - 12 crus, 8 of which are classified Grands Crus and 3 classified. - Premiers Crus: Chardonnay: Villers Marmery, Vertus, Mesnil-sur-Oger, Oger, Chouilly, Avize. Pinot noir : Verzy, Ay, Verzenay, Ambonnay, Villedomanges. Red wine: Les Riceys (8%). - Complete malolactic fermentation. - Ageing time on lees: 8 years minimum. - Ageing time on cork: 1 year minimum.
Ageing potential : Virtuoso until 2045, then prodigious.
Dosage : 7 g/litre
Characteristics : Awards: International Wine Challenge 2022: Gold Mundus Vini 2022: Grand Gold and Best of Show Champagne Vintage Rosé
Characteristics : 2012