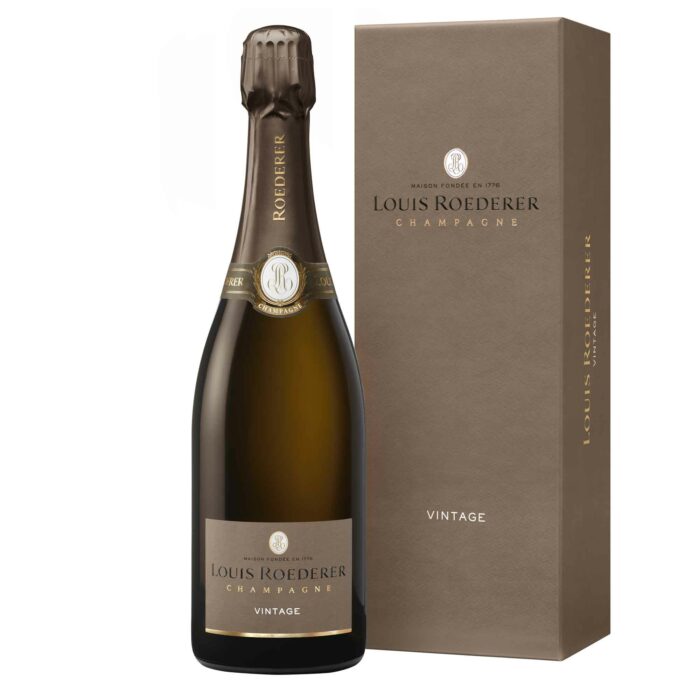 Louis Roederer

Brut Vintage 2015

Bottle (0.75L) | Box
Louis Roederer Vintage 2015 with Luxury Box embodies the emanation of the Louis Roederer terroir. This cuvée expresses the intensity and the great natural concentration of the Pinots Noirs of Verzy in a spectacularly continental vintage.
Voir tous les produits Champagne Louis Roederer
En stock.

From 5 to 10 days
Frais de livraison offerts dès 500€ d'achat
Emballage anti-casse soigné
Confiez-nous votre message personnalisé lors de la confirmation de commande
For which moment ?
As a gift, For a dinner
Brut Vintage 2015
Fascinated by the diversity of aromatic expression of Pinot Noir in Champagne, Louis Roederer has developed his Vintage cuvée on the structure and power of the Pinot Noirs of the Montagne de Reims, where the vines, exposed to the North-East, are slower to mature. The personality of this great wine is refined and intensified remarkably with ageing in wood and time.
Tasting Notes
Deep yellow colour with golden, slightly amber reflections. Dynamic and intense effervescence.
Intense Pinot Noir bouquet combining acidic red fruit (redcurrant) and juicy, sun-drenched yellow fruit (mirabelle plum, vine peach). On aeration, the traditional aromas of "La Montagne" Pinot Noir come through: dried and smoky fruits combined with some acidulous and spicy notes (white pepper).
The attack in the mouth is dynamic, concentrated and powerful. The texture is fleshy and vinous, with an acidic presence that clearly integrates the concentrated juice and freshness. The structure is tonic, chiselled, almost classic and firm. The fruitiness gradually gives way to the sweetness of the chocolate notes (cocoa bean) and even a slight roasting. The finish reveals concentrated, roasted and candied fruit, always supported by saline and salivating flavours. The final sensation is beautifully unbound, generous and graceful.
Technical sheet
Blend : Louis Roederer Vintage 2015 is made from approximately 70% Pinot Noir and 30% Chardonnay with 34% of the wine vinified in wood.
Vinification : The Louis Roederer Vintage 2015 is aged on average 4 years on lees and also benefits from a minimum of 6 months rest after disgorgement to perfect its maturity.
Origin: "La Montagne" vineyard.
Crus: Verzy, Chouilly.
Malolactic fermentation: 24%.
Dosage : 8 g/litre
Characteristics : The year 2015: Extraordinary vintage which is also the year of the recognition of the Champagne region as a UNESCO World Heritage Site! 2015 fits perfectly into the continental trend of the decade: mild and wet winter and hot and dry summer! The summer, hot and sunny, will remain marked by records of heat and drought... And by this happy summer finale where the vines were "relieved" by the saving rain of the second part of August. The ripening process, thanks to this final freshness, gave birth to juicy, ripe and concentrated grapes! The ambition of the vintage? To capture the concentrated signature of a spectacular vintage!
Characteristics : 2015